Mommy life is never easy. Don't twist those brows, it's not! Whether you're a stay-at-home-mom or a working mom there is just so much in our kitty. I don't have to list the jobs here, some of you reading this post are moms and some already have moms, so, you know. Men reading this will just have to trust me :)! Anyway, moms definitely need all support they can get and technology is the answer to it. In India we are still discovering Apps but these Apps for Moms are just perfect to get you started ;
Mommy Clubs : Now these are our lifelines. From knowing where are the various activities being held in your city, to which school to apply to, to time to time checking on your pregnancy issues, to just venting out, the mommy groups are just our anchor in this world. Some Apps worth checking out are First Moms Club, mycity4kids , Babychakra.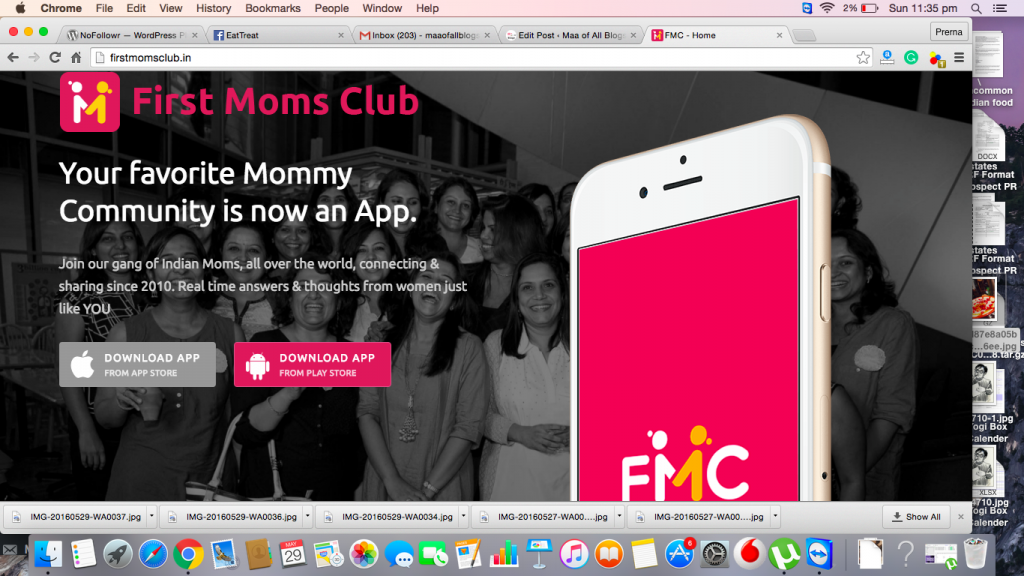 Making Travel Simple: Handling maids is enough we sometimes don't want to deal with drivers. Driving in the peak traffic is also not the most pleasing experience, autos expose you to pollution and heat. When air-conditioned radio cabs (for eg. Uber, Ola, Easy Cabs) are available at the click of the button moms will prefer them obviously.
Fitness App: Moms are so busy juggling multiple things at a time that fitness just takes a backseat. Most of us need that extra push to go for that run or head to the gym. Apps like Runkeeper, Nike + Running .The app will track more than just running, including walking, bike rides, and other types of fitness activities using the GPS in your iPhone. I love that the app will give you audio updates while you workout, including your total mileage, pace, speed, etc. It's a great motivator! And, it's also fun to take photos along your route and then share them via social media when you're done with the workout. Then there Apps which guide you through your home yoga sessions too.
Grocery: With Apps like Grofers, Bigbasket and Greencart, now you can order all your groceries at the click of a button within you home, which saves so many hours of travel, planning and carting the stuff around.
Online Food: While we Indians like to cook everything fresh and believe in homemade food, sometimes it is tough to be able to do it. Like for example when I got back from a long holiday, I had no energy or inclination to do the same. That's when I ordered in and that too non-greasy home made food at really reasonable rates. Check out Holachef, Cyberchef, Hautechef etc. The food tastes lovely, it's reasonable and prepared at home, so devoid of extra spices and oil. They still have to get their rotis and parathas right. You also have Ichef where you can order freshly packed ingredients along with instructions to make the dish of your choice and call it your dish. There are also Apps like Eatonomist that deliver meals that serve calorie counted meals and help you keep your weight in check. While we are on the topic of good food you should check out Charcoal Biryani, really finger licking good.
Food planner: Somehow in the world we live in getting food to the table is still a mom's job. So she has to plan, make menus charts based on everyone's likes and dislikes and trust me it can get boring and after a point we lose creativity and innovation. What if an App can give you new recipes everyday, simple easy ones for kids, complex ones when you want to impress guests for dinner and help you prepare a menu. Also, most meal planner Apps have international food options which don't work for most Indian families, and then I found this App Meal'o'Meter.
House helps: For moms to function efficiently we need our support systems ie. our house helps. Unlike western countries where the whole family chips in, we depend a lot on them for our chores. We are now seeing a break through with Apps like Book Your Bai and Helper4U. Hopefully, soon there will no dirth of organised and professional helpers.
Budget/ Spends :Mint is a pretty consistent favorite because it makes monitoring accounts, expenditures and bills extremely simple with an attractive interface, and it allows you to budget and adjust spending and saving as your finances require it.
Something to keep kids busy: ChoreMonster, on the other hand, is for younger kids. The incentivization system is still there, but the goal of this app is to get your kids into the habit of completing their chores on a daily or weekly basis, with personalized, age-appropriate tasks.
Shopping: In between chores, kids and office moms hardly get time to take care of their wardrobe or even head shopping. That's when Apps like Myntra, Jabong etc get you the trends of the season, clothes from the ramp and deals all at a click of a button. They also allow conveniences like trying out clothes and returning them in case you don't like them. Makes life simple doesn't it?
Pregnant women:I'm Expecting – Pregnancy App this app gives a weekly pregnancy guide videos and also connects expectant mothers whose due dates are close to each other.
I am in for Apps and the convenience they bring along…what about you?
p.s. This is not a sponsored post. We have compiled a list based on research and our own experiences.