1.Remember to teach them good touch/bad touch:
As soon as they start becoming inquisitive about body parts ,you should start teaching them about 'the good' and the 'bad touch'.Most parents shy about these topics or sometimes don't give it enough importance.But with changing times and sexual abuse becoming more and more prevalent among our society it's better to make them aware.Boys are subject to this as much as girls.Studies by David Finkelhor, Director of the Crimes Against Children Research Center, show that:1 in 5 girls and 1 in 20 boys is a victim of child abuse.So you can't turn away just because you have a boy.
Below attached is an easy chart to help you make them understand;
2.Should you change in front of your boy?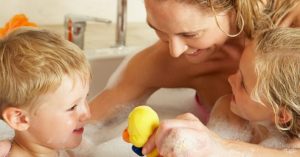 http://maaofallblogs.com/wp-content/uploads/2014/08/Age-When-Parents-Should-Stop-Showering-Tot-300×157.jpg


I have been searching on the net to reconfirm my beliefs and none have a straight answer, while some believe that that you should stop as soon as they start identifying body parts,some believe in being .comfortable being nude in front of their kids,as long as the child is not uncomfortable.
While researching,I found this very interesting debate and quoting it as is;
  Can it Make Kids Inappropriately Sexual?
While several moms share Milka's concern, Jenny G. points out that "not everyone looks at a body and think 'sex.'" And Misty M. believes that the exact opposite is true; that focusing too much on modesty makes sex taboo and can lead to a fixation on it. As she puts it, "Some of the most modest people I know are the most promiscuous. I guess because sex was also a naughty thing in their households. Sex was not a taboo subject in our house growing up, [so] nudity's not a big deal."
My views here are to go with what you as a parent are comfortable with and to keep checking with your child if he is comfortable with it or not.
source:http://moms.popsugar.com/When-Should-Parents-Stop-Being-Naked-Around-Children-27332541?trk=related_article_from_thread_articles_new
3.They love playing with dolls and like colours pink and purple:
I believe this is such a feministic and chauvinistic view.The boys just play with dolls like any other toy.Infact,if you encourage them changing and dressing the doll,maybe when they have a sibling ,they will be more compassionate and helpful.Also who can blame a kid if he picks up a pink colour shoe in a pile of boring browns and navy.It's experimenting and need to try out new things.The bright colour attracts them.So if your boy does either,don't panic,it's absolutely normal.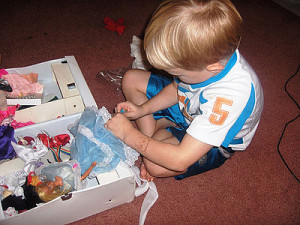 source:http://maaofallblogs.com/wp-content/uploads/2014/08/Boys-Boys-What-Like-Girl-Toys-300×225.jpg
4.You should never teach them not to cry,emoting is the best outlet:
'Boys don't cry!','Don't be a sissy!',haven't we heard and used them enough.Even studies  have show that if undealt emotions,they can create toxins and eventually be harmful to the body.So why teach them to hold onto emotions?Even women prefer sensitive men.So just let them !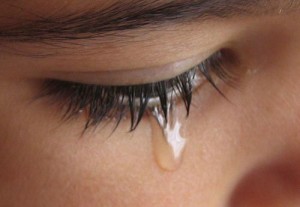 Source:http://maaofallblogs.com/wp-content/uploads/2014/08/menangis_1-300×207.jpg
5.Pulling back of Foreskin-
I wanted to bring up this topic,because most new moms are either unaware or wary of discussing this,but it's very important to your child's health and we can't compromise on that can we?All boys are born with a foreskin that covers head of the penis; in circumcision, this foreskin is trimmed back so that the head is exposed. In an uncircumcised boy, the foreskin remains firmly attached to the head of the penis. Over the next few years, the foreskin gradually becomes detached and ultimately it can be rolled back or retracted.
For the first year of your baby's life, all you need to do is wash his general diaper area, including the outside of his penis, with a gentle soap and water. If you try to pull the foreskin back too early you can cause bleeding, tissue damage, or scar formation. 
As your baby gets older, you can very gently test the foreskin to see if it rolls back. If some of it rolls back, clean underneath with soap and water and then slide it back in place so that it covers the penis(don't force). Repeat as necessary as he gets older, gently rolling back whatever part can be rolled back but never pulling or forcing the skin. There's no need to use cotton swabs or any other intrusive cleaning implements.
From time to time you may see white clumps of skin under the foreskin. These are skin cells that have been shed as a result of the foreskin separating from the penis. This so-called " infant smegma" is completely normal and it can be gently washed away.
As you are taking care of your little boy, you should teach him about his foreskin and show him how to pull back the skin to wash it. By the time your boy reaches puberty, the foreskin should be fully retractable, and cleaning under the foreskin should be a part of his daily hygiene routine.
If the foreskin cannot be pulled back you may have to circumsize the penis,to read more on this click on the link attd.

Credits:http://www.justmommies.com/articles/uncircumcised-penis.shtml#ixzz37gfTbrjF