There is a real world and a mountain world and I have existed in both. In the mountain world, we play different roles and it tests us in our weakest moments and bares our souls even to strangers. We feel a strange connection with people we may never meet again in life but while we exist there, we are bonded. We were a team of eleven strangers, some known to each other, some not but while in the mountains we became the EBC family.
While you are looking and probably reading the blog to know more about the trek, I can't do justice to the same without sharing my experience and the background story. So when I decided earlier this year that I wanted to do the EBC trek, my only experience was a low altitude 5-day hike that I had done in Iceland last year and more gruelling 100 kms trail walk under 48 hours. While the former was easy to medium level the latter was a test of grit. I was reaching a milestone in my life and I knew I had to do this to make this special but I needed one more such crazy person and I have to admit that I asked a lot of people around me. Meera, my trail walker teammate agreed to it. She was a little unsure but I hung on to the idea and made sure she doesn't back out. It was only later that I figured out many occasions that she was made of sterner stuff and I was glad for it.
EBC(Everest Base Camp) at 5564 meters is the holy grail for all mountaineers, for the ones who claim to be and the ones who actually summit, all have to touch forehead here. The trek has been marked as medium to difficult and trust me whether it is the lack of oxygen, hours of climbing, the substandard tea houses, gross common toilets or commonly occurring landslides on the way, they all test your grit, passion, and ambition. Which is why I strongly believe that no person who decides to go on this trek is ordinary but whether it's a mom who does it for her child or a mom who does it leaving her kids behind for three weeks, or a seventy-year-old or a first-time trekker they are all driven by their own reasons.
Kathmandu, Nepal
We arrived in Kathmandu on the 27th of October and were accommodated in the Thamel resort. Meera and I chose to arrive a day early and catch up on some sightseeing. Both of us are moms to two kids and it took us months of planning, begging parents to babysit and overcoming all the motherly instincts when we realised that we will be away from our kids for a really long time. I have been away for a week at times but 19 days was too much. We kept two extra days to sightsee. Some of the touristy things to do in Kathmandu are Pashupatinath, Durbar square, Bodhinath, Patan etc.
Your guide will give you an orientation a day before you leave and that's the day you will end up meeting your group as well. Let me introduce them to you to them. You already have a background of Meera and me. The next was a group of five; an American named Justin( 36 years old), Sunil Nehru(71 years), and Ashok Mahadevan(69 years), Anita Singh(43 years) who was doing it again to mark her son Angad's thirteenth birthday. Arun, an avid trekker(43 years), who has already done some 8-9 treks in the Himalayas. Then there were three brothers from Karnal, Rahul(40 years), Raghav(25 years), and Madhur(23 years), two of them were first-time trekkers and one had trekked in various national parks in the US but nothing as demanding as this one. The reason I have mentioned everyone's age is to give you an idea of how varied the group was.
The next day Meera and I decided to cover up some sightseeing and headed to Bodhinath Stupa and then to the Sherpa shop, which was highly recommended by Meera's friend for authentic trekking products. Kathmandu is the best place to buy trekking gear from brands like Northface, Icebreaker etc but you have to be careful about authenticity and make sure you buy Northface and not Northfake :).
P.S. We booked our trek with White Magic Adventures and while some people might like to trek on their own and it's very possible, I would not suggest the same unless you are a hardcore trekker. Managing bookings at various tea houses, arranging for porters and taking care of the whole background work becomes too much. Plus if you fall ill your guide is your best shot to recognise the signs and fly you back to safety. We saw many helicopters evacuating people on a daily basis.
For the ones who are reading for some inspiration in between our story you will know what the trek looks like;
The minor difference being that we skipped Pheriche during our trek.
Day 1 — Lukla(2850)/Begin Trek/Phakding (4-6 hours)
While booking your trek if you have done your research, unlike me, you would know that Lukla airport @2850 mtrs is listed in the top 10 dangerous airports in the world. We prayed hard to survive this as it would be a complete shame if our expedition would end before it even started. Luckily we had a smooth landing. Next, we headed to Yak Donald's resort and met our porters there. The highlight was meeting two women porters Anjali and Dilmaya who would be lifting around 30 kgs each and pacing with the male porters. They were indeed superwomen in their own right, a fine example of women liberation and empowerment. I was so proud of them.
We started our trek at around 8.30 and we trekked from Lukla to Fakding. Most of the trek is downhill, you descend down along the river Dudh Kosi(which means milk river) and this day was easy. We stopped at around 11.30 for lunch. Lunch was a standard for all Nepali veg thali set and then ginger honey tea which was really nice. Little did I know that slowly I will get bored of my wits eating these. On the way, you will pass many beautifully embossed stones known as the 'Mane Pathar'. They have some mantra written on them, most probably it says "OM Mane Padmai Hum', a very well known Buddhist mantra. You cannot miss them.
The people in Nepal are very friendly and the Nepali kids are used to strangers. They love posing for pictures and I got a few lovely shots with them.
Once we reached Fakding, Meera and I decided to voice record our day on our phones so that we can pen it down when we reach home. It was a brilliant idea, because, I am really reliving every day listening to them.
P.S. My right knee was already hurting as we had climbed down many stairs today, so I decided to tape it as I knew next day was going to be a lot more stairs and walking. This is a special roll tape which my physiotherapist had recommended I carry. I checked Youtube videos on how to apply the tape.
Day 2 — Phakding to Namche Bazaar(3440 mtrs) – (6-8 hours)
Every night before we retired to bed our guide Sanjeev, would give us a briefing on the day ahead. What we needed to wear, what to carry and what to expect on our trek. He told us that Phakding to Namche would be fewer steps but my phone stepper showed around 116 floors climbed at the end of the day. I think he purposely hid this bit from us to keep us away from the pressure. Now, this where I felt good about not doing research because had I read about this stretch earlier I would have been weighed down by what lay ahead. Sometimes having no expectations is great. Of course, we also had people like my dear mountain sister, Anita, who even after having done the trek in 2015 didn't remember any parts of it and to counter her was Meera who knew the names of the Peak and all that was to know of the trail and someone who had watched the EBC youtube videos many times over . On day 4, we entered the Sagarmatha National Park, a UNESCO World Heritage site, at Monjo.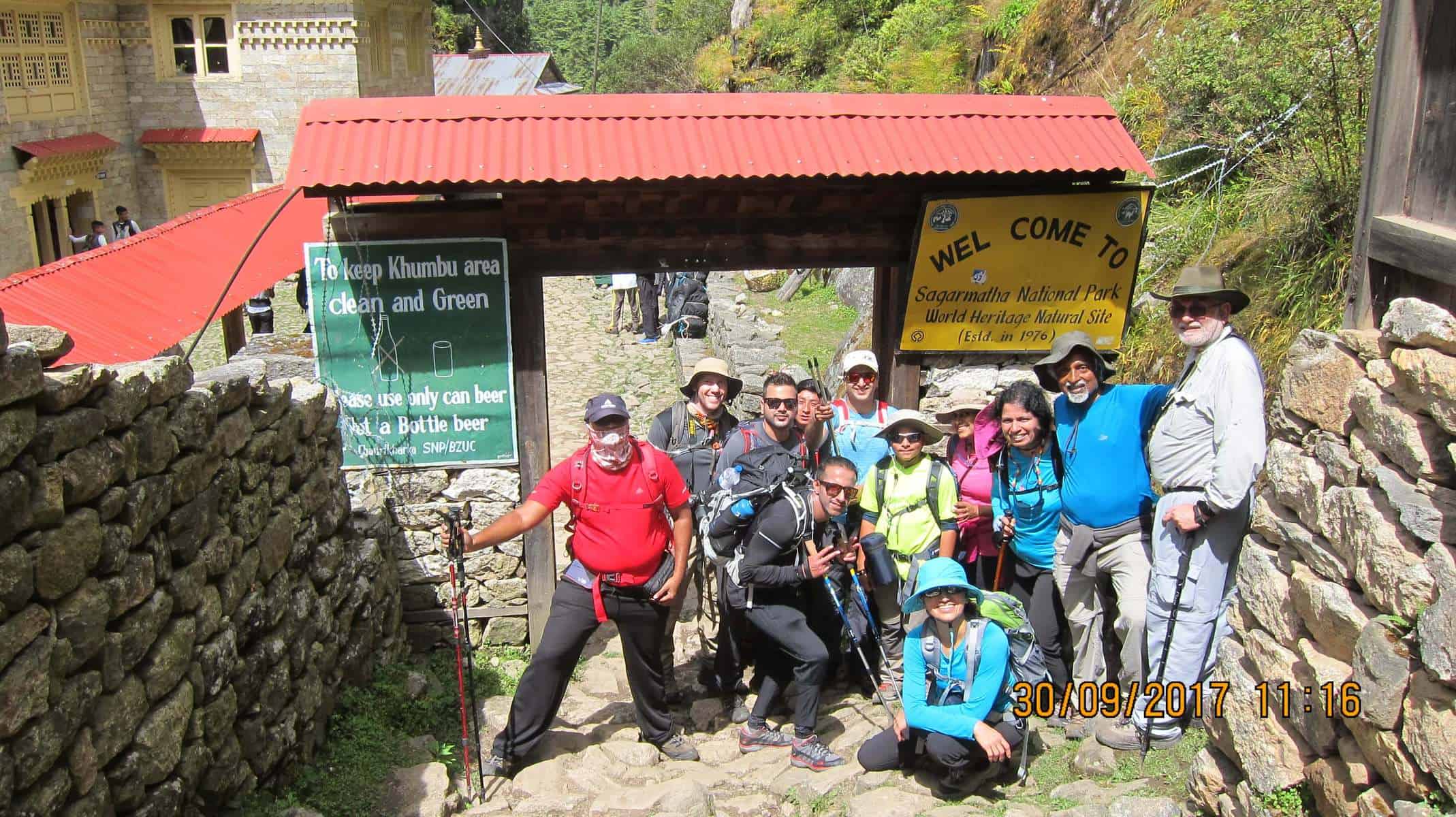 The entire Sagarmatha park is a wifi enabled zone and honestly, I was a little disappointed as I was looking forward to social media detox for the next few days. I had finished my work before flying to Nepal and left my team with instructions on how to handle it while I was away. This meant I would still be tempted to check my device.
We walked through villages along the Dudh Kosi river(Dudh-Milk, Kosi-River) and crossed multiple suspensions bridges. The most noteworthy was a double suspension bridge that we had to climb.
The trek went on for four hours to reach Monjo and another four hours to reach Namche. The second half from Monjo to Namche was more of an uphill climb and was killing. I stopped on a few occasions to stretch but did not stop for too long as the body tends to start cooling down and then you start shivering.
At 4.30 pm we saw the first steps to the market town of Namche Bazaar filled with Tea houses and restaurants and even spotted the Irish pub, which we marked for our return celebration. Today we celebrated with Pakodas, chai, and Mars roll( Mars chocolate dipped in flour batter and deep fried), very unique to this trail and would recommend it as a must try. Angad, the thirteen-year-old with us was the last one to reach but I was so impressed with this kid. No complaints, just very focussed. Ashok, on the other hand, walked with both his hands folded on the back, like a walk in the park. Both Ashok and Sunil(69 and 71 years to their credit), didn't ever take breaks and managed to stay ahead of the pack.
pic credit: Justin Brown
We changed into fresh clothing as we were sweating and wore an extra layer as it tends to get colder here. Here we met Shanon and Rebecca, two nurses from Las Vegas. What I learned from them was that they are going all the way to EBC and doing Kala Pathar but taking a helicopter back. They paid 2700 dollars for the entire trip which is way steeper than what I paid, but as they explained time is a valuable commodity for them and they couldn't have taken more time off. Honestly, I was tempted but I knew I would feel unaccomplished if I didn't walk the entire route back as well (an option that will keep clouding my mind many times on the way back).
P.S. You burn about 4000 calories per day, so stock up on those carbs people.
Day 3 — Acclimatisation Day At Namche
On the trail to EBC, the guiding companies plan a few acclimatisation/rest days for you to avoid medical issues and acclimatise better. These rest days don't mean that you will laze around in the tea houses but they take you on short treks around the area. We had our first rest day at Namche and we hiked 250 meters up to see the Tenzing Norgay Museum. I was experiencing a little shortness of breath and then I saw these two women racing uphill. They were runners from Malaysia participating in the Everest Ultra Marathon which starts from EBC and goes all the way to Dingboche. The museum has a lot of information regarding Sagarmatha Park, the animals, flowers, people and about the various expeditions that were carried here. Would definitely recommend a visit here to the museum and also you get lovely views of the Everest from here if you are lucky to get clear weather unlike us. I picked up some medicines, an Icebreaker Merino wool base layer(you don't get this brand in India and it's expensive but worth it), a few t-shirts for my kids etc. This is also the destination where my guide adviced me to start Diamox which helps in combating altitude sickness. I napped for a few hours and woke up feeling terrible. All kind of thoughts were clouding me. It was just the start of the trek. If I was going to feel sick then how will I manage the rest of the days? I couldn't even eat my food. Sanjeev, my guide was amazing. He told me to just remove every negative thought from my mind and relax. While I couldn't it felt good to see someone tell you that. Luckily I had carried theplas(Gujrati bread) and 'achar'(pickle) from home and polished away a few. The salt levels in my body improved and soon I was chasing a huge insect from our room, instead of lying down and pitying myself. My apologies for ever doubting the reasons for any Gujarati family to carry this stuff on their holidays. They were a boon that night.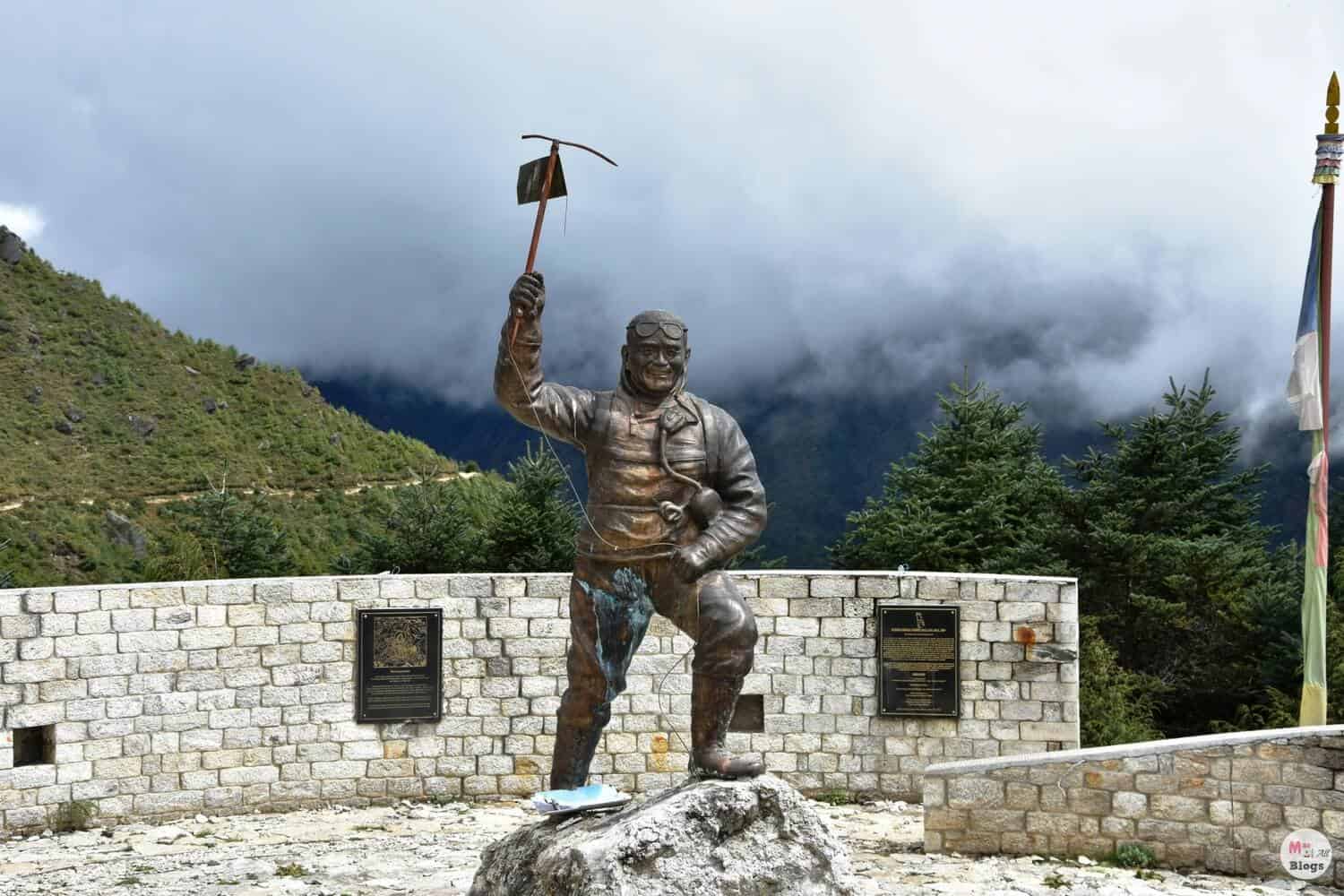 p.s. Some side effects of Diamox are that you pee a lot and might have blurry vision.
p.s. Namche Bazaar is the last place where you can shop for anything you need for your trek and the last place you will find ATMs.
Intrigued to know more about the Everest Base Camp? Keep reading, I promise to be back with more stories. This post is getting too lengthy, so I am going to divide it into a few more posts as I am aware that reading so much can get boring. Until next post, Ciao and happy dreams of the mountain world.
http://maaofallblogs.com/2017/12/14-days-of-ebc-pages-from-my-travel-journal-ii.html/