As I reach a milestone in my life, there was not really a bucket list but a few things I wanted to do. Amongst those one was solo travel. Much has been written and talked about it and it made me want to discover it for myself. As they say, I wanted to get lost to find myself.
And God willed the same for me too. In February I got a call from Ezeego's office about a Ladakh contest I had won. Now, for the life of me, I didn't remember which contest. You see, I randomly at times play contests on sites never hoping to win. So when I actually did, I was surprised rather shocked and didn't believe them. So I had won an all inclusive paid trip to Ladakh, one of my bucket list destinations.
Just a day before I was to leave, I read somewhere to have Diamoxin to combat altitude sickness. I consumed the same in the night and went for my morning workout. Did a few rounds of my building at a good speed and then intense workout and I was feeling uneasy. I was sweating profusely and while I told my trainer the same, the next moment I knew people were gathered around me trying to lift me up. I had passed out. Doctor asked me to take it easy the next few days or maybe even reschedule but then, I wasn't going to let it pass, was I :)?
The first day in Leh was just about acclimatisation, more than the oxygen I missed the wifi there. Leh being a highly secure military area the internet connectivity is very inconsistent there and surprisingly people don't miss it much. Data doesn't work either and I was here on a forcefully imposed social media detox. Now had I planned for the same, things would have been otherwise but since this was a surprise, I was panicking. I convinced one of the hotel staff to give me his BSNL number for a few days which he sweetly obliged to.
Warning: If you are heading to Leh, Vodafone or any other network will not work. Airtel will work within Leh but beyond that only BSNL will work. Trying to get a local sim means lots of paper work and almost a week.
http://maaofallblogs.com/2017/05/how-to-keep-fitness-on-track-while-travelling.html/
When you visit a place, a region, you discover so much about the place and tend to even relate to their customs and beliefs. Buddhism is the main religion followed in Ladakh apart from Islam. Ladakh is the land of beautiful monasteries and day 1 was just visiting them. The Hemis monastery, Thiksey Monastery, Shanti Stupa, Leh Palace and Shey Palace was all in one day. A day maybe not enough to cover them all. However, my guide did try to squeeze in three monasteries and two palaces. It was lovely to see the monks pray and recite Om Mani Padme Hum, a beautiful shloka which you will find on prayer flags, prayer wheels and in all Ladakhi people's heart. Most of these monasteries are ancient and world-renowned. They are visited by both local and international followers of Buddhism in large number, every year.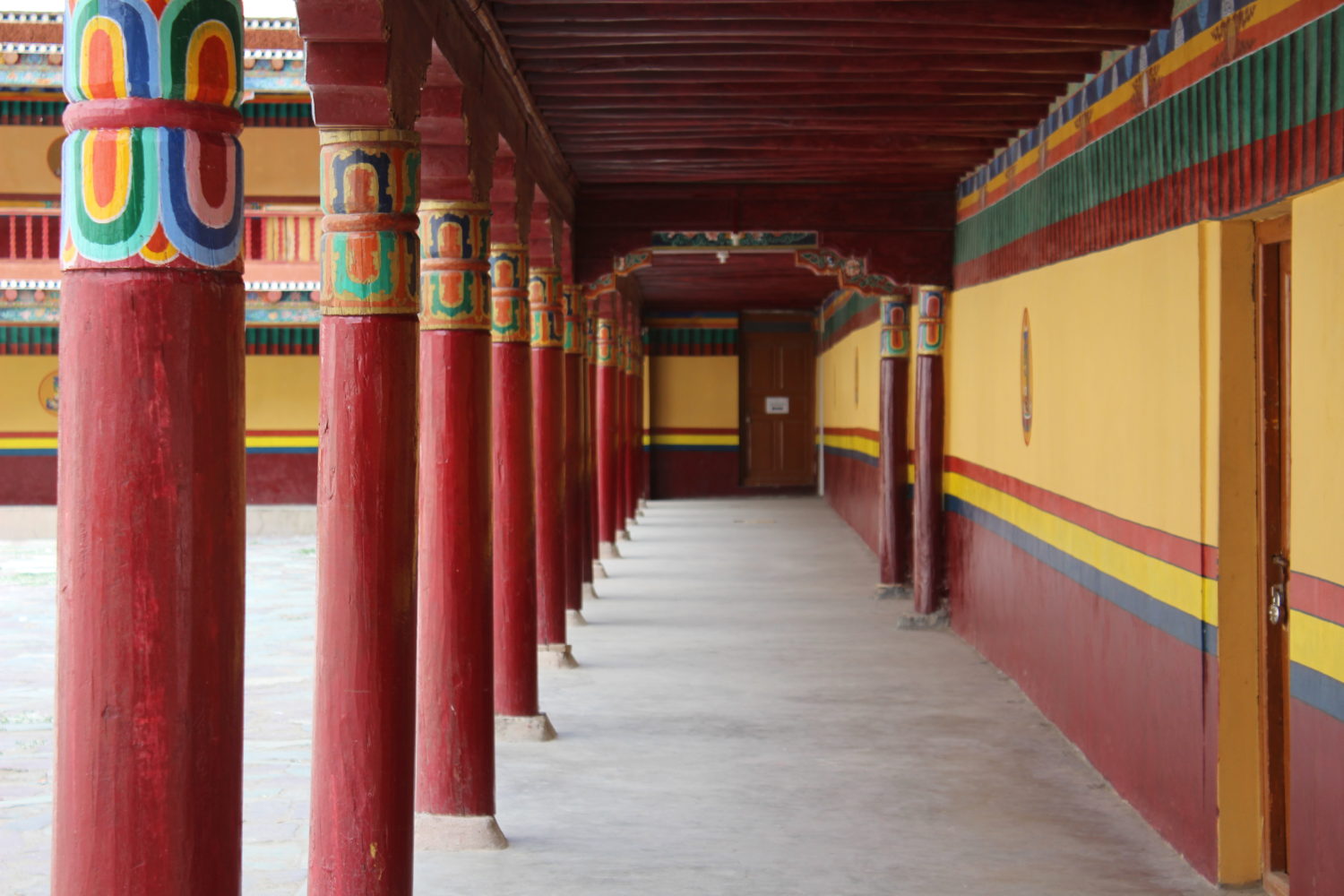 Another site to visit was the Leh Palace. Built with mud and stones, it reminds you of the construction of most houses in Ladakh. They use stones and then cover it with mud. No cement is used yet they withstand the test of time. The width walls of the Leh Palace are some 4-5 feet wide. This was built in the 17th century by King Sengge Namgyal and looks anything like a Palace.
It was 15th August and India's 70th Independence day. What I see missing or lacking at times in other cities if found in abundance in Ladakh. The amount of patriotism the people embrace is amazing. It could be due to the area highly populated by the military but it was heartening. They don't take loyalty to the nation causally. To commemorate the day, 50 women bikers rode to Khardungla pass to hoist the Indian flag and because of this Nubra valley pass was shut till 2 pm.
Now I was put in a group with 2 other couples(remember I had won this trip? And while I was travelling and staying solo, most sight seeing was with a small group). We decided to head to Pangong lake instead. We passed through Changla pass at 17000 feet and that's where I understood the importance of oxygen for the first time in my life. Luckily, we did not stay for more than a few minutes here. All we needed was a loo break, a cup of coffee and a few pictures.
Pangong Lake @14000 feet is the embodiment of 3 Idiots. While 3 Idiots may not have destroyed the eco system of Ladakh, it definitely has brought many domestic travellers pushing the foreigners away. The locals do not like this as they are losing long term clients and also foreign investments. At 170 kms of length this lake has 70% of its length covered in the territory of China. Whats most striking is that there is hardly any vegetation or people around. All you see is the lake, mountains and camps around. The nearest village is 5 kms away, there is no internet or phone connectivity. All you see is an STD booth for calls. I felt like I had been transported back to the 1970s.
Sleeping at night when the winds are so strong that they can actually blow away your tents was suffocating. I woke up with a really bad headache. Thankfully someone came to my tent to check on hot water and I could tell him, I needed an oxygen cylinder. My driver Rexin had carried one from Leh for emergencies. While I could have tried coping up without one, the previous incident and the fact that we had to travel back to Leh with shoddy roads left me in no doubt.
Please note: Almost every setup/ hotel has an oxygen cylinder with them in Ladakh as altitude sickness is very common. Still, it is better to confirm this before booking your stay.
I realised this was becoming too long. So will be back next week with more stories around my travel to Ladakh.
p.s. This is not a sponsored blog