You have been reading and listening to my entire story of Iceland travel and hiking in Iceland and this marks the last two days of the Laugavegur Hiking Trail, which is supposed to be one of the best trails in the world. While every other day was between 14-17 kms the last day had an elevation of 1100 mtrs and was a 25 kms walk with lava mountains and glaciers. The pictures are a treat. If you have come to the post straight then you might want to check out the Hiking in Iceland of Day 1,2 and 3.
Day 4 we hiked from Emstur to Porsmork it was supposed to be a 15 km hike but as usual, we ended up doing more than 17 kms. The weather God was in our favour which made the hike pleasant. During our hike on various days, we passed through many memorials that had been built for the people who had lost their lives, we came across this river crossing where this young 24-year-old had died while crossing it and his friends had built a bridge in his memorial. These memorials constantly kept reminding us of the dangers that might have been and we were just lucky to have survived this far without any issues.
You realise after walking through Iceland that there is hardly any vegetation in Iceland. On this day for the first time, we saw shrubs and trees on our trail. We came to our second river crossing and while the water height and current looked weaker than the first river, we had to cross the icy river four times. By now I knew the precautions I needed to take and you could say I was more experienced. We all managed to cross the river with relative ease. Our feet were frozen but we were glad to have made it without any incidents. I have to mention about this German woman who was a solo female traveller and was carrying her tent, utensils and backpack which looked at least 40 kilos and was still always ahead of us or at our pace. The only time I saw her panic was at the river crossings.
You hardly see people in these hiking areas, but sometimes you bump into co-hikers, especially at river crossings. We realised that every day our food and big backpacks used to arrive at the camp before we did in a van, so clearly there were roads that we were not aware of.
Day 4 we saw some shrubs and trees for the first time.
Porsmork was the most beautiful campsite along the beds of mountains and a river. Here we managed to spot an arctic fox too, the first animal apart from sheep that we had been spotting. I would have hoped for some Icelandic horses but we didn't see any during the hike. The campsite was in a garden with a barbeque, talk about luxury 🙂.
We had the most expensive beer here which we could secure from a bar nearby. A realisation hit me, we were getting close to civilisation and I wasn't exactly sure I was glad about it. That night I developed a sharp pain in my adductor muscle but I hoped it will go down after a good night sleep.
From Day 1 I had discounted day 5 from my itinerary. People had written about the hike from Porsmork to Skogar and how it was an arduous 25 kms hike with some dangerous spots. The famous 'Catspine ridge' and 'knife edge pass' all was ahead on this hike. Even some hikers we met on our way came with stories that added to this fear. Two of my other friends also were having second thoughts and all the while we all planned to drop out, but on the last day, they decided to go ahead. I did not want to be the only person to be left behind, so I had no choice.
I woke up with a severe cramp in my right leg ( my adductor muscles were acting up) which the pain killers or a good night sleep refused to douse. The first leg was a 1000 meter uphill hike and I needed to drag myself up. Stopping at places and rubbing my poles on my legs, stretching whenever I got the chance but my guide and my friends were very patient and supportive.
They kept coming back for me, taking more than required breaks just so that I could recover enough to move ahead. I had to take some more painkillers to manage the pain. But as soon as the uphill was over, my pain killer kicked in and the pain vanished. Maybe it was psychological. In the meanwhile, I crossed the Catspine and the knife fork without as much as blinking. Well, our guide did not let us know when we crossed it. I think his strategy worked, at least for me. Sometimes we just manifest our own fears.
There were beautiful moments in the hike like watching a double rainbow in the mountains after a small shower, crossing lava flows, climbing a lava hill and the Sun God supported us a lot.
After crossing the glaciers we did a pit stop at a hut for warm coffee which was in the middle of nowhere. The route was laden with some incredible waterfalls and we spent some moments that can't be replaced or reinvented. I was in pretty good shape in the second half of the trail, infact, ahead of the group at most times. However, I slowed down only towards the end, when I realised this is all coming to an end and almost had separation anxiety.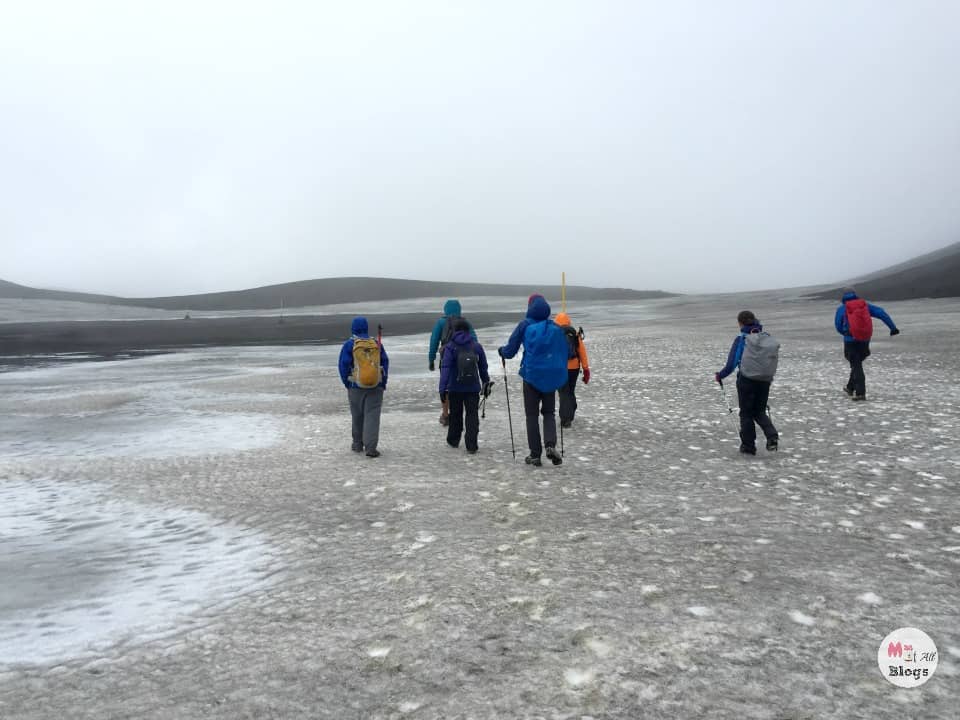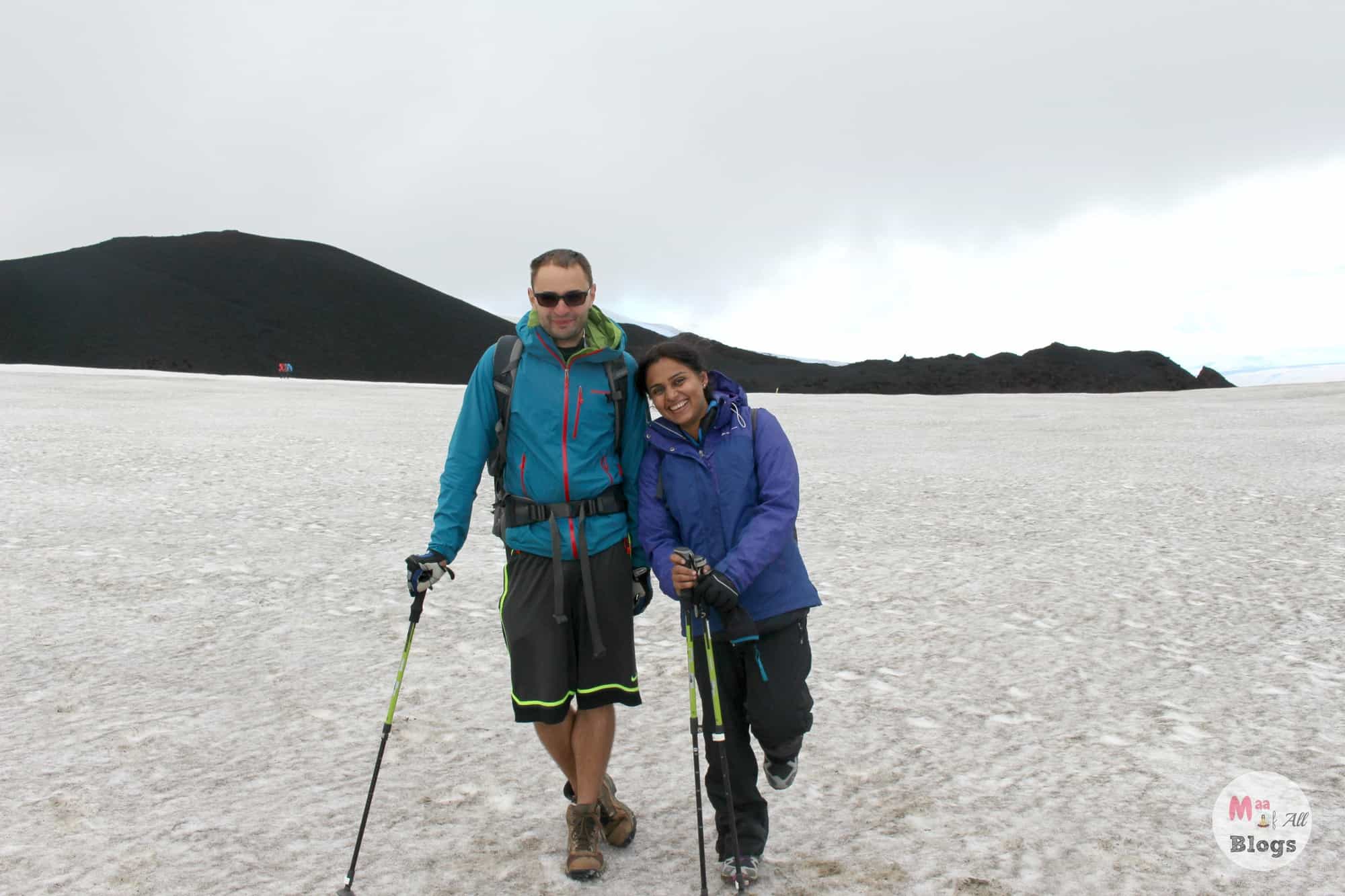 I did not want this connect with the mountains and nature to end. It's something that I had felt for the first time. I guess avid hikers will understand. It's a special bond that you can only experience when you are down to your basics and all the walls you build around yourself fade.
We ended the hike in Skogar, which is the most incredible waterfall I have seen. I can't tell you how suddenly civilisation and tourists felt so alien. The trail had ended but the connect never did. It's been months since I have come back from Iceland but the mountains keep calling to me and I hope to keep meeting them more often :).