5 Yoga Asanas to Help Lose Belly Fat:
---
How can one describe the routine in a middle-aged human's life? There's a simple way to elaborate it and that is Sleep-Work-Eat-Repeat and this indirectly depicts how busy the lives of people have become. The lifestyles we lead have less of personal space and has gotten more of hectic work life and this is where the chances of obesity, belly fat, mental sickness, unhealthy living and so much more arises!
We all have had times where our stomach gets pesky and bloated, and ridding ourselves of it can be a major pain. People start taking up various activities to overcome these issues such as going to the gym, taking up some physical activity like aerobics, Zumba and so much more. Once the enrollment is done the individuals start going to the gym or the activity which they have taken up, in the beginning, its all about positivity and the person is full of energy and spirit but as the time passes by we all tend to lose the grip and this is how the obesity takes over us all over again.
This is the reason it is said that Yoga is the most effective remedy to overcome all the problems whether it has to be mental health or physical. Fortunately, these five Yoga Asanas can help you get a flat midsection naturally and quickly.
http://maaofallblogs.com/2018/03/5-yoga-poses-for-a-good-night-sleep.html/
---
Check out the five Yoga Asanas that best attack belly fat below:
1. Warrior 1 (Virabhadrasana)
Warrior one is a regular pose that gives your back a nice stretch as it toughens your core, buttocks, and thighs. Not only does it aid you to lessen belly fat, but it is also a soothing position that encourages clearness and peacetime.
How to do it:
Begin in a standing position with your hands to your side and your feet brought together.
Spread your right leg forward as you extend your left leg backwards similar to a swing movement.
Slightly turn your midsection so that you are facing your bent right knee.
Exhale and you raise your body up to your knees.
Gradually stretch your arms up as you turn your back to create a minor arch.
Remain in this position for 15-20 seconds as you breathe normally
Repeat for the opposite leg.
---
2. Warrior 2 (Virabhadrasana 2)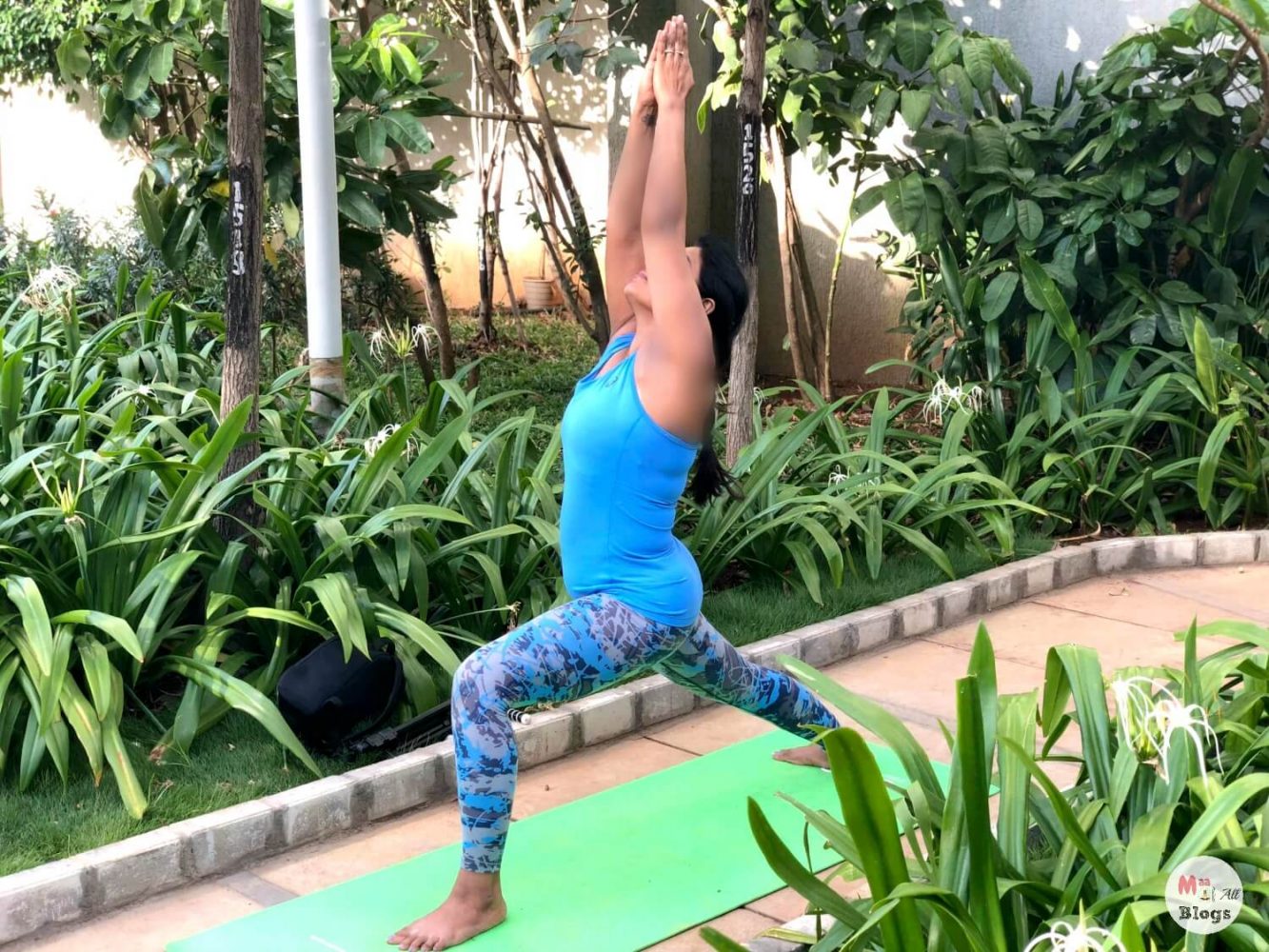 Warrior 2 is best done in combination with the warrior 1. It offers similar benefits as the warrior 1 posture.
How to do it:
Follow the same steps as above, spread your hands outward from your torso instead of raising your hands above your head.
Move your head so that you are facing your right leg.
Repeat for the left leg.
---
3. Chair (Uthkatasana)
The chair pose is an intense posture that tugs at the abs, supports the bottoms and thighs and toughens the spine. You must not go for this pose if you have a knee or back injury and should be skipped if you suffer from chronic insomnia or headaches.
How to do it:
Stand up straight with your hands in the Namaste position in front of you
Bow your knees in a position as if you are sitting in a chair
Raise your hands in the air above your head.
As you go deeper into the position Bend your torso inward.
Breathe normally as you hold the position for as long as you can.
---
4. Pontoon Posture (Naukasana)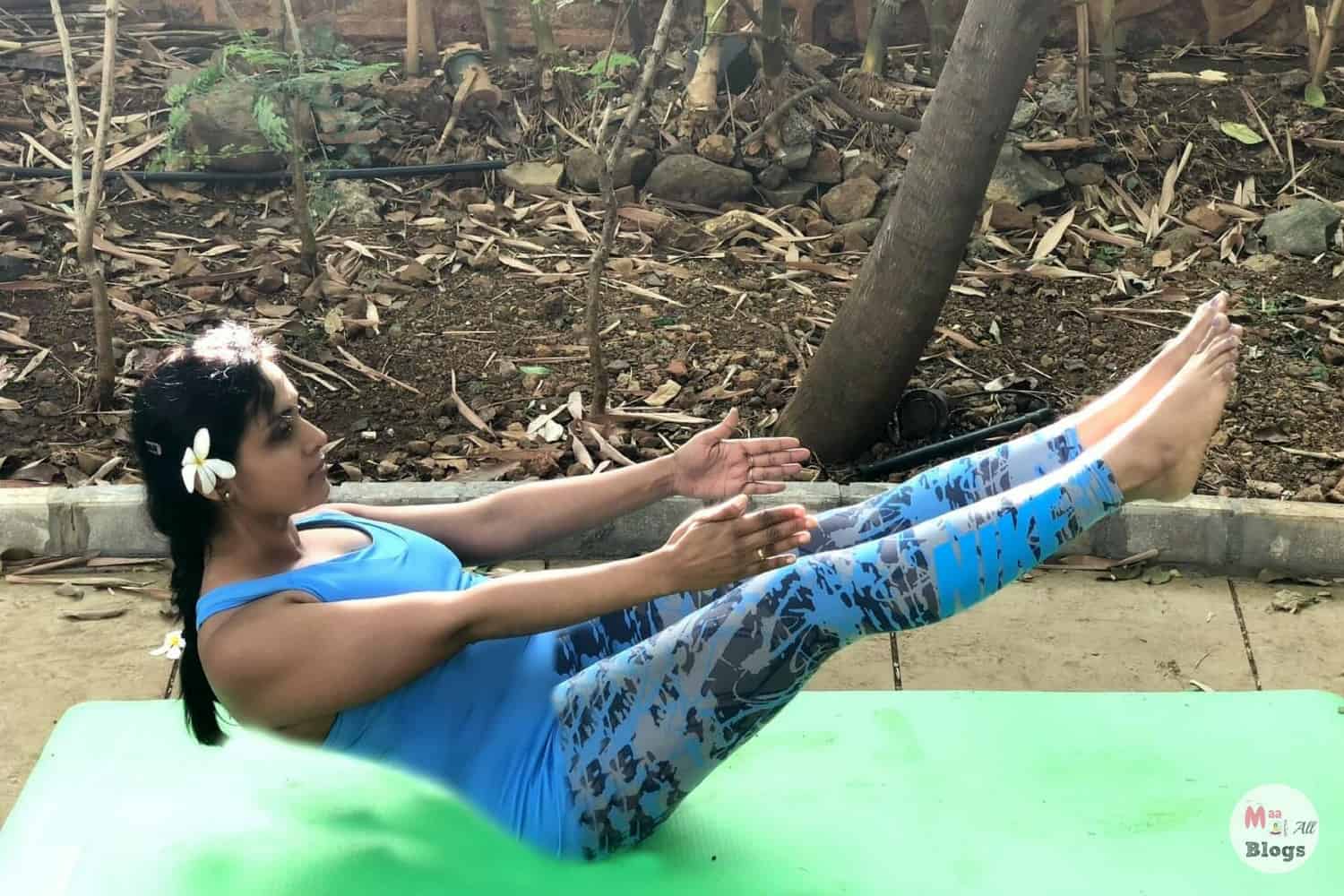 The pontoon posture mainly emphases on the muscles located in the legs and the back which eventually aids to get rid of the fat stored in the belly.
How to do it:
Start in a lying position on your back with your arms down at your side and legs stretched out.
Inhale as you stretch your toes and feet and lift your legs up. Your legs should continue to be straight.
By reaching your arms toward your extended legs, Form a 45-degree angle with your body.
Breathe usually as you hold the posture for 15 seconds.
Release the pose and allow your body to rest for 15 seconds.
---
5. Plank pose or (Kumbhakasana)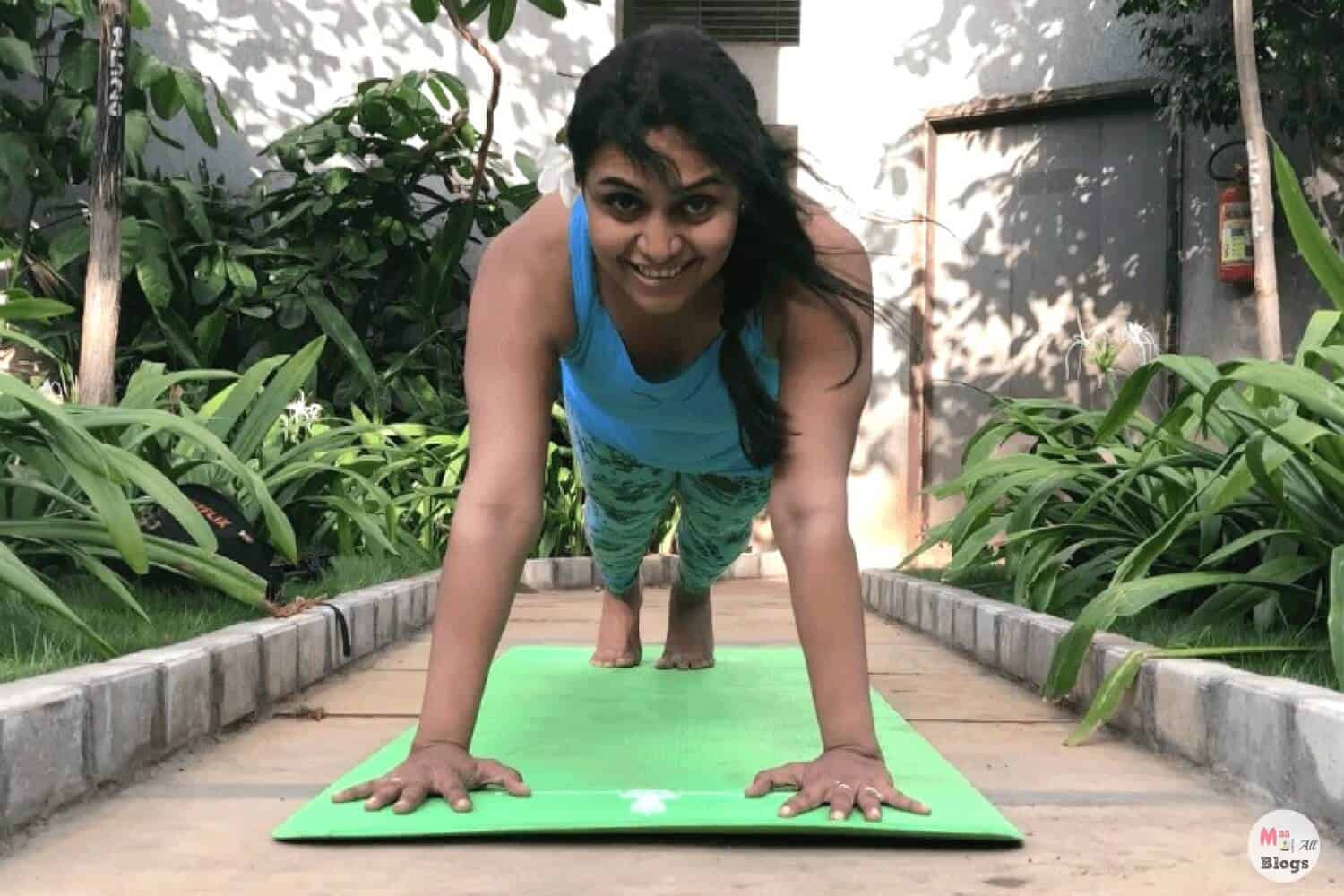 It burns belly fat while toning and strengthening the shoulders, arms, back, thighs and butt.
How to do it:
---
To get into this pose make sure your hands are directly underneath your shoulders. Keep your hands flat and open all fingers. Now tuck your toes and step your feet back to extend your legs behind your body. Keep in mind the body should form a straight line and the entire weight should not be on your shoulders or palm. Try holding the position for at least 15-20 seconds. Exhale and drop to your knees.
---
Practicing yoga for every day in the last one month has made a huge impact on my body, of course, you have to supplement it with the right food to improve the effect. Hope you all did like this post, do drop us your feedback and suggestions in the comments section below. Till the keep spreading the #MaaGyan.
---