6 Reasons you'll Never Regret Being A Stay At Home Parent For Your Kids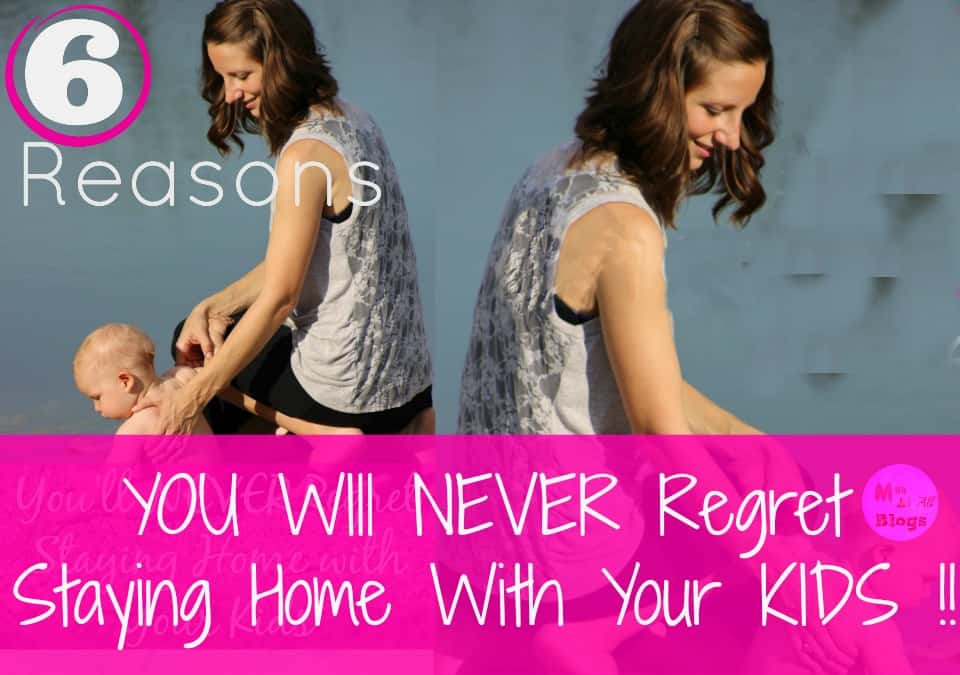 By Lindsay Whitman Drewes, Lindsay is mommy blogger from Wauseon, Ohio USA.
Two years ago, I decided to leave teaching in an inner-city middle school to stay home with my son. After making the transition, an 86-year-old friend of my grandmother's congratulated me on the decision. I asked her,
"Did you stay home with your kids?"
Her response was,
"We didn't have a choice. Everyone stayed home with their kids then."
That struck me. We are just two generations out from most moms staying at home. Now with student loan debt, the luxury (or necessity) of two incomes and competitive professional careers modern moms face a challenging decision.
To be a stay at home parent and nurture full time or be a bread-winner and achieve career success? That's the question that pervades our thoughts. Don't get me wrong, there are lots of ways to make this decision. Work from home, work part-time, keep climbing the ladder.
Your decision is unique to you and your family. I'm not going to tell you what decision to make—I'm going to tell you why you'll never regret staying home if THAT's the decision you make.
It goes so fast
Of course, you've heard it over and over again that raising children goes so fast (remind me of that when one child is tearing open a bag of chips in the grocery store and the other is eating them off of the floor!). Well, the truth is it does go so fast! One minute you're rocking a newborn the next you're chasing a preschooler.
It's a short period of time
When you think about how long your children will be home, you'll probably realize in the span of your life it's a really short period of time. Depending on how many children you have, how far apart, and if you'll send them to school or homeschool you could have just 3 or 4 short years before preschool. You might have your little ones home all day for less time than it took you to finish college. Think back to the years you spent in college…went by in a flash, didn't they?
It's something you'll never be able to replicate
No matter what you do, you'll never have another period of time in your life just like this one. Maybe you'll work less when they're older. Maybe you'll retire early to watch your grandchildren. Maybe you'll take more time off next year. You might do those things but it won't bring back today. You'll never get that newborn to snuggle on your chest, that two-year-old cheering because he peed on the potty, that three-year-old hugging your leg because she's afraid to join story time again. When it's here, it's here and when it's gone you might not notice for a week or a month or six months that it's gone but it is and that feel is never coming back.
You won't have the "Say bye-bye to mommy", guilt
That feeling when you have to say to your love I'm leaving and you're not coming along. Hearing him cry for you and having to turn and walk out the door. Making the statement with your actions that wherever I'm going is more important than holding you (which of course isn't true and makes me want to jump out of my skin). I did it for one school year after my first son was born. I am so happy to never have to do it again. I am happy being a stay at home parent.
No one can do it like you
Mama, give yourself some credit. I don't care how many people rave about a babysitter, how great your mother-in-law is with him, or how many stars a center earns—no one can do it like you. Yes, you with all of your faults and imperfections. You were made for this baby. Quite literally a match made in heaven. Even on your worst day, you are the best thing for him. It's great to have all of those other people for back up or support but there is nothing like hearing you soothe, laugh, sing, giggle, praise (and roar on occasion).
This is the only time you are (or should be) the center of your kids' world—soak it up!
Right now, when your kids are young, you are their sun. Their whole world revolves around you. Eventually, this is going to end. They'll find a spouse and have their own kids. That will be their new sun. You'll turn into just a little moon orbiting them. Live up these sunny years. Cherish them. And be able to help your kiddos gravitate to their new sun when the time is right.
I didn't write this to give you or anyone 'Mommy Guilt'. Each person has to do what is right for them and live with the results of their choices. That's life, right?
I did write it to empower you. If you feel like you should be at home with your kiddos, then that's where you should be.
I know the feeling of being an independent, career focused woman with a couple of hard-earned degrees. And I also know the feeling that suddenly my long hours of work and list of accomplishments meant nothing when my baby needed a new diaper.
It's okay to say,
"I thought I was doing the work of the world and on the right path but now I see I need to be at home. It's okay to say I can rebuild my career or maybe I can't but I know I can't rebuild this time with my child."
Look inside you and do what feels most right. Just right and forget any "scary" aspect. You'll make the right choice. You created a human being and you can figure this out!
Keep being the amazing Mama you are. You were MADE for this!
Lindsay Whitman Drewes from Ohio, is a 30-something mother of two wonderful boys. She holds a Master of Arts degree in Cross-Cultural and International Education and left teaching inner-city middle school students to be a Stay-at-Home Mom. She is the founder of www.KiddoKorner.com a site dedicated to empowering parents and providing high-quality, educational, and eco-friendly baby and toddler products.