Last year was a little low for me when it came to travel, due to family issues. Last November, when I realised that hubby was traveling to Portugal for work, I seized the opportunity. November is also a month when my Anniversary falls so this became a trip for just the two of us :). If you have been married like me for 16 years you will realise how much these breaks are important for bonding.
A lot of people combine Spain with Portugal but I would not recommend the same as there is enough and more to see in Portugal itself, especially if you are constrained for time.
Spain With Kids: Our Family Trip & Travel Experiences In Spain
Our journey started on not such a great note because our flights got cancelled a day prior, so we had to rebook and we reached a day later than expected and at midnight to Porto.
We chose an apartment very close to the Douro river, at a walkable distance to all the main attractions in Mouzinho Oporto tourist Apartments, a small but cozy studio apartment for two. Here are details of my 7 Day and 6 Nights Portugal Itinerary. Hope this helps you plan your vacation.
PORTO: Portugal Itinerary
On our very first day in Porto, it was pouring from the word go. It was super cold but we managed to cross bridge over the Douro river to go to the city across which is called Gaia.
While we all know Porto as a beautiful city by the Douro river and is famous for its Port wine, in actuality, Porto has nothing to do with Port wine! The Port wine actually was brought to the limelight because of the British and some of the famous and the oldest wine cellars belong to them and while port wine is actually produced in the Douro valley, 140 kms away from Porto.
It is stored in Gaia in wine cellars and not in Porto. The ones to visit are Calem and Sandeman for sure. You can book online in advance or buy tickets over there, but do check on their tour timings online. They have fixed timings and if you just land up like us, you can waste a few hours with nothing to do.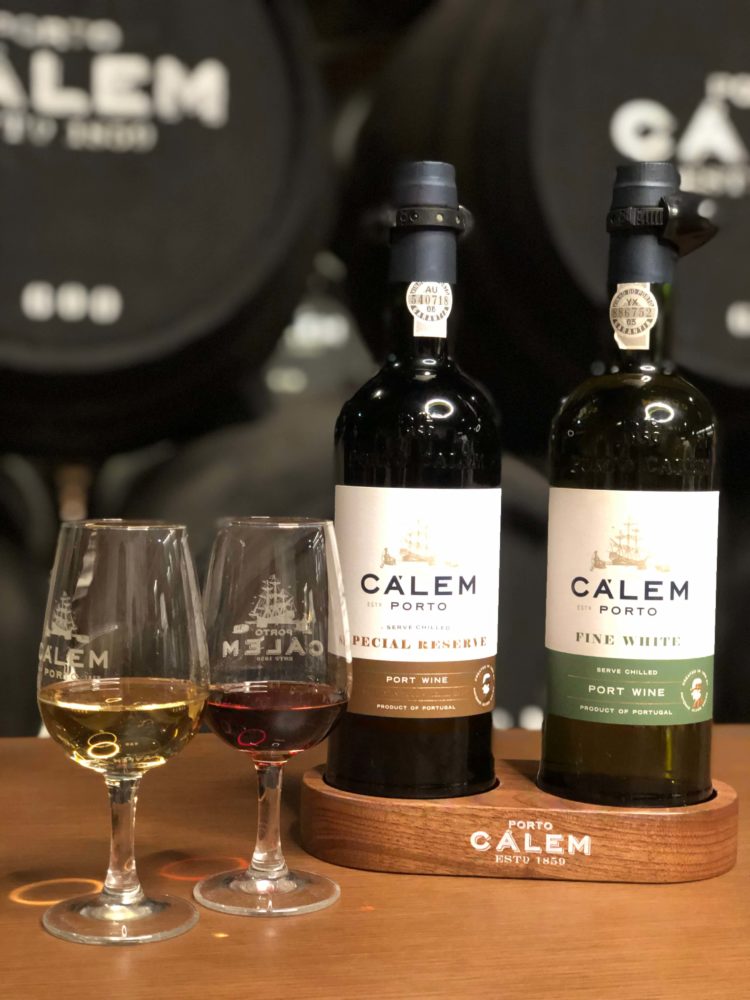 The entire city is located on hill tops, so you see bunch of old colourful houses from the river and its bridge. A walk by the river or a river cruise is highly recommended. The cruise is just 15 min and in that time you can see all the 6 bridges and go to the point where the river joins the sea.
Porto has beautiful view points from where you can watch the sunset. Its undoubtedly is one city that has one of the most beautiful sunsets.
The things to try when you are in Porto is definitely Portuguese Nata( an egg yolk Tart), Super Bock Beer and Francesinha( I am aware that this word is made by joining France and Sinha and I wonder if we had anything to do with it ????). A very interesting story around Nata is that it was discovered because the nuns used to use egg white to starch their clothes and a lot of yolk was wasted so hence this sweet was invented. It's yummy, by the way. While I have an egg allergy, I tried it and loved it.
Francesinha on the other hand is a lethal layers of sausages and meat combo with cheese and sauce on the top and the Portuguese claim that it's so lethal that you can have this only once a month. There is a vegan version too, I skipped this one but if you are a meat lover, it's a must do.
The best way to discover the city of Porto is by foot. The streets are cobbled so I would definitely suggest to wear comfortable shoes. I was grateful for my sneakers. I would recommend two nights and if you can extend then do visit the Douro valley tour from here.
P.s.- A lot of info here courtesy the walking tour I did with SANDEMANs NEW Europe
LISBON: Portugal Itinerary
On Day three, we took a train to headed to Lisbon. It's just 2.30 hours by road or train from Porto. Luckily for us the weather was wonderful here, with an occasional shower here and there. Lisbon is a metropolitan city but the history and culture of Lisbon is as bewitching, or more, as Porto. We stayed in the Corinthia Hotel here but would not recommend it as it's pretty much away from main tourist attractions. Stay in Alfama area.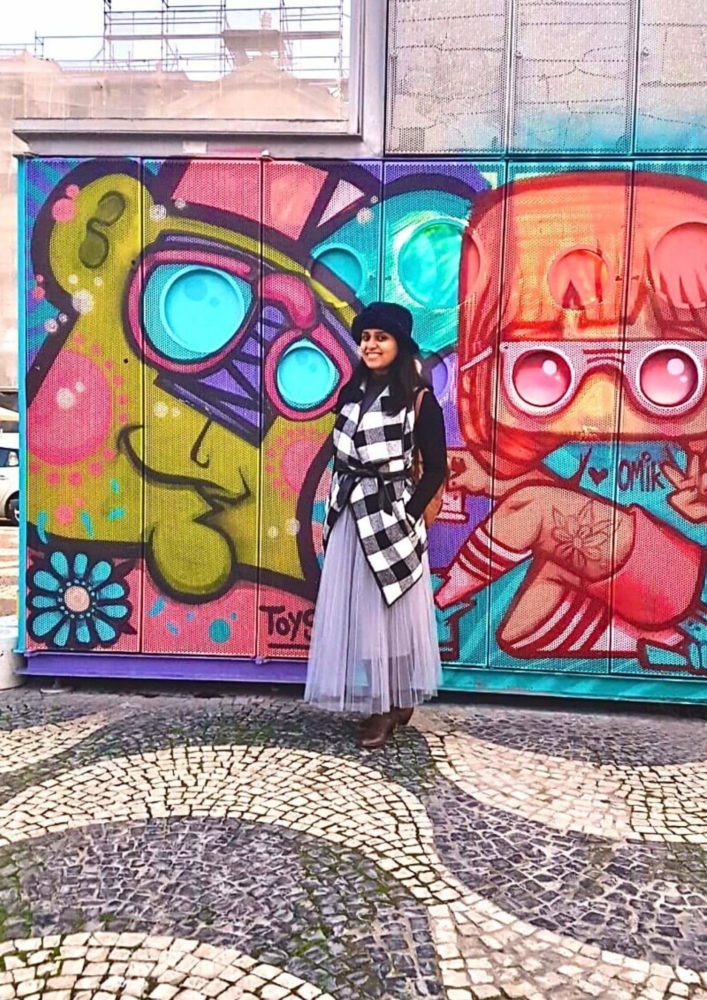 Grafitti in Lisbon
If I could sum my entire stay in Lisbon, it would be in three words – history, culture and Gastronomical experience.
As usual, I started exploring Lisbon on Day 4, with free walking tours to understand the city and its culture well. This time I chose Take Lisboa tours and I found our guide Yuri extremely passionate about the history of the city which made the tour even more interesting.
If you look into the history of Portugal, it has had its share of downs, with invasion by Napoleon, the great earthquake of 1755 which nearly wiped out 85 % of the city and the reign of Salazar. They finally got their independence with the famous 'Carnation Revolution' in 1974 and it's only after that their economy started growing. So it's a European nation that's still evolving. What will strike you is the friendliness of the locals and you will feel at home at once.
Lisbon has distinctive areas which you need to visit
Baixa – This is downtown, starts around a famous square (Rossio) and ends at Praca de Comercio.
Chiado/Bairro Alto – Here is where you find the night-life. Portugal is known for bar hopping and nightclubs.
Alfama – Old neighbourhood around the castle. This area was initially the habitat of prostitutes and had hamams as it was rich in hot springs. Legend goes, the word Alfama comes from 'The Hamam'.
Av de Liberdade – Do not miss the "High-end" shopping in this area.
Belem – Here is where you find the most historic monuments and the famous pastry, Pasteis de Belem ie historic cream tart
Docas – marina area with restaurants and night life
Parque das Nacoes – The new modern area of Lisbon
Of these I would totally recommend walking tours of Baixa, Belem, Alfama and Chiado. You can explore these areas later at your ease in the day.
It's also one of the cheaper European countries so will not create a big hole in your pocket. Of course, you still have to look out for pick pockets.
My absolute recommendations of things to do in Lisbon
Do the heritage tram route of 28 or 24.
View points – Cafe Bellissimo near Carmo covent, Belem tower, and St George's castle.
Eat at bistros, vintage cafes and michellen star restaurants. Food is reasonable unlike most other European countries.
Walk around in the Chiado area, Alfama, Belem and soak the culture. Visit the Jerenimos Monastery, museum of coaches, Lisbon Cathedral, Carmo Convent etc.
If you have time- visit the LX factory. An offbeat place with multiple boutique shops and restaurants. Loved the vibe there. The place is famous for products it makes from corks so definitely buy a bag, shoes or hats made of it. It's a great tool for recycling.
Learn about the famous poets of Portugal- Fernando Passeo, Luis De Camoes, Almeida Garret to name a few.
*Go to a Fado concert- The powerful music style is described as nostalgia and longing.
* Check out graffitis across the city. You will also realise where Mario Miranda derived his inspiration from.
*Drink Green Wine- yes, it's a thing and has only 6% alcohol.
*Do Tagus river cruise if you have the time.
*The nightclubs and bars in Lisbon are open till 9 am!!! They really party! And Bairro Alto is your area to be.
You can walk everywhere but remember it's all uphill and downhill mostly and cobbled streets. Uber is super cheap, so use that when needed.
SINTRA: Portugal Itinerary
Day 5, we decided to explore the lazy, small, historic town nestled in the hills about a 30 min ride from Lisbon called, Sintra.
Being stationed a bit up it's temperature is always a little lower than Lisbon unless I, like an eternal optimist decided that it's going to be a sunny day and it really was!
I did a private tour to Sintra with my friends, since hubby was busy. We walked through the city centre and the by-lanes soaking the entire vibe of the city.
Things that we missed and would like to do the next time is the Moorish castle and the Quinta da Regaleira – A lavish mansion and fascinating gardens that contain hidden tunnels and secretive religious symbolism because apparently the person who owned it was a free mason.
Our guide Feliciano from GetYourGuide took us to this non touristy beach, Praia da Adraga, which had beautiful waves, caves and a cove from where the waves would break and come like a froth to kiss your feet. It had to be my most favourite place to visit.
Our last stop was lunch at a beach town Cascais further away where my girlfriends and I finished off a pitcher of Sangria, listening to some College romantics in a town square. Unfortunately, I don't have pics of this place. This place also has the biggest casino so do visit 🙂 if you like casinos.
This is how wonderful my holiday was. We were in Portugal for 7 nights and I liked just walking around the place. If I had to go back here are a few places I would like to add to my itinerary;
Aveiro – aka Venice of Portugal
Coimbra – Seat of oldest University of Europe
Evora – Old Roman Capital and centre of wine regions, Alentejo
Faro – Capital of Algarve, touristy beach region of Portugal
Geres national Park- to enjoy the amazing landscapes
Have any questions about Portugal? Planning a trip there? Comment below and I will get back.
#portugaltourpackagefromdelhi #portugaltourpackagefrommumbai #spainportugalholidaypackagesfromindia #portugaltourpackagefrombangalore #portugalpackageholidaysfromindia #lisbontourpackagefromindia #portugalitinerary #portugalfamilyvacationitinerary #best7dayportugalitinerary