Blogadda recently organised a Mommy Blogger event and we got to take our kids to kidzania. Oh, what fun it was! This was not the first time my kids were visiting Kidzania, we have been here several times and we just love it. Each visit we collect Kidzos(currency of kidzania) and hope to encash it in the end, but every time, we forget to do the same. 
So what is Kidzania?If you are not from Mumbai or haven't visited a Kidzania before, then you must make a plan and take your kids there. Here is a conversation I had with a friend ;
Her:Hey I have been hearing about Kidzania. What is Kidzania?
Me-Kidzania  is a theme park.
Her-Wait did you say theme park? My kids have been to many and they just love the rides there. 
Me-Here is the difference. Kidzania is a theme park with no rides! 
Her-No rides? Then what kind of a theme park is it?
Me-It's a theme park ,where the kids role-play.They can be fireman or a doctor or a TV presenter or a model or a cashier. They are paid in kidZos, KidZania's own currency, which they can save in the KidZania bank or spend on goodies at the KidZania shop.
Her-Wow!This sounds unique!I should take my kids there too!Let me know how was the experience?
I would call it a city by the kids and for the kids.As you enter Kidzania, you are given a kidzania cheque from Yes Bank,a boarding pass and a Kidzania map. The kids are guided by the kidzania staff on how to encash the cheque.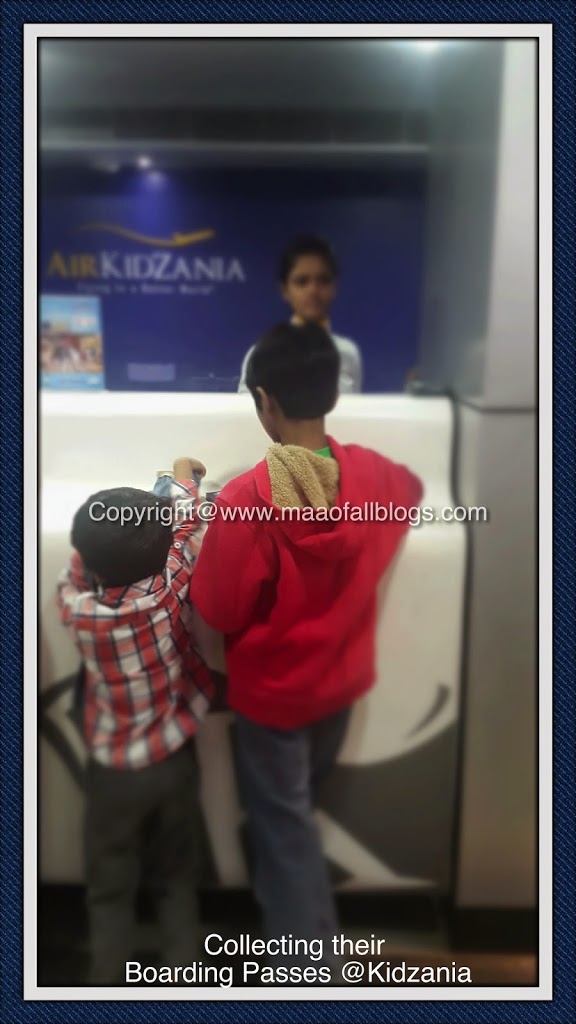 This money is used to do activities, while there are some activities where you have to pay kidzos to do them, there are also those where you earn kidzos. Once you are led inside the kidzania mini city, the kids are on their own. Each activity means they learn a new skill. 

The parents are not allowed with the kids for any role play activities with some exception of theatre activity, beauty salon, hotel activity, Star TV Studio etc. Some activities have recently been open for adults like the Strike House and Chess Robotics. Apart from this parents can relax in the parents lounge while the kids are doing the activities. Parent's lounge has a nice seating area well equipped with a wifi connection and a computer, a television, a coffee shop and Bodhi Spa. Bodhi Spa, has some amazing massages and I would totally recommend their dry half an hour head massage.

If you are wondering how did I get time to go to the spa when I had two kids tagging along. Eeshan, is 8 years and whenever we go to Kidzania, he does all activities on his own. All decisions of spending and earning the kidzos are his. Also Kidznia is a safe haven for kids. When you enter, you and your kids are swiped together with a security bracelet and the kid is allowed to leave only when the swiped adult is accompanying him. Also it being an enclosed area, you won't lose a kid. However, for kids under 8, like Ahaan, you need adult supervision. So, I had to leave him with my maid at the toddler's  in the play area on the first floor with my maid. The Spa visit was not this time though, it was a few months back. 
The kids are treated like adults and are always referred to as Sir/Madam. It was great fun seeing my little one trying to deliver courier packages and getting signatures from the shops he was delivering to.He did this activity with another friend and together they made a great team. For this DHL activity he also had to announce at every shop that he was from DHL and was there to collect/deliver packages. Towards the end of the activity when he got paid in kidzos, he was ecstatic with joy. Not only did he learn a valuable lesson that you get paid to work, but also learnt about DHL and couriers at the tender age of 4 years, this was his first mild introduction to the real world and it's ways. 

He also did Dabbawala delivery, construction and Painthouse activities.

Another activity, he absolutely loved was the Coke factory, where he got to make his own bottle of coke. What is wonderful that even though from school they do get to go to different factory visit, this  place has many that you can experience on the same day.

Eeshan, loves the air stimulation activity where he gets to fly a plane and be a pilot for a day. Another activity he absolutely has to visit is the Car driving school. While for both these activities he needs to pay kidzos, with experience he also engages in activities where he can earn money enough to pay for these and add to his collection of kidzos. In his role-play he has learned a lot about finances.
If you have a toddler and wondering what Kidzania can offer to him/her. Well, they have around 23 activities, some specifically designed for them. 
At lunch time, we ate at Esbarro, a pizza outlet within Kidzania. Here of course, you have to pay with real money. There is also Hardy's, a burger place and a coffee shop for eateries.
Wrapping up, we went to the last destination, the Central shop where you can buy goodies for kidzos and of course, as you guessed, we came back without buying anything :(!! We didn't have  enough kidzos to get what the kids wanted. This just means we are heading towards another trip to Kidzania, not that I mind at all! :)!



You May Also Want to Read
Inculcating Young Readers
My happiness Quotient!