My Experiments With The #KentColdPressedJuicer
Your body is the reflection of the choices you have made up to this point. The hard part is maintaining the discipline to follow through. I am very careful about my eating choices and while I may indulge sometimes, mostly I like to eat healthy and that's a habit I want to pass to my kids as well.
I like to start my morning with a detox juice and this combination with tomato, mint and coriander does wonder for your body and is like a cleansing juice to kick-start your day. This was referred to me by my dietician and while I hated gulping it down, I could not deny the benefits.
Tomato is rich in fiber, which helps improve the level of good cholesterol in the body, and reduce the amount of bad cholesterol. It is also packed with niacin (vitamin B3), which is concerned with stabilizing the cholesterol levels in the blood. It also has a good content of chlorine and sulfur which help the liver and kidneys perform the detoxification process better. It also stimulates a regular bowel movement.
Making this in the cold press juicer was a revelation. The same juice I used to gulp daily making faces, tasted sweet. That's one thing I realised about this cold press method that it somehow makes the fruits and vegetables taste sweeter than how they would taste if made in a regular juicer. So now I can drink my veggies and enjoy them too :).
For My Kids:
My younger one loves his fruits and it is a pleasure to see him munch on them but my elder one only likes bananas and apple and that also has to be fed him with a lot of reminders. When it comes to veggies they both would rather skip them and I am forever bewildered on how to make sure the nutrients are passed on to them. Force feeding does not help. Someone suggested to try juices but the kids hated any roughage in their juice. So after success with my juice, I decided to try it on them and was a little ambitious too. The ingredients I used were apple, carrot, and tomato.
p.s they hate tomato and don't eat much carrots either.
Why ATC juice?
Fresh tomato juice is an excellent natural source of important vitamins A and C. Regular consumption of tomato juice could therefore, prevent vision-related diseases, strengthen the immune system of the body that protects against different diseases and maintains good health of the bones and teeth. Apple juice has the good amount of vitamin A, C and B6 and carrots are a valuable source of antioxidant vitamins, which benefit your immune system and help prevent premature aging. With added benefits of all three, do I need to convince you more on why you need to give these to your kids?
A lot of people use beetroot instead of tomato but beetroot color is easily distinguishable and then my kids won't have the juice at all. As far as tomatoes go, in the cold press juicer, they were not able to distinguish the taste. My kids are super finicky and I was still able to pull it off. This juice had a slight hint of tomato, so slight that the kids couldn't figure it out. Apple and carrot added so much taste to it and the consistency was without any roughage, perfect for them.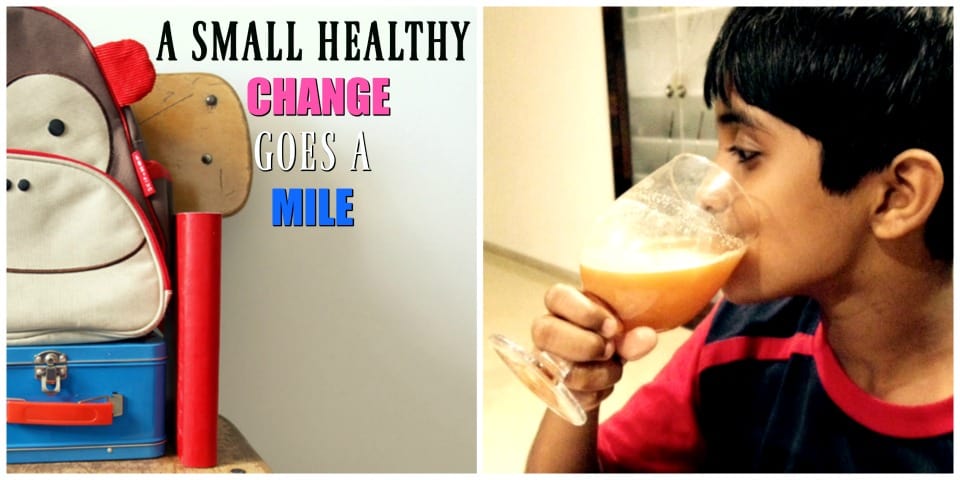 Some Interesting facts about the #KentColdPressJuicer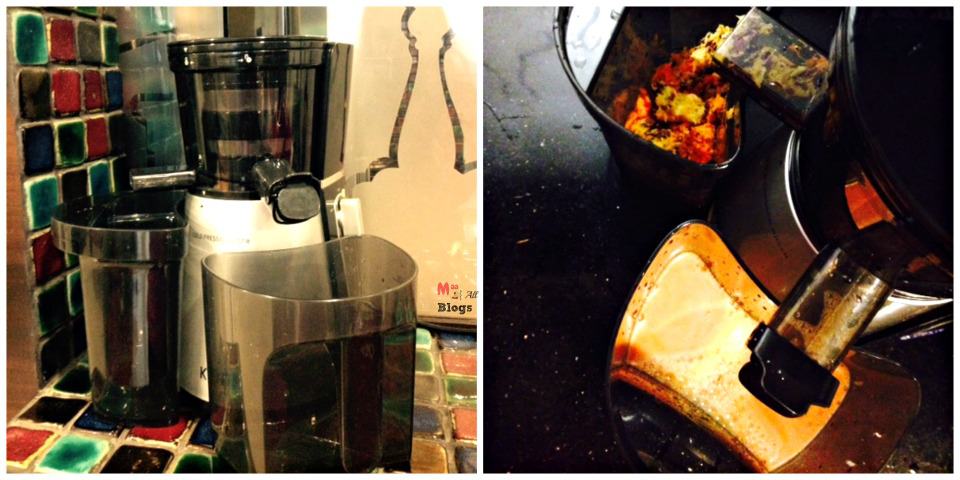 In conventional juicers, the nutrients and fibers get oxidized due to the heat generated as a result of high-speed spinning. On the other hand, #KENTColdPressedJuicer does not produce as much heat thus keeping the nutrients and fibers intact.
The fruits and vegetable juice tastes way sweeter than if produced by any conventional juicer. I can totally vouch for this and vegetables and fruits that you didn't think you can have tasted better.
You don't need to chop the vegetables or fruits finely. The best part is the roughage gets separated very easily and comes out from a different section.
It works best with fibrous fruits like sweet lime, orange, pineapples, and pomegranate. But we tried tomatoes, gourd, aamla etc too.
Two filters – the #KentColdPressedJuicer comes with two different wire mesh filters. The mesh itself is metal or steel, making it durable. And the two filters with different sized pores give you a choice. The finer mesh works best if you do not want any pulp or fiber( especially for kiddos) and the slightly larger one if you like a little pulp and even some fiber in your juice. I did not use the larger mesh for these two but I did try a few more combinations with the larger mesh.
There is a reverse action knob allows you to reverse the motor for a few seconds, thus releasing anything which may have caught in the blades. Honestly, I did not find it very effective.
We tried a lot of different combinations and basically experimented with whatever we could get our hands on. One other successful combination was aamla, mint and gourd. I can't imagine gulping it down in any other way, but the cold press technique made it taste great. We would love to hear about your experiments with juices if you get inspired and make your own.