A Vietnamese Holiday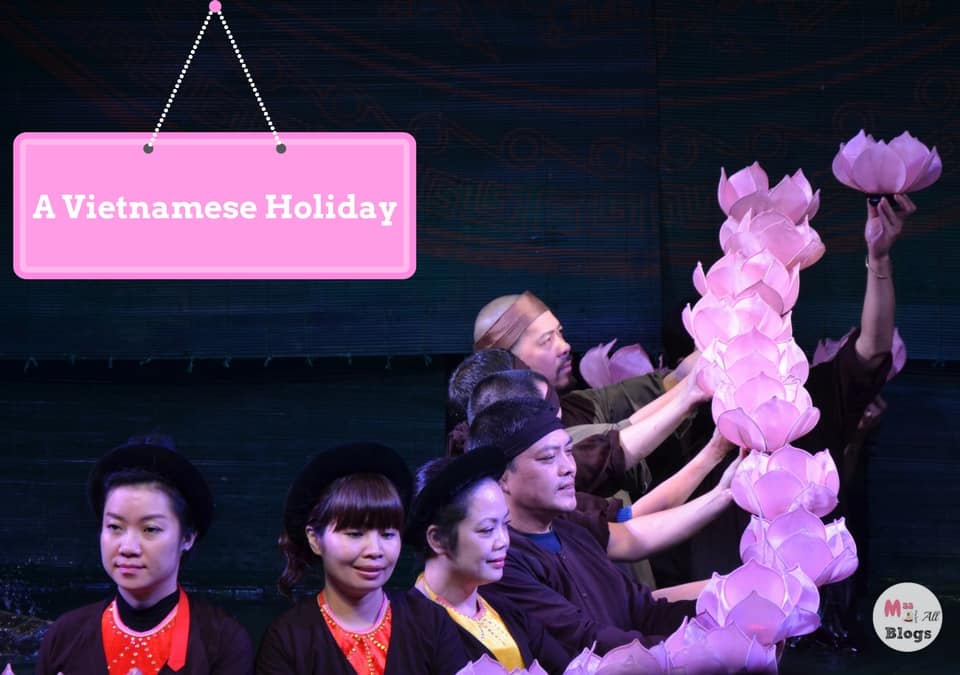 Our Vietnamese holiday begins with a bang!
It is early evening when we check into Caravelle Saigon, a five-star property in the heart of Ho Chi Minh City (HCMC), overlooking the Saigon River on one of its sides. The hotel which boasts a blend of French and Vietnamese architectural styles is a stone's throw from the Opera House, and close to the Golden Dragon Water Puppet Theatre and Ben Thanh Market.
Hotel Caravelle Saigon
After a quick wash and freshening up, cameras in place, we are ready to savour the city in its myriad hues. Traffic in the city is chaotic as two-wheelers tear down its streets at mindboggling speeds.
I am standing at a street corner on a pavement busy clicking away with my digital device one instant, the next moment I am down on the road, dragged by a mobike. A seventh sense has me clutching tight, the chain with mangalsutra around my neck. It is perhaps a demonic grasp and sensing futility, the miscreant on the bike whizzes away, leaving me lying on the road, the strap of my camera and dupatta, twisted around my being. The knight in shining armor, JR, my other half is dumbstruck and rooted to the ground. He loses the golden chance to rise, shine and display his chivalry!
The assault, an attempt at chain-snatching, has us visibly shaken. JR is all set to board the next flight back to Bengaluru as I nurse a bruised cheek and feel a dull ache in my head and jaw. But the resilient in me convinces him to the contrary. I swallow a painkiller, reserves of which I always carry in my camera case and subsequently make our way to an Indian restaurant close by to partake of hot and spicy aaloo paratha.
Back at our hotel, upon the suggestion of its staff, we stash away all valuables in the locker before embarking on our explorative sojourn of the city. "Dogs and individuals with valuables are at risk of attack in Vietnam", Thien our guide informs us. Yes, dog's meat is a much sought-after delicacy in the country!
Saigon by Night
HCMC is an explosion of colours with extraordinary nightlife and street food. We experience this aspect of the city on a motorbike tour of the city at dusk. My aching jaw and head are soon forgotten as I pillion ride on the Vespa and join the chay rong rong mode of local weekenders. Yeah, this is a post-war ritual which has the city's young population zip through the streets of Saigon, partying long and hard up to the wee hours of the morning. It is decades since I last rode on a two-wheeler. My heart stops its beat and my hands firmly clasp my jellied knees as motorbikes fly in all directions. In the midst of this chaos, Thien zigzags through a sea of headlamps and taillights. If I have to be honest, my fears soon dissipate and I enjoy the racy ride, with the flirtatious evening breeze romancing my hair.
Street Foods, Saigon
The Notre Dame Cathedral, Saigon Central Post Office, Reunification Palace, War Remnants Museum and Jade Emperor Pagoda are sights we visit in Saigon before we fly into Hanoi in the north of the country.
Post Office Building, Saigon
We are struck by the inordinately long serpentine queue in the Presidential Palace area, a broad square that is dominated by an imposing granite column where Ho Chi Minh lies embalmed. The fervor displayed by those gathered reminds us of Tirupathi or Pazhani in miniature. We too join the line to see "Uncle Ho" in flesh, on public display in a glass sarcophagus at this mausoleum. The Communist leader who waged several battles, it is obvious, is no mere hero, but venerated and worshipped as God himself.
Mausoleum of Ho Chi Minh, Hanoi
This is our first taste of Hanoi, the historic capital city of Vietnam, the oldest capital in Southeast Asia, founded in 1010 CE. The cradle of Vietnamese civilization, Hanoi was colonized by the Russians, French, Chinese, French and Americans at various time periods in history. The city is a tangle of the ancient and modern, a quaint blend of enchanting Europe and chaotic Asia. Tree-lined French-style boulevards, lakes and narrow congested streets swarm with two-wheelers and 'xe om', the popular mobike taxis. It was here, in the Red River Delta that several traditional arts and crafts including lacquerware and silk crafts flourished.
Hồ Hoàn Kiếm, the "Lake of the Restored Sword", Hanoi's social and cultural hub is infectiously vibrant. According to legend, a 15th century hero and monarch, Lei Loi, received a sword from a magic turtle at the lake's edge. He used this weapon to drive away the Chinese from Vietnam. In the vicinity of the lake we visit the Ngoc Son Temple, Hanoi's Old Quarter with its millennia-old history, a paradise for tourists and shoppers.
Bustling alleyways Old Quarters, Hanoi
A leisurely ride on the cyclos that snake their way through the alleyways of the Old Quarter, allows us to observe the lives of urban Vietnamese who dwell in "tube-houses" with narrow facades. They flank the maze of streets and sell from their homes, an assortment of wares from inexpensive souvenirs to clothes and foodstuff.
Riding the Cyclos, a fascinating way to explore Hanoi
Pavements in Vietnam, whether in Ho Chi Minh City or Hanoi, are happening places. They double up as living room and kitchen where kith and kin are entertained even as the aroma from cooking wafts the air. Young and old, huddle together in street corners, spooning steaming bowls of pho, the local noodle soup. The scene reminds me of rural India where the village folks draw up charpoys, puff hookahs and drain down hot cups of chai brewed on smoking chulhas.
We thrill at another "first" in Hanoi as we watch the country's trademark Water Puppet Show in the Old Quarter.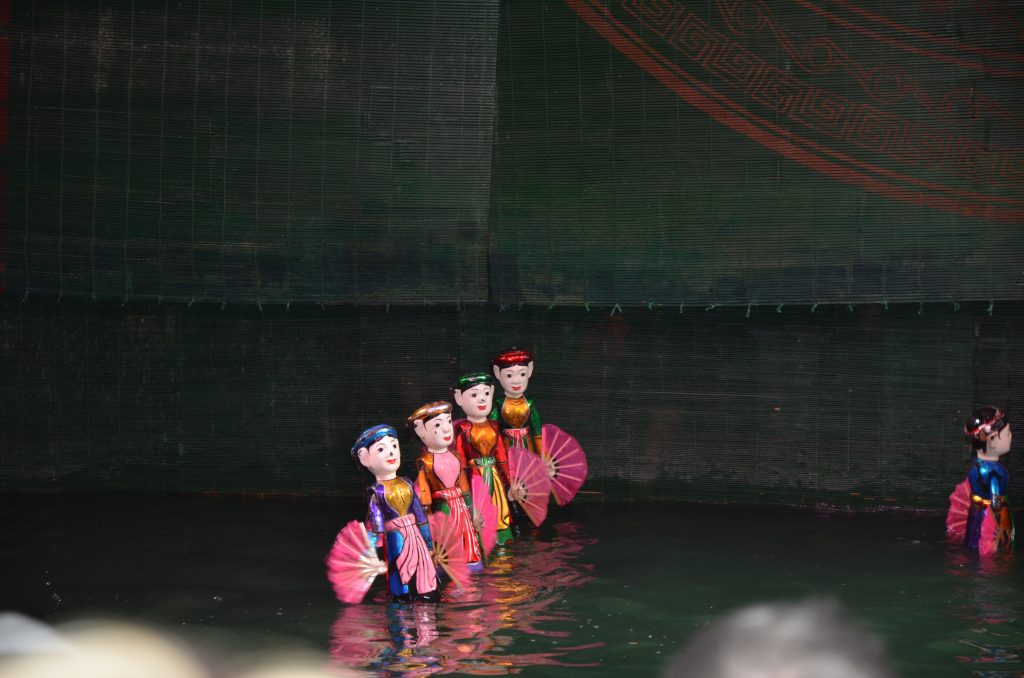 Water Puppet Theatre, Hanoi

The 1000-year-old Temple of Literature, Vietnam's oldest university is a must-visit while in Hanoi. It is an attractive structure laid out in a sequence of five courtyards and spanned by a trio of pathways that run the length of the Temple. Being history buffs, we wind our Hanoi trip with a visit to its infamous Hoa Lo Prison, only a fraction of which is now preserved as a museum. The exhibits we see at the French-built hell-hole, Hoa Lo, literally meaning "stove", and sardonically named Hanoi Hilton by the American POWs, are at once terrible and repulsive.
Temple of Literature, a glimpse
There is one sentiment that is predominant as we bid adieu to this city: the scars of embittered wars are undoubtedly well masked as Hanoi continues to evolve and leaves its doors open to the world, firm in forging ahead its economic reconstruction. If anything, the city's multicultural fabric has only become enriched for all these influences as evidenced by the harmonious coexistence of people from diverse religions, culture and nationalities.
The celestial fireball in the sky splinters into shards of glass as it shines down into the depths of the bay waters with a blaze of colours, hues of blue. We are navigating the waters of Halong Bay on board Emeraude, the cruise liner on which we are booked for an overnight tour. We journey into the sepia realm of a dream, through one of the world's most dazzling natural wonders. Halong Bay, 180 km west of Hanoi, is UNESCO World Heritage Site in Vietnam's Quang Ninh Province, and home to innumerable craggy limestone peaks and isles, spectacular in shape and size, lapped by the azure blue waters.
Halong Bay
Caves dot Halong Bay
A stay on a junk boat that comes in tariffs ranging from the budget to the luxury, is the only way to experience the bewitching charm of Halong Bay. The sylvan bay is a gorgeous beauty comprising over two thousand rocky islands which host a mesmerizing network of caves with bewitching stalagmite and stalactite formations. Our experience is peppered with activities galore – kayaking, rock climbing, swimming, squid fishing and speed boat rafting in addition to lounging on beaches that dot the waterway.
Chitra Ramaswamy is a freelance writer with wheels for feet. She has over 2000 articles to her credit in various leading newspapers and magazines in India and abroad. She pursued Medical Journalism while resident in Dubai and had a regular 2-page column in Panorama, the Friday magazine of The Gulf Today. Prism Books Pvt Ltd have published a series of Quiz Book compiled by her. She has posted some of her published travel stories in her blog – travelospective.blogspot.com