Are Marriages Made In Heaven?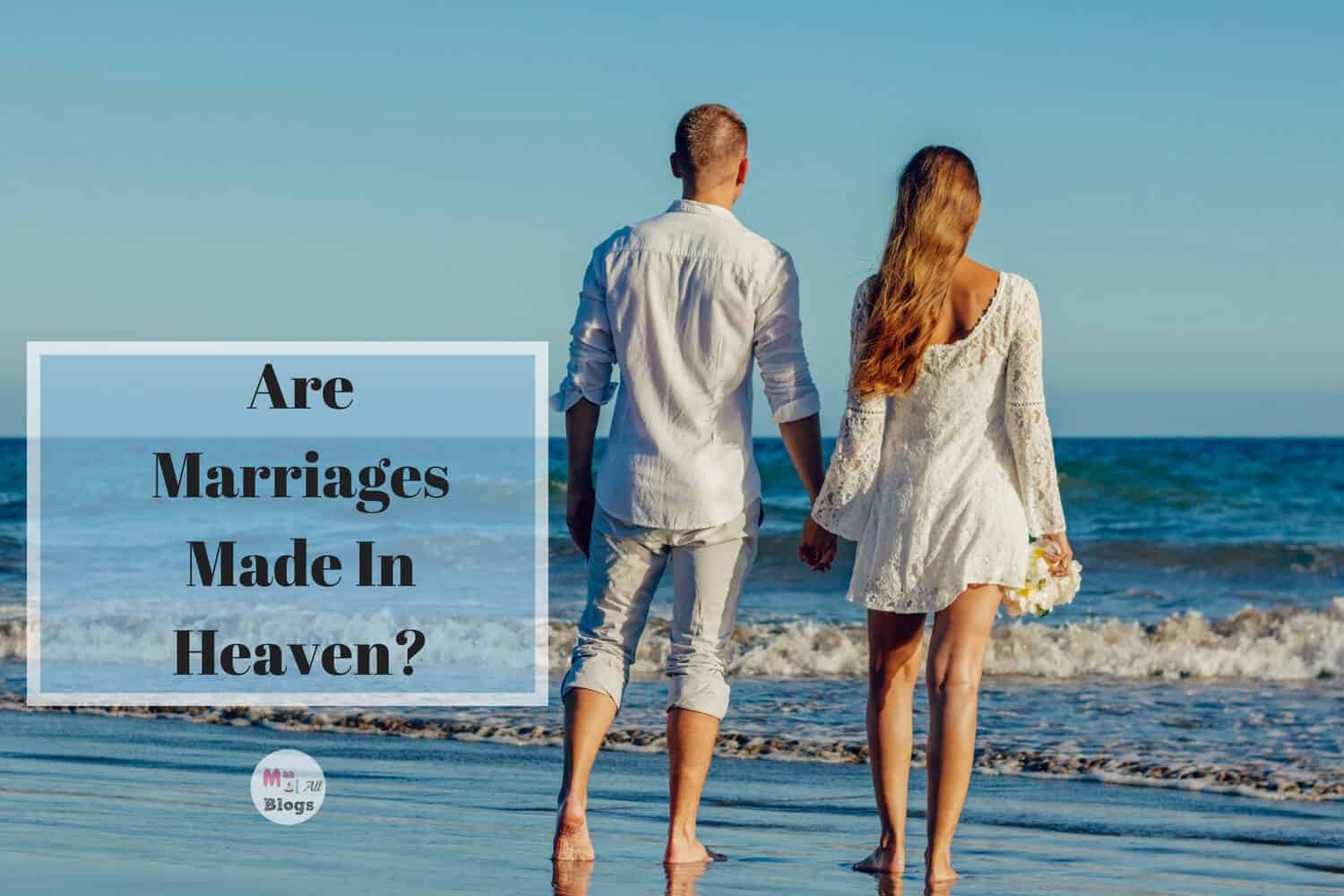 Growing up it never struck me that there was something unique about my parent's marriage. They never argued, their focus was us, my brother and I and the fact that they had been married for over 10-15-25-now 42 years was nothing unusual. That was an era where marriages were just the be all and end all.
Today is another story. You hear of couples separating after 12-15 years of marriage, some even with kids in the equation. Some younger couples surviving 2-3 years and some couples didn't even go beyond the engagement. I am not here to judge their circumstances as no third person can really know what went wrong in a marriage. I respect their decision.
You marry for love or for companionship. Sometimes you marry under parental or societal pressure but no matter what the reason, there is no lifetime guarantee of love, romance or even expiry in either of the cases. My parents have been married for over 40 years, and they had never even talked to each other before marriage. Growing up, I never saw my parents fight or display PDA. I grew up believing in the power and sanctity of family. It's only now that I am a grown-up adult that my parents fight in my presence over silly things like a TV remote or food choices. It has made me realise that they are not extraordinary but they did make sure their impressionable kids were raised well.
Like every other marriage, we have gone through peaks and troughs of life. Over the years we have both changed as people and as you grow older you change and while we may be like chalk and cheese, what gets us through is not only love but family, compromise, and friendship.
I feel love is important to sail through a relationship and so is a commitment, compatibility, understanding, communication, and respect. If you ask any married couple (read more than 10 years) love rather the notion of love and romance fades away and if you don't have the other ingredients or haven't worked them during the few years, the ride can get choppy.
Only communicate via texts and emails. That's how we joke about. But seriously though I think compromise, mutual understanding and at least one shared hobby. We golf together so that gives us time to talk and unwind at the same time.- Kanupriya Aditya.
When you see a couple displaying PDA even after years of marriage and genuinely happy, you wonder at times what do they do to keep the chemistry still going? Here are a few tips, I have picked from my happily in love friends;
For me it's staying power as well. Just the basic intent to want to make it work.
I would also add be grateful for what you do have rather than worry about what you don't- Reshma Bangera
Date Nights: Go on dates without kids. Set a day in a month to do this. Relive your courtship period.
Find some common hobby or class to do together.
Go on a holiday without kids at least once a year.
Listen and respond. It is very important to keep even 15-20 minutes just for each other before you end your day or start it.
Very important to find work-life balance and for that, you need to realise that both work and family together will contribute to your happiness. Most of us, start taking family and relationships for granted and neglect relationships. And yes, look into each other's eyes and talk. Screens completely away when you do.
Take the step. If your partner gets a little lost and is not contributing enough, step up and go beyond rather than keep expecting. Don't keep waiting for your partner to take charge or the first step. We all love being the idea of being loved, be at it and your partner will not be able to ignore it for long.
Avoid making fun of each other in other's company or being verbally abusive when upset with each other.
Forgive your partner, at times if he or she made a mistake. We are all humans and bound to make mistakes. Even if it hurt you, at times, learn to forgive. disclaimer: Abuse of any kind is not we support here. Please be smart about your judgements on what is forgivable.
Be respectful to your spouse's family. This is a point where most couples have an issue. See the larger picture. If by agreeing to a few customs or respecting some of their wishes you can get away with most of your days and manage peace, then go for it. If you agree to most, then your spouse will see reason in the ones you are completely against.
Give space- no harm in a boys night or girls night. Don't suffocate each other 2. Take time to appreciate each other. Just because you are married for a long time you can't do that.- Pooja Sabbharwal
Once in a while, there will testing times whether it is in relationships or at work. Be each other's pillars and when those times are over, you will see your relationship has only gone stronger.
I think for a happy married life one shouldn't try to change themselves a lot. As if you are not happy you can never keep your partner happy. So be yourself, trust your partner and remain happy to keep others happy- Manasi Narsimhan.
Think of marriage as a fitness activity or a musical talent. Even if you are good at running or yoga and If you don't practice for a long time what do you think will happen? After a few years your flexibility, strength, and performance will get reduced, your body will get lax. This is exactly what happens in a marriage we start on a good note and then get comfortable and stop working on it, not for a day or week but for years and then wonder what went wrong? After a point when you reach a state of comfort, you may need less effort to stay at a level of doing well in your marriage but you still have to keep at it.
Communication communication and more communication . While we communicate the key is to express your feelings not your conclusions. As in" i feel i am not heard" … Rather than "you never listen". – Preethi Venkatraman
Can you after a few good years at work, stop and take a break? NO right? You have to keep putting in work and keep coming up with newer ideas to do well. So think of marriage the same way for marriages are not made in heaven but you need to work on them every day to find your Happily Ever After.
disclaimer: If you are in an abusive relationship, please get out of it asap. Above rules don't apply.