Weddings these days are not only about rituals and traditions, they are way beyond it now. The scenario of weddings has changed completely. Weddings are all about food, fun, laughter and so much more. It's all about 'Themes'. Each and every function of the wedding, especially of the Indian wedding, has been sub-divided into parts like Haldi, Mehendi, Sangeet, The Main Wedding Function, Reception and so on. And now we see a theme for every function for eg: Haldi is all about playful colours and especially yellow colour, so the decor along with the attire of every member attending the function should have some yellow element in it.
We have come up with various "NON-CLICHE WEDDING THEMES" which you can opt for and make your wedding look beautiful or you can recommend it to your mates.
---
Boho Theme:
Boho themed weddings are all about the ones who have fantasies of celebrating their special day with floral decor, dream catchers and the presence of nature. They are basically for the ones who want to opt for a wedding which is non-traditional and with a tint of romance into an open surrounding like a forest or some garden. Decors like wooden signs, wrought iron lanterns, colorful tableware, candles, tipis (they are the delicate constructions which give a cozy touch to the ceremony with floor cushions and hippy tribal kind of vibes), fairy lights, Persian rugs and glass jars. Along with flowing Dresses, headbands and the touch of beautiful nature. So if you want to have a wedding which is all about some romantic feels and natures beauty then opt for this one!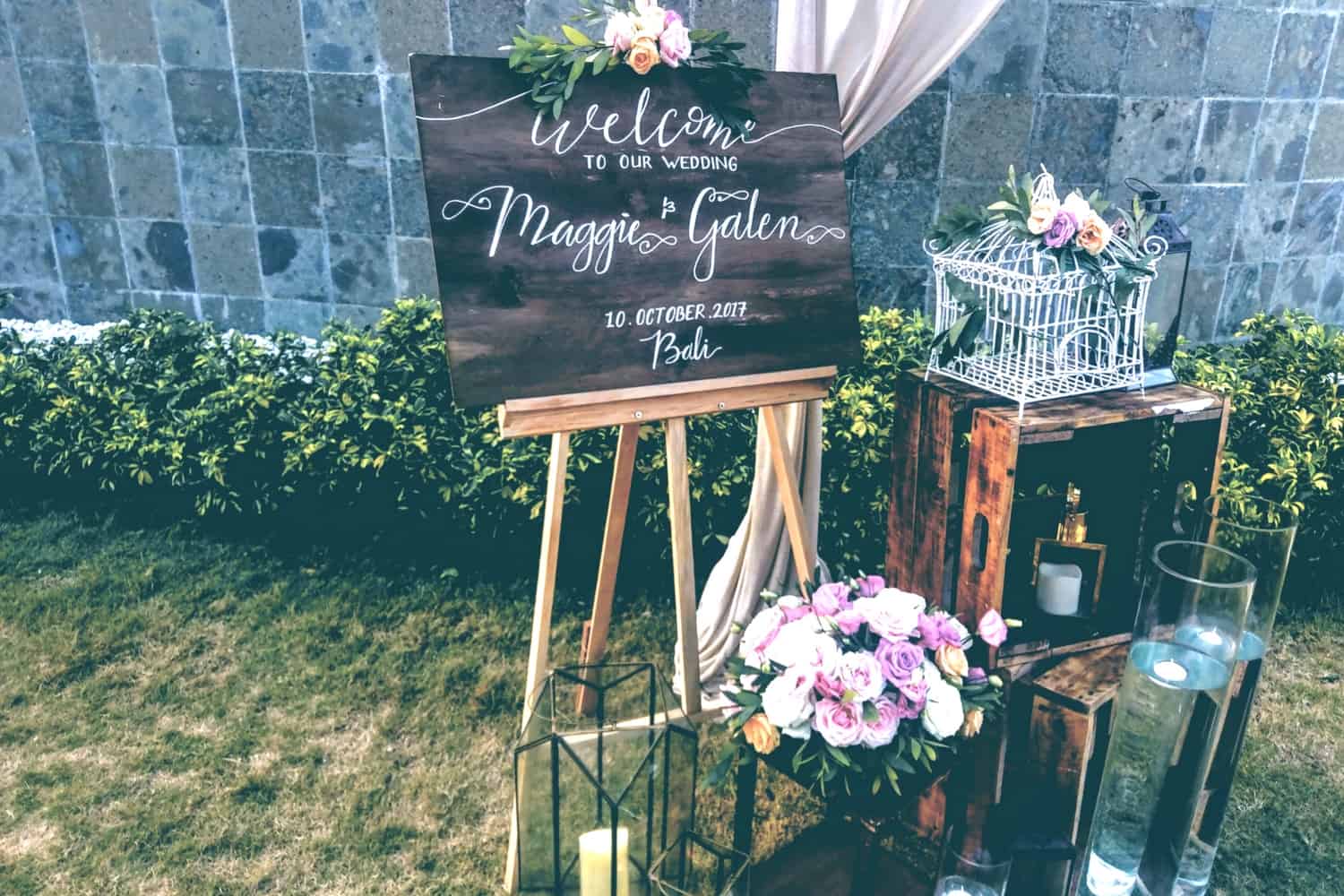 pic credit: VaraWedding.com
---
Metallics :
For the sparkling couple who always want to be the center of attention, there's nothing like glitzy metallics. Gatsby gold, rusty copper or high shine silver—take your pick and shine on. The colour palette for this theme is all about bold colours with the tint of gold, silvers and rose gold as well, the decor can be full of glittery garlands, metallic confetti and buntings, the desserts can be topped with edible glitter as well as the drinks. The dresses can be full of shimmer for the bride as well as the groom and rest of the guests. How can we forget the playlist, the songs can be full of power and can make anyone groove! So if you and your partner are glam lovers, then this is your call!
---
Rajasthani :
This is a theme, which is all about the typical essence of a pure tradition. It is a wedding, which includes all traditions and rituals and though can be enjoyed with a lot of happening functions. Rajasthani themed weddings are basically the regal weddings which include the wedding ceremony to be conducted in a huge palace, with royal seatings and beautiful décor. The food is the best part of the Rajasthani themed weddings along with their typical Ghoomar songs!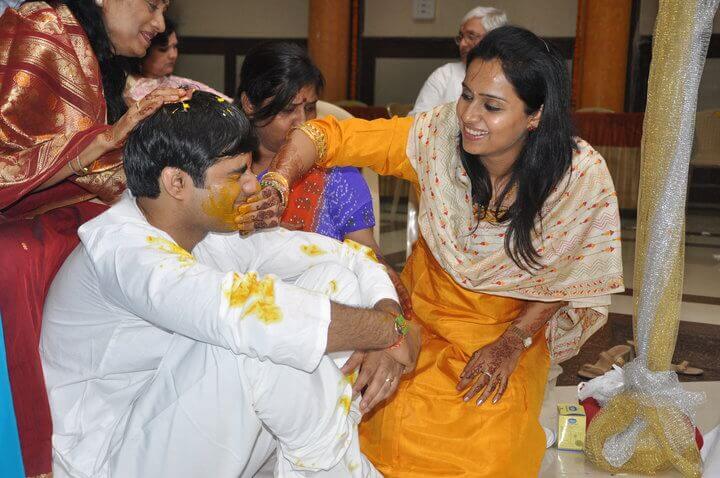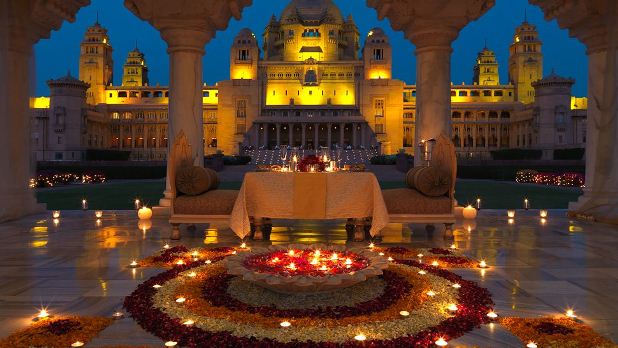 ---
Beach theme :
Beach themed weddings are the type of weddings which are completely in trend these days, especially in India. Beach weddings are all about the soothing sounds of water, the breezy wind, and beautiful decors. Colour palettes can be chosen accordingly like tropical colours, neutrals, pastels or some light shades of blues and pinks! Flowers can be chosen according to the colour palette which has been selected. Attires can be either in the form of gowns and blazers or you can go for the typical Indian look. The best part of the beach weddings are the desserts. So if you and your groom want to witness the celebration of your special day with some breezy and cozy vibes you can opt for a beach wedding.
---
Bollywood theme :
This is a type of theme which is the most loved one by every Indian. Bollywood themed weddings are all about fantasies and happening moments, you can give it a typical touch by selecting a particular movie and plan your whole weddings like YJHD which is all about a destination wedding, full of fun and happiness!
P.C – Ash Shrivastav Arora.
---
Tv Show theme :
Tv-shows are something which everybody is talking about nowadays! Game of Thrones, F.R.I.E.N.D.S, Bridezillas and so much more. The list is endless. The whole set up is made for the wedding according to the tv show including the decor, attires, music as well as food!
---
Foody theme :
Food themed wedding is all about loads of varieties when it comes to loading your plate! You should opt for this category if you and your partner are die-hard foodies. You can groove to the beats which include words related to food in the lines of their songs. You can use decors with hoardings like 'I am his fries and he is my Peri Peri and we always go together well!' Accessories like the photo booth can be turned into hashtags of food, small cards with funny foody slangs can be used too. Pre-wedding shoots and videos can be done along with food which makes the shoot interesting as well as happening and memorable too and so much more!
---
Retro style :
Retro styles are never out of trend, to be honest. If you and your partner are a lover of vintage vibes like old memorable songs and vintage decors then this is the solution to your wedding theme! The colour palette needs to be full of prints and textures, attires can be full of polka dots and dark colours infused with bright shades, old-school hairstyles, and vintage music is a must, with food items and beverages which you used to have it during your school days and so much more.
---
These are some of the themes which you can opt, for your own wedding or you can recommend it to your mates as well who have weddings happening at their place and can make that wedding appear Out-Of-box and have a memorable one! Have A Happy Wedding Season!
---