My second day in cape town started on a healthy note, with me practising some yoga. It was then time to step out. So where was I headed? I decided to get myself acquainted to the city. While I drove around in a tourist bus with a guide explaining the history of the city, I couldn't help admiring the well planned out city.
Our guide took us to the Company's Garden which I could see is an ideal place for kids with lots of green areas to run around, a little history and some squirrels and ducks roaming around the grounds.
The Company's Garden was founded as a vegetable garden in 1647 by a Dutch sailor, who arrived here due to a shipwreck and had to wait for a year along with his crew to go back. Five years later, Jan Van Riebeeck set up a permanent refreshment station to supply ships when they rounded to Cape Town.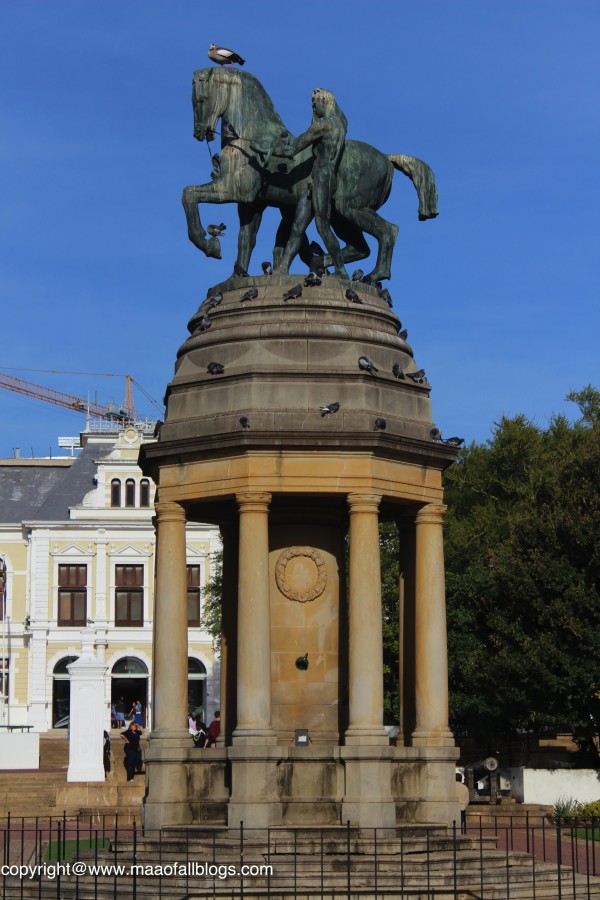 From here we walked to St. George's church, which is a  Anglican cathedral in Cape Town, South Africa. The cathedral was designed by Sir Herbert Baker and the foundation stone was laid in 1901. The cathedral replaced a church built in 1834 on the same site. Pictures were not allowed here. One interesting fact about the church is that  it hosts one of the country's few labyrinths. 
Then we went around driving to the various popular streets like Long Street, hosting various bars and boutiques. Bree Street with it's independent stores and artisan eateries. We also popped in the Cape Gallery for some local art.
We came across the very controversial District six, also known as the Fringe. On 11 February 1966, the government declared District Six a whites-only area under the Group Areas Act. Over 60,000 of its inhabitants were forcibly removed during the 1970s by the apartheid regime. On 11 February 2004, exactly 38 years after the area was rezoned by the government, former president Nelson Mandela reinstated the area back to it's original inhabitants . Today this area is  very cosmopolitan with people from all races residing here.
Soaking in so much history of Cape Town, I headed back to my hotel to rest and get refreshed for my next activity of the day which was to have an experience of the High Tea at Mount Nelson Hotel, a much recommended to-do now on my list.
The Hotel was popularly know as the 'Pink Nelly' and was the hotspot for all shipmen when they stopped in town for a break. Having high tea here is one of the oldest traditions. It's beautifully designed vintage interiors, the huge lay of savouries make it one of the best places to hang out.
I just absolutely fell in love with it's interiors and it's cutlery. We were served six different types of tea , one of which was their signature tea which is blended from six teas, namely, Darjeeling, Kenya, Assam, Keemun, Yunnan, Ceylon, and rose petals from their garden.
Along with this was a whole lay of savouries like smoked salmon, cream cheese and cucumber sandwiches, smoked salmon grissini, local Malay specialities, and sweet temptations from chocolate confectionery, to petit fours, homemade coconut ice, marshmallows and fudge, cupcakes, scones, and assorted cakes.
To add to the already so proper environment is the piano playing in the background. The afternoon session from 14:30 to 17:30 includes scones, finger sandwiches (fillings include roast beef and smoked salmon), and traditional South African milk tart, or melktert as us locals like to call it. This is available for R225 per person. I would recommend dressing up in smart casuals for the high tea or else you will find yourself standing out in the so-perfect environment :).
So this was my perfect  second day at Cape Town..the posts are a little slow as I am busy in actually experiencing everything, gathering information to finally share with you. For once writing has taken the second lead …will keep you posted :)!!