We are a tea-strong nation, not only do we produce a huge percentage of tea in our country but we also end up consuming 70% of our own produce. As a kid my grandma kept me away from the perils of drinking tea and I grew up not drinking tea for most of my life. There was reason in her beliefs. But finally it caught up with me in office. There are no better bonds than that are formed on a casual conversation over a cup of tea. So yes today, my day is not complete without my cup of morning Green tea and masala tea in the day. But as compared to my hubby and most Indians, I am still a 'tea-totler'.
I don't understand tea much even though I enjoy it. When I heard of this very interesting trail by Raconteur Walks called #ChaiPeCharcha (now very famous #tag due to our PM, Mr. Modi), I booked myself and my cousin on it without much thought. I was even more lured by the thought that it was only for 150 Rs. This however turned out to be one of the most interesting walks that I have taken around Mumbai. I have done the Dharavi walk and Bandra history walk, but sadly haven't documented them. Something that I plan to change from this post.
Let's start with some research I did about the history of tea in India;
According to a very interesting legend, the history of tea drinking in India began with a saintly Buddhist monk about almost 2000 years ago. It so happened that this monk decided to spend seven sleepless years contemplating the life and teachings of Buddha. While he was in the fifth year of his contemplation and prayer, he almost fell asleep. He took some leaves from a nearby bush and began chewing them. These leaves revived him and enabled him to stay awake as he chewed on them whenever he felt drowsy. Thus he was able to complete his penance for seven years. These were the leaves of the wild tea-plant. Some say that the history of tea can be traced way back to the Sanjeevani tea-plant.
Whatever the ancient background, tea in India became popular only after 1920's after British ran a successful advertising campaign by the Tea Board. Today, India is one of the largest tea producers in the world, although over 70 per cent of its tea is consumed within India itself.
The Walk:
We were told that the guide from Raconteur Walk will meet us at the Kala Ghoda pay and park area, Opposite Westside, which is the starting point of the walk. And I knew was that on our customized 'chai' experience, we will get to taste the famous 'tapri chai' of Mumbai, followed by the unique Irani chai. The tour will also entail an exclusive tea tasting of India's finest teas at an upscale tea boutique. The rest was kept under wraps, which actually worked very well for us as they was so many delightful surprises. Our guides Virat and Amina kept us captivated with facts and tales about Mumbai's history and tea. Apparently Steven Spielberg, has recently done a customised tour with them, nothing that Virat is very proud of :)!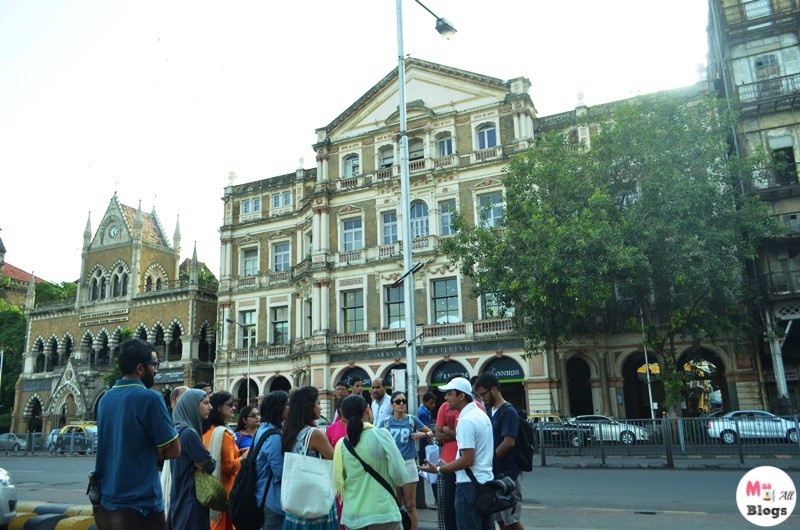 Our first stop was through the bylanes of kalaGhoda right next to Kala Ghoda Cafe, at this beautiful Tea Boutique called 'San-Cha'. It's a quaint little tea boutique which makes you feel like Alice in Wonderland who has just been invited to the Madhatters Tea-Party. The owner of the boutique , took us not only through a tea-tasting journey but through different regions of India and here I learned the difference between a Green, White and a Black Tea.
We also got to taste some and my favourite was Rose and Khus flavoured Tea Sharbat. Of course I couldn't leave the place without buying myself some lovely teas and cups. This place is a must visit just for the variety of teas and crockery they store.
Heading ahead from there we saw some buildings which I may have noticed quite a few times but had no idea of their historical relevance. Virat was the history expert and the facts and stories he knew about some of these heritage buildings was intriguing. He kept us enraptured throughout; The first five star hotel in India was Hotel Watson which stands so unambiguous today that I have always looked through it. But now I will always remember it.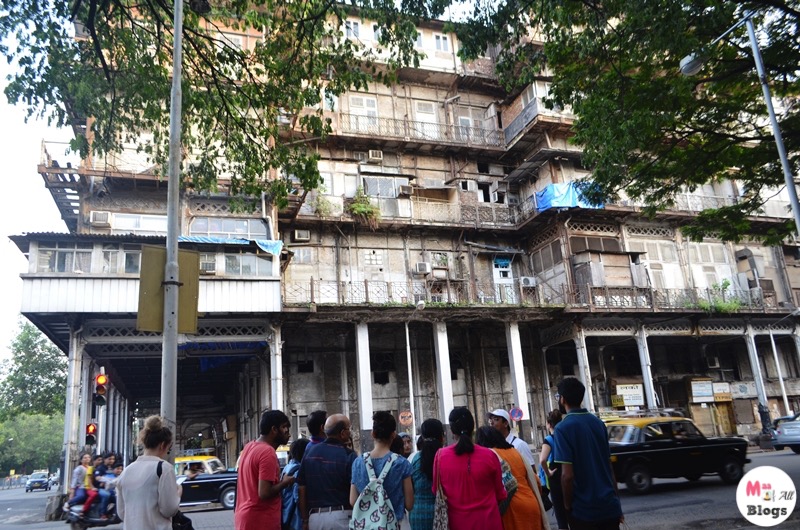 And that the Victorian looking Mumbai University was funded by two Mumbai businessmen and has Indian motifs in it's architecture. This and much more was shared.
From here we headed towards the Bombay high court, circled around the Oval Maidan and crossed that to reach our next pit stop to the tapri wali chai stall (street tea stall). Here we got to meet Ramesh Bhaiya, who apparently had run away from home to pursue his Mumabi dreams and has now been selling tea. He does a roaring business of that though, making and selling 25 litres of tea everyday is huge! However, I am sure this was not really his dream, but a hard reality. Thousands come to Mumbai every year starry eyed and while a handful might make it, the harsh reality is that most don't. Huge respect to Ramesh bhaiya though for surviving the city on his own. His 'cutting' masala tea (cutting- half a glass which is specific to Mumbai only), was outstanding and perfect and I could just imagine how blissful it would be have it on a rainy day.
Our next stop took us through 'Khao Gali', a place famous for it's street food and one that I want to visit soon.
Finally we arrived at our last stop for Irani chai at Cafe Excelsior, situated in the fort area right next to New Excelsior Cinema. The place is a small cafe look, extremely ordinary, the tea was also average. I have had better Irani chai. But after walking for 3 hours plus on a tour that was to last 2 hours. The tea and the 'bun-muska' was a huge welcome. Being in the esteemed company of foodies and travellers I also figured out that they serve the best caramel custard pudding and it was really good.
At the end of the tour 'Raconteurites' gave us all a little tea souvenir as well. Which made me very inquisitive and I just had to know how they can afford all this for 150 rs? Apparently, it's some promotion running for August and some part of September after which these tours will cost no less than 1500 Rs. So if I were you I would book myself right away :)!
About Raconteur Walks
Raconteur Walks Mumbai is without doubt the foremost walking tours company in Mumbai . The research that has gone into making Raconteur Walks Mumbai a reality has spanned over a year and a half and has covered over 110 books, over 200 journals, magazines and periodicals and countless number of websites – we are thorough in what we do. Our extremely well trained guides speak immaculate English and are carefully handpicked based on their personal attributes and qualities –Language and formality will never be a problem if you walk with us. We restrict our group sizes to a maximum of 10 walkers per group. This enables us to give each and every one of our guests personal attention and ensures that everyone can easily hear the narration and can understand what's being said. Thereby we ensure that we provide the best value for your money – The quality of our walk and the smiles on our guest's faces are what is most important to us. We want our guests to live breathe and feel the real Mumbai. Be it a historic walk or a cultural one we try our best to recreate the actual environment that relates to the walk – We don't just take you for a walk; we take you on an experience which allows you to really LIVE THE CITY!
Website: http://mumbaiwalkingtours.com/
Contact: +91 9769187580