Mera wala Dilli! 'Dilli' or more formally Delhi is a place which shaped me as a person I am today. A lot of people think that would mean being aggressive and flamboyant, but for me Delhi is a place of culture, tradition, food stories and shopping. I have stayed nine years in Delhi and twelve in Mumbai but I feel I know Delhi more closely. I have some beautiful memories attached to my favourite hangouts in the city and I try to visit them, each time I visit the city. 
If I had to list them in order of preference then Delhi Haat is my most favourite hangout in the city. Salvaging 'root beer' used to be a huge high when we were in college. From Silver trinklets to appliquéd  bedsheets to beautiful Madhubani paintings, you get the flavour of every state in this one single place.  Not only art and crafts but also food stalls from different states are also showcased here. Imagine having authentic 'momos' from North east and  'Dal Bati' from Rajasthan all under one roof. That too at a really subsidised rate. If you haven't been here, you have no idea what you're missing. And do not forget to bargain for deals when it comes to shopping.
M-Block Market in Greater Kailash- I, is my second favourite hangout, and if you're wondering why? Yes, it's not multi cultural like Delhi Haat, but when it comes to bargains, high-end jewellery stores and street food, you know where to head. If you have still not tried the 'banta' ( lemon soda drink sealed in a glass bottle with a marble to keep in the fizz), and 'meetha paan'(sweet stuffed beetle leaf) at Prince Paan wala or even the 'chaat' served next to it, you don't know what you're missing out in life. After having stayed in Mumbai for a few years, I have to say when it comes to 'Alu tikki chaat', Delhi street food beats Mumbai hands down. Sorry to start a debate but for me 'Ragda Pattice' is no where close to ' Alu tikki chaat' of Delhi.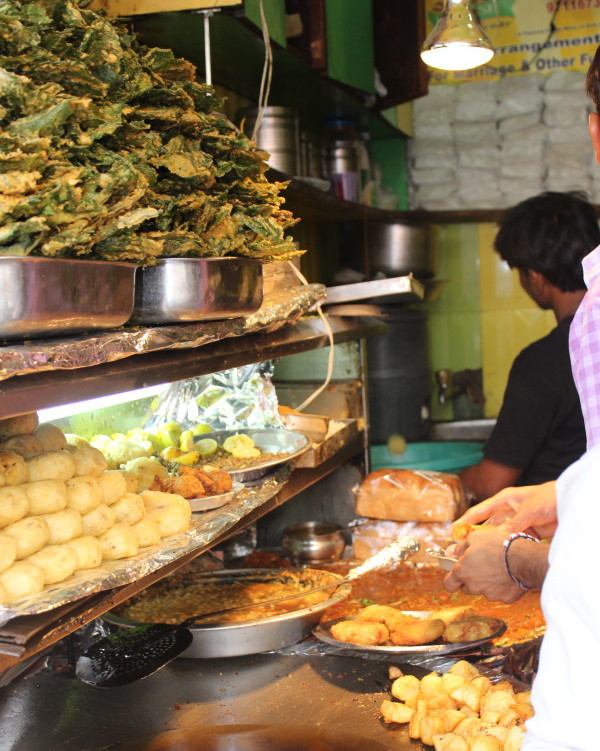 Next on my list is Janpath, a favourite amongst tourists. This street/streets is right in the centre of the city and is the hotspot of foreign tourists. Here you can expect rows of western dresses, junk jewellery at throw away prices and the deal you get is based on your bargaining capabilities. Try starting at 1/3 the price and close at 1/2 , but if you like it a lot and the shopkeeper is not ready to change the price then you might as well pick it up as you know it's still below the market rate. Here there is also a street dedicated to Gujarat and their crafts. It's lovely if you want old saree borders and patchworks to add to your dress. Sometimes they claim they have clothes right from the runway. Mirror and multicolor threadwork Bedsheets, bags, covers and women dressed in traditional attire make this street a colourful  sight. Don't get fooled by their attire as they can converse in reasonable English and are smart businesswomen. If you're fluent in Gujarati, you might even strike a better deal.
Sarojini Nagar Market, by now some of you must have realised that these places are just street shopping or places where you can strike a bargain. If the above are good then the Sarojini Nagar market is 'the' place for college kids. Here you get the ultimate summer dresses, party wear dresses an export surplus clothes as the lowest of prices, lower than the ones mentioned above. Wondering why is it third on my list though?   That's because after a few years the craze for street shopping can vary off and crowded streets and sweaty market places may start feeling more of a pain. That's what has happened to me. While Delhi Haat is spacious and cultural, M Block and Janpath are relatively smaller to move around. But SNM, is congested and large and now I go there only when I feel brave enough. 
 I was contemplating putting Chandini Chowk as the fifth place on my blog but I feel it is hyped, I do not and have never enjoyed it much. I feel the food is hyped and for me 'Paranthe wali gali' was never that good. Maybe it was great earlier, but now I think it lacks taste. Also unless, you're not a wholesale dealer, it's safe to shop for stuff from Lajpat Nagar market than Chandini chowk or you might get ripped off. However, if you do want to venture here then go through the list below as highly recommended by fellow bloggers;
Famous Eating Places in Chandni Chowk
| | |
| --- | --- |
| Places | Famous Foods |
| Karim's | Mutton Paya, Mutton Nihari and others Non-veg Dishes |
| Paranthe Wali Gali | All types of Veg Parathas |
| Jalebi Waala | Jalebi |
| Natraj Dahi Bhalle | Dahi Bhalla, Aalo Tikki |
| Dogra Snacks | Green Vegetarian Pakodas |
| Amritsari Lassi Corner | Punjabi Lassi |
| Kachori Wala | Khasta Kachori |
| Kake Di Hatti | Naan & Subzi with Daal Makani |
| Ashok Chaat Bhandar | Aalo Chaat,  Kalmi Chaat, Urad Daal Chaat served with Kachalu Chantni |
As usual the places I have recommended are the ones that I have visited and liked or not liked and are based on my personal experiences, likes, tastes and choices. If you do not agree or have anything to add to this then do comment, we love constructive ideas :)!!