How to Make Paper Flowers
Remember the last birthday you had planned for your friend? The food was great and so was the music. However, didn't you wish the decor could have been better? We all know how obsolete balloons and curling ribbons have become and the new trends in design are mainly inclined to boost the aesthetic appeal of any living space.
Speaking of aesthetics, you can up your game while also managing to stay in your budget. All you need is a humble piece of paper. Find it hard to believe? Read on to know more.
Paper flower making
Paper folding is a great technique that allows you to easily customize your home decor, gifts, and give a makeover to items you would have otherwise tossed into the bin. Suited for all occasions, paper flower making lets you experiment with colors, techniques, and different types of flowers like rose, lotus, daisy, and much more.
Here are a few things that could come in handy if you are wondering how to make paper flowers.
Materials required :
Eager to start this project but do not have the necessary material? Fret not; most of the tools like a pair of scissors, glue, and pipe cleaners required for this activity can be found on your living room shelf. You will only need to buy a set of folding bones and a pack of fancy paper. Then you are good to go!
Get started
The rose flower is one of the most preferred designs when it comes to paper flower making. Easy to craft, its delicate appeal makes it just right for occasions when you wish to gift your loved ones a nice bouquet with some extra effort.
Materials required include craft paper (any color for the rose and green for the leaves), scissors, quilling tools, and pipe cleaners.
How to make paper flowers
1.Start by drawing squares on the craft paper, with each square measuring 1.5 inches. Ensure you do this carefully and instead of giving the squares sharp edges, try cutting the corners in a round style. After completion, the squares will appear in a spiral pattern.
2. With the help of a quilling tool, you can start twisting the cut-out craft paper around it. Once you reach the end of the spiral square, secure the ends with glue and leave it to dry.
3. Create as many roses as you wish using this method. You may choose to make stand-alone roses by inserting pipe cleaners to resemble their stems.
4.You may simply stick the rose paper flowers onto a gift box like it is done below.
Ways to use paper roses
Paper roses could be used for a variety of purposes. From decorating your Valentine's Day gift, rose ball hangings, bouquets, to home decor; the options for this paper craft activity are limitless. You could also keep a vase of brightly hued rose flowers to add a burst of color to your room; a great alternative to buying expensive flowers.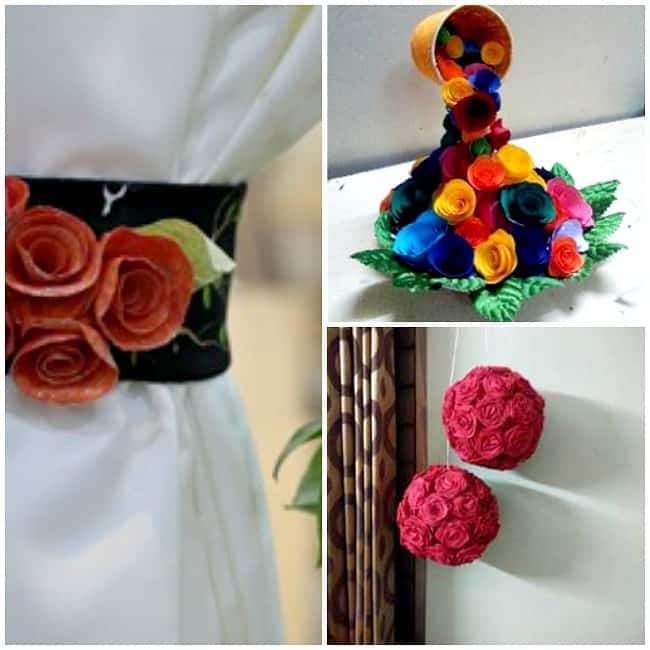 While rose flowers are classic designs when it comes to engaging in floral paper craft, do experiment with different flower styles like daffodils, daisies, and tulips. If you would love to experiment more with these and learn how to make paper flowers of different kinds, click here. Besides being a great learning opportunity, you will also become a budding artist, with your home turning into a flower art studio and people skipping the neighborhood florist to buy your pretty flowers instead!
p.s. This post is contributed by Hobby Ideas