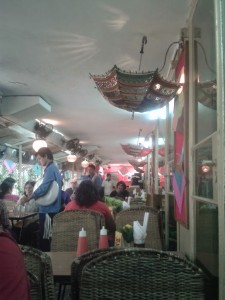 So much  history of the city has taken shape here – young MF Hussain, Sabbavala, Shiva Naipaul and Amitabh Bachchan all ate here.The first time I heard of Samovar Cafe ,it was in a Amol Palekar movie film.

This small cafe well in  Jehangir Art Gallery,overlooking the museum gardens has it's own charm. Simple  decor  with ceiling adorned with inverted Gujrati mirror worked umbrellas,kites on the wall,cane chairs, wooden tables may not excite you but the food is mouth slurpingly good.



Over the years,I have eaten at all high end five stars and boutique restaurant and have discovered that the  food that actually appeals to my palette not so much visually always comes from these non-frill set ups.Head here in the evening for chatpata items like Dahi Vada, Sev Batata Puri and chilled juices. Finish with their famous pot kulfis in Mango, Malai, Kesar Pista or Badam Pista. A great place to hang around ,specially during the Kala Ghoda festival.
Wholesome one-dish meals (the humble Dal-Chawal, Prawn or Fish Curry), Keema Roti Rolls and stuffed parathas (speciality) are all worth ordering. You must try the Hyderabadi Keema with Lachha Paratha .
 Usha Khanna, 76-year-old young lady who is behind this homely cafe.
Anyway,this blog is not only  dedicated to Cafe Samovar but my absolutely unique find there ,the absolutely lipsmackingly delicious 'Gajar Halwa Paratha',served with strawberry and ice cream.Priced at 175 Rs/- it's absolutely worth a try and forms a great dessert.Apart from this their Keema Paratha is absolutely yumm!
Gajar Halwa Paratha with Strawberry and ice cream
The next time you are in this part of town ,please add this small cafe in your list of must visit places :0)!!