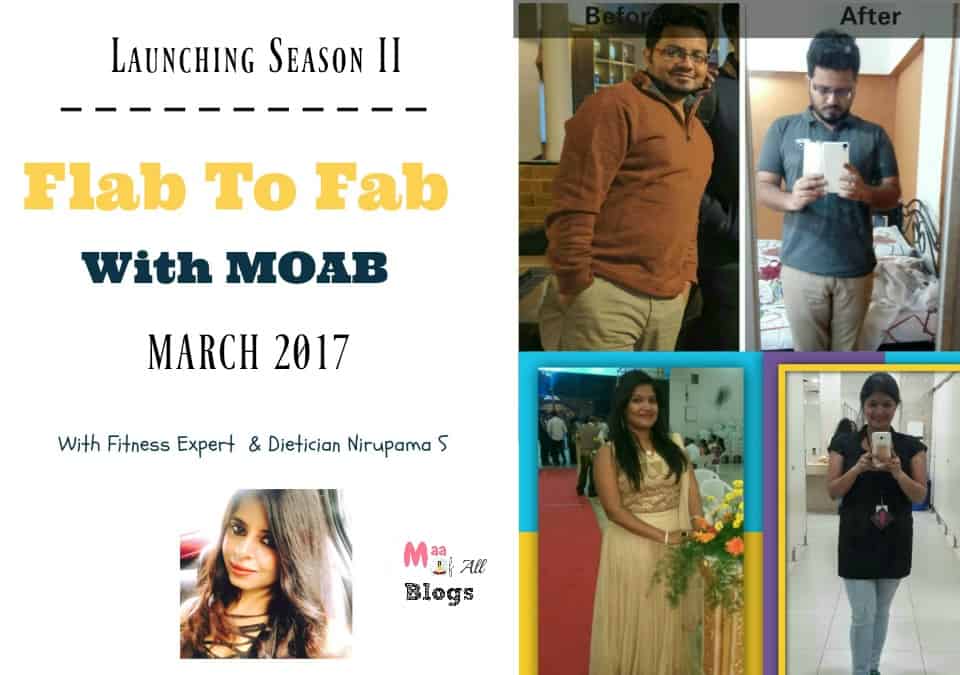 A month back I talked about transformation on the blog and launched a 30-day online fitness challenge on the blog in association with Nirupama Sinha, our fitness coach. We received some amazing response and over 150 people joined us from across India. We wrapped up season I recently and we are happy to report some amazing results. I too joined the challenge along with the others. I am happy to report I lost a good 3.8 kgs in 30 days and inches overall, among many happy stories.
Citing the immense success and an amazing response we are launching the Season II of the #FlabToFabWithMOAB.
Before we give further details let me reintroduce Nirupama S from Fit Lifestyle who will be your mentor on this journey.
Nirupama Sinha is a dietician and sports nutritionist and Fitness Consultant. She did her certification from one of most prestigious academy K11 of India and from UK based academy. She is also an expert on our blog expert panel and you can ask her any questions related to your fitness regime, sports diet etc.
Nirupama has already run this challenge successfully with over 500 people. She has also worked with Infosys and has been running a corporate program for them from last 4 seasons. It is for our readers that she is offering a whopping 60% discount and bringing this to you at just 1000/-. Please remember it is a one time discount only and the program otherwise costs 2500/.
SO HOW IT WORKS
---
1. Register at http://fitlifestyle.in/registration-form/
2. Enroll by PAY HERE for one month at http://fitlifestyle.in/product/weight-loss-program/ and apply the coupon code MOABS2 to avail discount of Rs 1500. So for 2500 package you end up paying only 1000/-
3. After Enrolling, Call will be scheduled with our dietician, nutritionist and Fitness Trainer for your customize Diet plan and Exercise plan.
4. Weekly review and performance will be measured and a new diet plan will be given on weekly basis accordingly.
5. A group of participants will be created to make it interactive and challenges will be run to keep motivation high.
6. All grocery shopping list, recipe sharing, smart eating options will be shared.
7. Assistance through motivational videos/mailer/posts/recipes/messages. Educating you on the best ways to lose weight.
---
Why we recommend this over anything else;
It's online and through calls, so no dietician visits. Saves you a lot of travel and time.
Losing flab can be a lonely journey but with a large enthused group and mentors like us, you will be constantly motivated.
You will actually end up eating more than any other diet, gain muscle, lose fat, cleanse from within and actually glow.
We do not give any medicines, herbal powders or pills to reduce weight, it's all achieved through a balance of healthy eating and exercise.
Don't want to run or lift those heavy weights. Good news! Walking along with our diet is a great way to lose weight and fat.
---
Sharing some of the Season 1 success stories;
---
Do you need more to get convinced and don't worry you can be a part of this online program from anywhere in the world! If you still are worried how it will work, do write us and we will connect with you. For more details inbox us or email us at [email protected]