Disclaimer: Just want to clarify, this post has nothing to do with recent attacks but just talks about my visit to Gulmarg in December. It's sad that it will be sometime that people will head here again. It really is beautiful as heaven. Also, this was a personal travel and in no way sponsored.
I last went to Kashmir when I was a kid and now my kids have grown up never seeing snow. We booked our trip at least 3 times to Gulmarg but it got cancelled for various reasons. This winters booked again and even though we heard of the Dal lake freezing and some unrest we decided to go. A group of friends who had gone just a week before us also reconfirmed all is well. When we landed there, there were two things that don't miss your attention;
a. It's beautifully pristine and the new fallen snow just adds to the charm and
b. You get shocked at the number of armed soldiers on your way from Srinagar to Gulmarg. Apparently to support the population of 9 lakhs citizens there are around 8 lakh soldiers, a figure which our taxi driver shared with us, so can't be 100% sure of the source. However, you can't miss the tanks casually placed in a market square. For Kashmiris, it's a way of life.
p.s. We did not visit Srinagar looking at all the security and this was all on our way. The recent #PulwamaAttack makes it even more real.
As soon as you enter Gulmarg, the crowds fade and so do the armed forces, all you can see is snow and the view encapsulates you. When you reach the huge golf course, which of course was all covered with snow and you can see many tourists trying their hand at skiing there. Air thins a bit as the car moves up, located 8,825 feet above sea level close to the Himalayas is the picturesque The Khyber Himalayan Resort & Spa.
A little about the resort we stayed in- The Khyber Himalayan Resort & Spa;
Rooms
It is a 85-room resort with beautiful views of the valley and the Himalayas. Wooden ceilings, luxurious interiors and spacious rooms are some of the wonderful features of this resort. Our room had a balcony with majestic views of the Himalayas. While the morning and the evenings were chilly, with the temperatures dropping to almost 0 degrees, the days are lovely and we would step out or even sit with a book in the balcony.
Cottages
Apart from the rooms they also have an option of the cottages with a private hideaway.
Fitness centre
They a reasonable size gym with well appointed machines, dumbbells and other accessories. There are separate sauna and steam facilities as well as jacuzzis. Again the views from here make winter workouts interesting.
Swimming Pool
The one feature that is covered in almost all the magazines is their heated indoor swimming overlooking the snow laden coniferous forest. It's a luxury you understand when you are in a cold, freezing atmosphere.
La Octaine Spa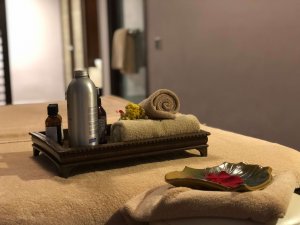 Kids play area- IGLOO
This was well equipped but at the basement and we tried going there twice but it was deserted so we skipped the same. They also have a games room if you want to catch a quick round of snooker or billiards.
The Den
They have the concept of the Den which is where you can watch movies of your choice but we never got the time to check this one out. Restaurants
Cloves
Most of our meals were eaten here. The breakfast has an amazing lay and for dinner and lunch they have a buffet and an ala carte option. I thought the food was pretty decent.
If you are a non-vegetarian then their Kashmiri thali is a must-try though you might need two people to finish it off.
Nouf
Nouf has to be booked in advance and in our usual hurried trip style we never ended up doing the same but it is supposed to have stunning views from every direction. Freshly grilled meats, cooked just the way you like on traditional coal-fired barbecues. Nouf is ideal for a cozy dinner by the candlelight. Definitely on my list for the next time.
Chaikash
Think of it as their coffee shop. It is just next to their lobby and perfect place to lounge and have tea or Kahwa. Their Kahwa is absolutely delicious and for us it became an evening routine to just sit their with our books and chat and indulge in some couple time here.
Do not forget to create a snowman and indulge in some snow fights while you are surrounded by snow :).
Other Activities
Trekking and Fishing
Treks are closed in winters but if you head here in a slightly bearable weather the the trek to Khilanmarg Valley to see spring flowers is supposed to be enchanting. If you are an adventure seeker then you can trek to the serene Alpather Lake. For fishing enthusiasts Ningle Nallah and the Ferozepur Nallah are streams famous for trout fishing.
Skiing
When you are in Gulmarg you should definitely try your hand at skiing. The Gulmarg Gondola is only minutes away from the resort. You need to take a local guide(highly recommended) who will guide you through your trip. Get your tickets for Gondola ride, bargain and interact with different activity providers etc. Be liberal in tipping these guides as tourism is their main occupation. The Gulmarg Gondola- world's highest ski lift which will take you to phase 1 at 11000 feet and phase two at 13000 plus feet.
At phase 1 you will get instructors, equipments and beginners and advanced ski lessons. You will need at least three days to start getting the hang of skiing. The first one or two days will be rough and you will fall down but eventually will enjoy it. Do not forget to indulge in Kashmiri Pulao or Kahwa on the top. It feels divine in the cold.
The ski-lifts work from 10 a.m. to 4 p.m. every day with a one hour break at 1 p.m. Phase 2 ride will take you to the Apharwat peak at 13000ft. The Al-Pathar lake near the LOC is almost a 2km trek from here. While we didn't go there, it is a must-do.
Skiing and other activities in Gulmarg are a bit expensive but if you seriously want to pursue skiing then the Indian Institute of Skiing and Mountaineering, provides boarding and lodging facilities and packages at really low rates.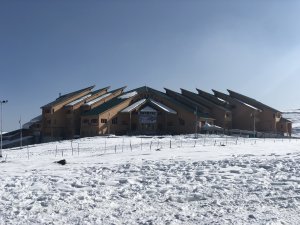 Snow Mobile
At the first phase you can rent a snow mobile and explore a set route. These snow mobiles are light and great for manoeuvring your way through the snowy slopes. For our little one a guide was there, the rest of us also had guides but we rode our own snow mobiles once we had gathered enough courage.
ATV Rides
You can book an ATV ride to see all the highlight points in Gulmarg. It's a great way to experience the place with a sense of adventure. We saw the frozen lake, picture points, the golf course, ice skating rink, a church and even went through a national forest. It's pretty safe and great fun. My 12-year-old rode one by himself. A guide will sit with you so there is nothing to fear.
Sledging
A lot tourists sledge down the slopes or are pulled by guides wooden sledges down the entire phase one to the base.
Shopping The Pashminas
Ask your guide or the cab driver to take you to a reputed place for shopping the expensive Pashmina shawls and handicrafts and they will take you to the handlooms and showrooms.
Trip to Sonmarg And Srinagar.
We were there for 4 days and decided to explore and enjoy Gulmarg only but you can easily hire a car and head to these destinations.
Would totally recommend heading to Gulmarg as the place is just mesmerising and so reminds you of Switzerland. Sadly, security threats do dawn around it so do check before you head there. Our country is so beautiful that if you explore it properly you may not want to head out internationally.