It was the year-end and this year not by a little but by a really great margin we had not planned our year-end vacation. For those who may still not be familiar with my life, vacations are like oxygen for our family. We need them time by time to reconnect in a non-distracting atmosphere. This year has been unusually busy for us, my hubby made partner and that has made his travel schedule crazy and as for me my blog has grown by leaps and bounds and if this all was not enough, I have launched my venture too. All this has made our lives way too hectic than we like. So we just needed a break, a break to put our feet up, read books, chat and do nothing.
And that's when we started searching and found this property so close to Mumbai. While cost was steep, it was a small drive away, so we would save on travel cost and basically at this time of the year any property would either be too expensive or not available.
Location
It's very close to Pune and about 12 kms from Mumbai. But due to bad roads, we took around 3 hours to reach there. Ideally, take the second exit for Lonavala if coming from Mumbai on the Mumbai-Pune Expressway. There is one patch where we felt our car would just give up. But once you reach there, you just fall in love with the tranquility.
The resort is built on a small hill and is sparsely populated giving each Villa it's privacy. The Hilton Shillim Retreat & Spa is an All-Villa Resort offering a choice of spacious, air-conditioned villas, ranging in size from 100 to 550m² and featuring between one and three bedrooms and showcasing relaxing views. One interesting fact is that instead of buggy they use Tata Nano for to and fro of guests. How innovative!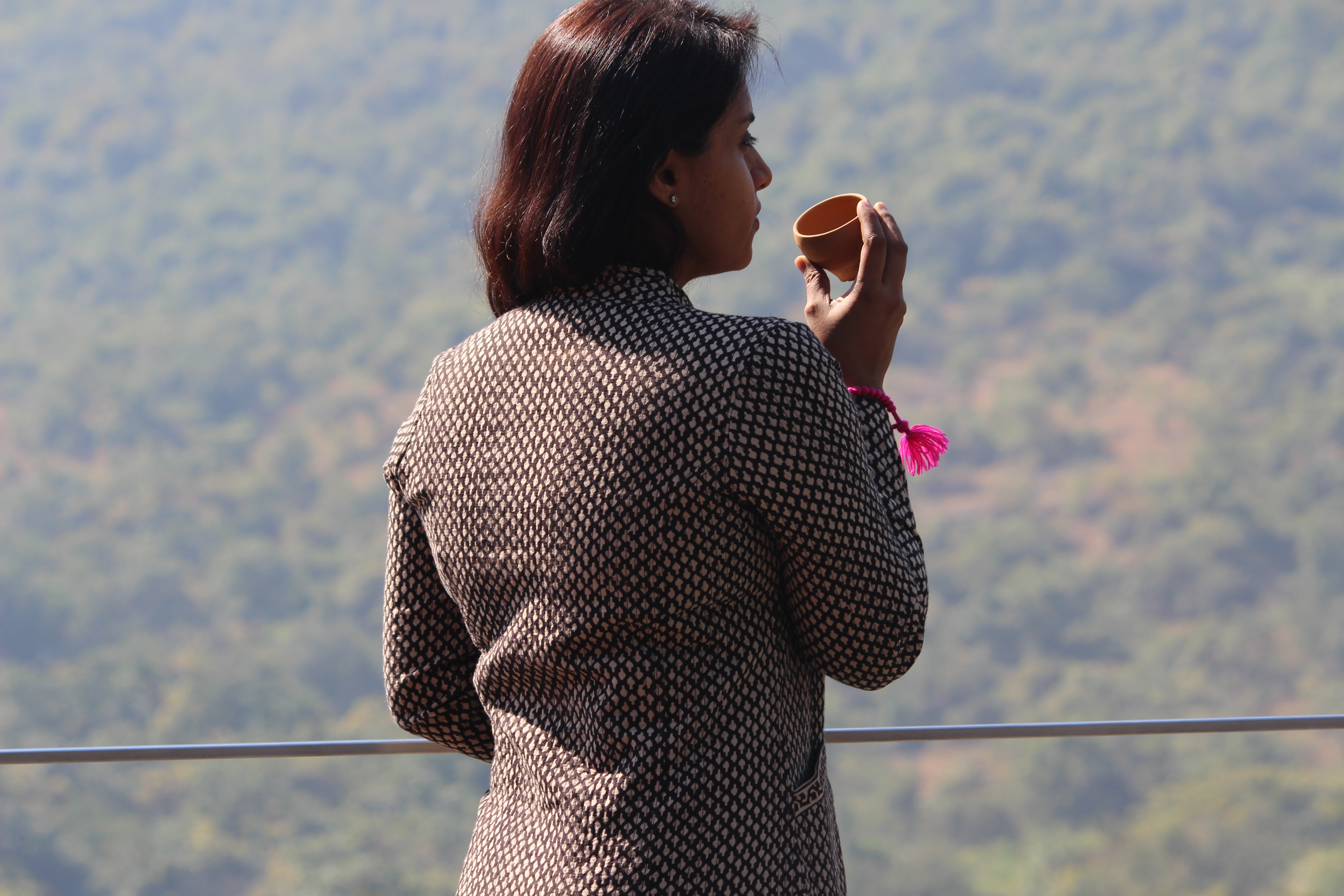 Accomodation
We stayed at King Deluxe Valley View. The room is huge with high ceilings, stone flooring, four-poster bed, antique fan, 42 inch LCD TV, locker, bath tub, cupboards but importantly the view.
Another thing we loved was the day bed in the balcony which was as big as one of the rooms of my Mumbai home.
Each Villa is private and is calm and serene. There is no noise from the neighbours and I can vouch for that since I travelled with two noisy brats.
Spa
The spa retreat encompasses 70 acres and offers a range of exquisite treatments. There are 17 treatment rooms, a meditation cave and a relaxation center, as well as a salon and yoga pavilion.
Hilton Shillim Spa offers a range of rejuvenating treatments for the body. Each treatment integrates the ancient philosophic, spiritual and artistic wisdom of South Asia, with modern international techniques. The spa was also awarded as the best Spa in Asia reward in 2013. The feel was semi rustic and not very luxurious as far as the decor and rooms are concerned. The therapist was really well-trained. I tried the release massage which is their signature massage using the concept of deep tissue massage and cupping techniques. To read the full experience head here.
Food
Terrazzo: It is the resort's all-day dining restaurant and it's coffee shop. This is where you will be served breakfast, if it's part of your room package.
Mountain Bar: Set in the most scenic valley views, this poolside restaurant serves yummy wood-fired pizzas, sandwiches and pasta. The options are limited but decent.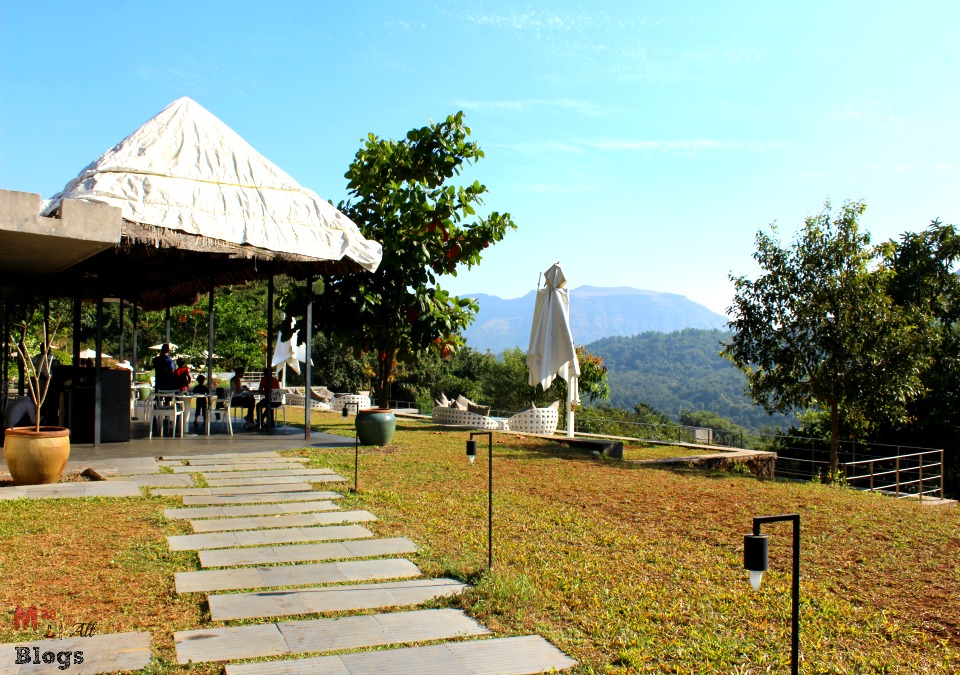 The Green table or the Spa restaurant: All meals here are designed for a healthy wellbeing. So you will find your superfoods, salads etc here, however, it does not allow kids.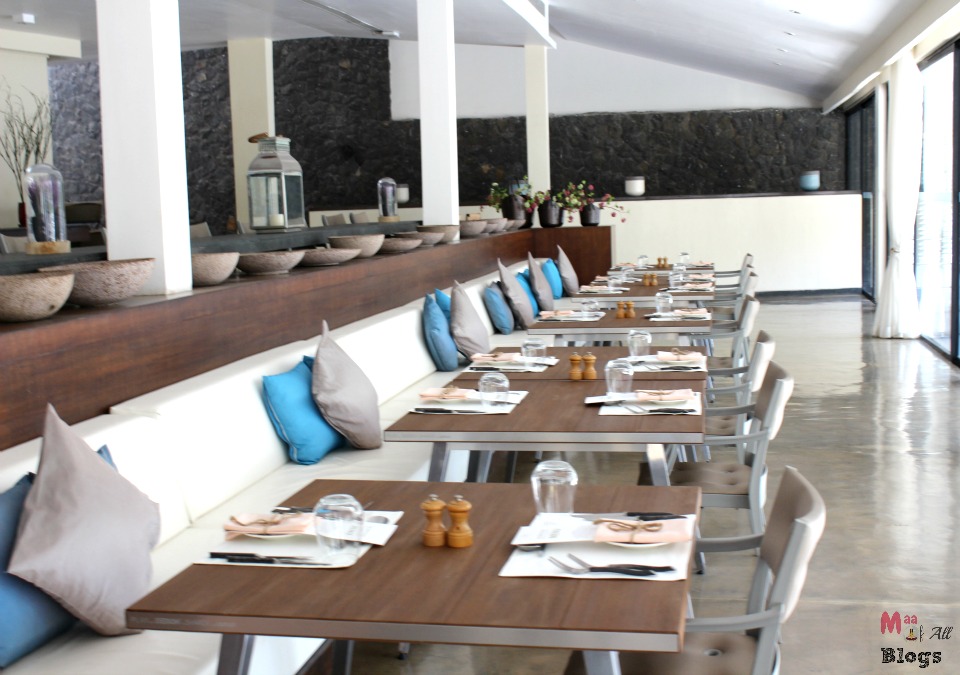 The tea room: The tea room has various blends of tea available and you can book a tea tasting here or head here for high tea. They also do tea tasting on a chargeable basis. Every evening they also have a tea ceremony which is on the house.
In-room dining: Has a breakfast menu, all day dining , night menu and a kid's menu. There are decent food options, however I felt there were more options for non-vegetarians than vegetarians.
Service
The retreat is built on the lines of an eco-resort. The beauty of the resort is it being around nature. While around nature, you tend to take things leisurely. The staff is really sweet and helpful but maybe due to distance between the villas, anything you need takes a minimum 15 minute to 30 minutes. However, they cover it in their sweetness, we asked for extra water and we got 20 bottles :)!!
Amenities
The resort has an institute known as the Shillim Institute, where most activities like archery, pottery, canvas painting, flower making, umbrella painting etc are held. You can also book star-gazing, forest walk, nature walk, treks etc, all of these are payable.
The institute also has a banquet and conference hall which can be used for office offsite or wedding functions.
There are two swimming pools, one in the mountain bar area and one near the Spa.
Meditation Cave and Yoga Pavillion:
Here you can head for evening meditation classes and morning yoga practice and both are on the house. The Yoga Pavilion is open air and the Meditation cave is so tranquil and the energies there are so positive, that it can relax you as soon as you enter.
Value For Money
The place is very expensive. Not only are the rooms expensive, but you have to pay for wifi (unless you are a Hilton member), food( which is quite steep ie @4-5000 INR for a family of four). They do not have an all board package unless you book through a travel agent.
My Verdict
It's a beautiful location and the place is very tranquil. It's perfect for a retreat when you just want to get away from the daily hustle and bustle and relax. Only thing is that I feel it's a bit over priced for it. I guess it make sense to take a yoga or ayurveda package from them and then head there or plan+pack a lot of toys and activities for kids. But then if you search there are more Ayurveda healing centres in India at a minimal cost. I really enjoyed the place as I needed the break but I wish they can improve on the pricing bit.