How To Make A Gift Box For Any Occasion
Whether it is a birthday, engagement, or simply a house warming party, presenting a gift almost never goes out of fashion. It is believed that the gift cover doesn't matter as much as what is inside but we bet you will disagree on this one.
Giving an interesting gift is only half the job done but making it look presentable completes the purpose. After all, you wouldn't want to miss your loved one's priceless expression when you hand over an elegantly decorated gift, would you?
Here is when gift boxes come into play. They are the stylish new alternatives to gift wrapping paper. Although these are available in the market in varying shapes and sizes, you can also try creating handmade gift boxes to give a personal touch to your gift.
Special gifting occasions
Your planner for the year may be filled with important events like family gatherings, birthdays, weddings, and festivals. So, your gift box should reflect the occasion you are attending. This means that if you are attending a festival party like Diwali, it would be appropriate to have your gift box look more decorative instead of sticking to pastel hues. Likewise, presenting a gift on someone's fifth birthday in a festive-inspired gift box would not be a good idea. Also, searching high and low in the market will only waste your time and money. So, making one yourself using fun craft ideas will not only let you customize the design depending on the occasion but also prevent unnecessary expenses.
Materials needed to make your gift box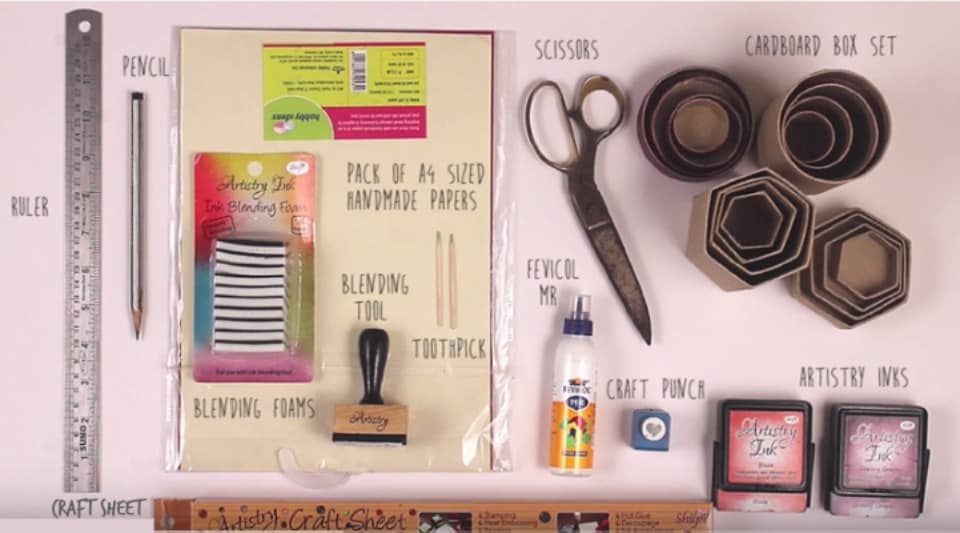 The materials required for this DIY craft activity include a ruler, blending foams, blending tool, toothpick, A4-sized handmade papers, pencil, scissors, glue, craft punch, artistry inks, and a cardboard box set (you can use only one box if desired). Alternatively, you could use cardboard papers, to create the skeleton of your box. Since this type of paper is available in most stationery shops, you will not have trouble finding it. If you're too lazy to go out, you can find all these craft items right here.
How To Make A Gift Box Tutorial
If you are wondering about the complicated method to making your own gift box, this video will put your doubts to rest on how to make a gift box.
The video tutorial has used a dominant shade across the entire gift box, which is only highlighted by a contrasting colored band that is wrapped around its circumference. You may also adopt the same technique, where you use one dominant color and a contrasting hue to make your gift box stand out. Additionally, you could use ornamental stones, beads, and half-cut pearls as well if you are gifting for a festive occasion or wedding.
Unleash your inner creativity with these gift box ideas and surprise your dear ones on their special days. Click here for more easy craft ideas for gifts and art items.
Do let us know if you are enjoying this and we will keep bringing you more and more such activities.