Only a new mom can understand the value of a good diaper, and I still can't forget the day when my handbag was replaced by diaper bags! While on this topic, I would like to mention that I have always preferred pant-style diapers to the ones with velcros, for the ease of making them wear and take them off.
There is a new disposable pant style diaper that I have been testing out – the Huggies Hug-Fit Wonder Pants. Today, I am going to review the pants and talk about my experience.
First Look
Really cute teddy print on the front, and starfish and beach print on the back. The pants also come with front and back indicators. The colors used are subtle, giving it a more international look.
Super Stretchy Fit
We pulled the two sides of the diaper, and true to its word, the diaper looked like it will fit the baby's waist well as it really does stretch to two times its size. This also gives ease of movement and leaves no marks on the baby's waist. It is soft and flexible while also being snug.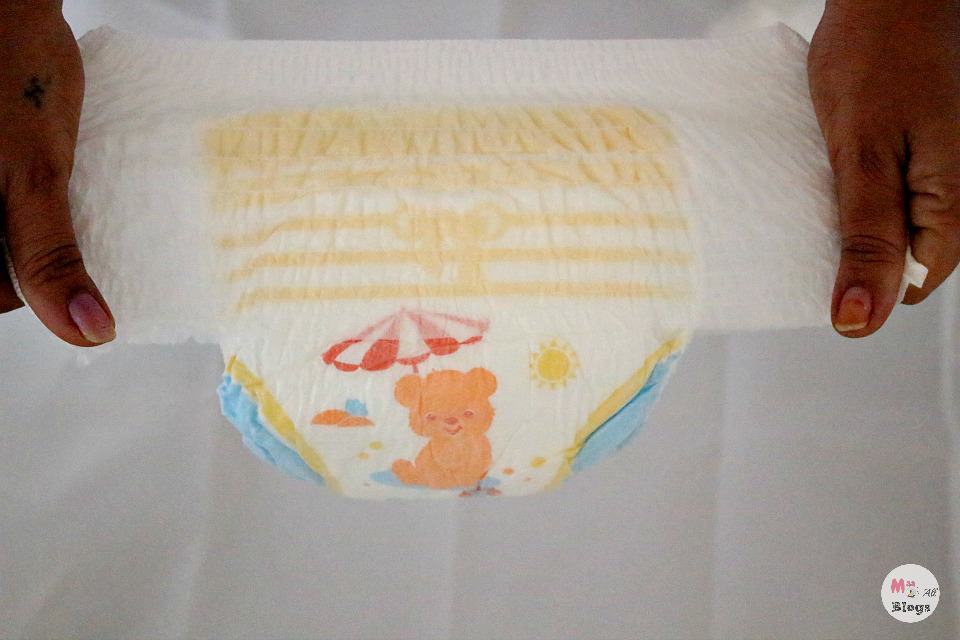 Front and back indicators
These are very useful to a lot of us, and especially dads! A lot of men in my household are clueless about the back and the front of the diaper, and are always getting it wrong. This simple indicator will help many of us to get it right the first time.
There is also a fresh baby smell to the diaper which we loved.
Slim and Absorbent
The Pants are slim, and that helps the diaper bag to be packed, yet more compact. The inside layering is really soft, feels lovely and I am sure that it must be very comfortable for the baby. It promises to instantly lock in wetness to keep your baby dry & comfortable for up to 12 hours. Let's check that!
Double Leak Guard
There is a double leak guard on the sides which prevents leakage. A lot of times when too much liquid goes in a particular direction, it can be disastrous! But this saved all mishaps.
Putting them on
These diapers are really easy to put on. You just slide them on like underpants and tear the sides to take them off. They don't slip off or open up too.
Sizing
It comes in 5 sizes, from small to XXL.
| | | | | |
| --- | --- | --- | --- | --- |
| Small | Medium | Large | XL | XXL |
| | | | | |
| 4-8 kgs | 7-12 kgs | 9-14 kgs | 12-17 kgs | 15-25 kgs |
Pricing
A pack size of large size diapers, with 50 pcs, costs about 699 which comes close to Rs. 14 for a diaper. This is little lower than it's contemporaries in the category.
Verdict:
I will give it a plus in fit and comfort. It matches it's contemporaries in pricing. It looks reasonably absorbent in the little experiment that we
did and it definitely can last the 12 hours that it claims to. Moms, do try it out and let us know what your feedback is about the product. We will be looking forward to it! Shop here for Huggies Wonder pants