I Dream Of A Perfect Home In The Greens
It's not the World Environment Day today but do we need a day to open our eyes to celebrate the beauty of nature around us? I step out of my room onto the balcony for some inspiration and see a sea of Red and Gold. Red of the cars going away from me and Gold of the cars coming towards. My gaze stretches through the foggy mist and there are endless rows and rows of concrete. I sigh, and close my eyes to imagine the beautiful landscapes of Iceland and am transported there. I breathe in it's fresh air and am almost woken up rudely.
I console myself by saying that at least we are better off than Delhi, which has recently been named as the world's most polluted city in the world. But it is not long before we will join in the race too. I shudder, to think what the state of things will be when my kids grow up.
This is when someone suggested me to look at
Godrej Greens,
Undri, Pune. Nestled in the picturesque views of Sahyadri hills this is a property that is very green and yet in close proximity to reputed schools, clubs and the city.
Very recently in my kid's school they asked them to draw their perfect home and this is what my kid came up with;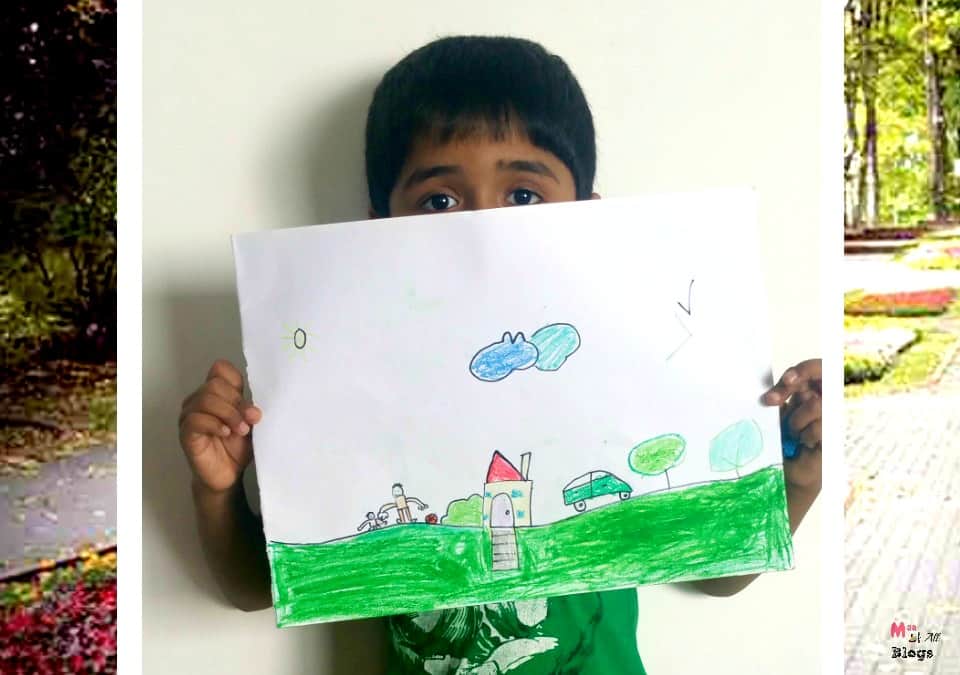 In fact, every kid you ask will always draw a perfect home like this. They thrive in open spaces and around nature but ironically they live around concrete. Even our happiest holiday moments are formed around open spaces, sea, mountains etc and not around a shopping mall, that's why Godrej Greens is the perfect solution to a kid's dream home. It is filled with greens for different activities that my kid can enjoy.
So, say hello to fresh air, living healthy every day and not wait for World Environment Day to open our eyes.
Space is a luxury that very few can afford and our current life looks more like this and will look increasingly like this.
A sharp contrast to my childhood that is filled with memories of climbing trees and eating fruits from our backyard. We were blessed to live in huge houses and green surroundings, eat organic fruits and vegetables, almost a distant dream for my kids. Like any of you I too worry about their future and health, of the deteriorating air quality around us, of the diseases it brings along. In the wake of things Godrej Greens, makes for an idyllic choice. I can be in nature and just hop, skip and jump to the city life whenever I or my kids miss it. I will leave you with my dream of a perfect home.
I dream of the serenity offered by an array of green trees swaying to the pure virgin breeze, the cajoling tweet of the birds wrapping up the noisy lull and fading it out non-existentially. I dream of a home splashed in luscious green archived and untouched, with not too many driving down the busy streets even succinctly perceptive of a green paradise hidden away in the middle of an urban sprawl, making a blaring proposal of unfurled tranquility close to a metropolis that never sleeps!!
disclaimer: This post is in collaboration with Godrej Properties.