Jalsrushti Island Resort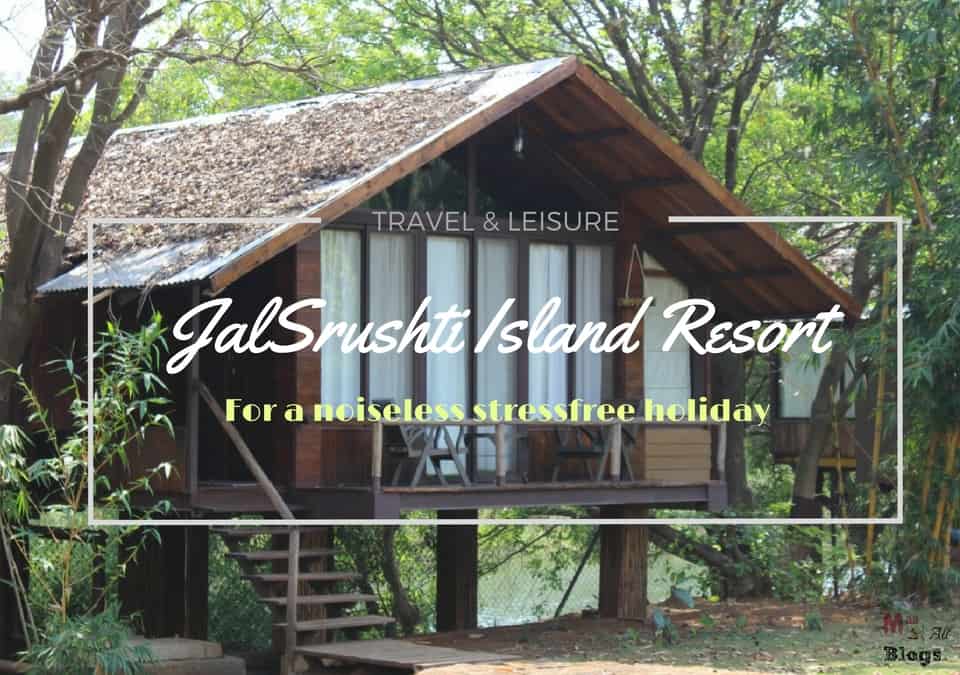 Jalsrushti is a beautiful eco-resort near Mulshi. It is just a few hours ahead from Pune and about 4.5 hours from Mumbai. This is a hidden gem in the lush green surroundings of Mulshi as there is not much advertising that the resort believes in. Interestingly all their marketing is all word of mouth and they have been doing pretty well organically. Needless to say, this review is not sponsored.
I was referred here by a relative who was all praises for the beautiful river stilt rooms with glass floors. This reminded me of the stilt houses in Maldives and I wanted to head there.
One very interesting thing is that it is on an island and to reach there you are ferried from one point of the river to another in a raft-like structure which makes you feel like you are in a page from the story, Tarzan. This also made us realise that we will be cut off from the rest of the world for the next few days.
There was no WiFi and my hubby almost had an anxiety attack but he managed to still get some 3G network. So there was no respite from his emails and work.
Jalsrushti – The Resort
The resort was all green with just 14 rooms, a river flowing all across the resort, a well-manicured garden, a small lotus pond, ducks and frogs all around, giving us the feel of being in the midst of nature.
Best Time To Go
Do not head there in summers, we went there in March and it was super hot and unbearable. We could not sit out till the evening. Monsoons the resort is closed. So the best time to head there would be from October to February.
Accommodation
They have 8 tree houses which are along the bank of the river and 6 houses around a pond. We were two families and we stayed in the river Jalpushp or the river stilt resort. It was a wooden treehouse overlooking the river and had a bathroom with a glass ceiling, double poster bed with antique fan, a living room with a swing and a glass bottom floor to look down into the wild, apart from modern amenities like the air conditioning, LCD TV etc. but no fridge. The rooms were large and I absolutely fell in love with the place.
Our days were spent on the hammock and evenings around the bonfire gazing at the stars. We did bullock cart rides, ran behind the ducks and then away from the ducks when they started chasing us.
Amenities
Club House : There is one clubhouse small though equipped with table tennis, pool, table hockey. Wish they could add more games here for kids like snake and ladder, chess, ludo. etc.
There is a small swimming pool that you can enjoy in.
There is a vast area for kids to play and there are ducks and other farm animals for kids to enjoy.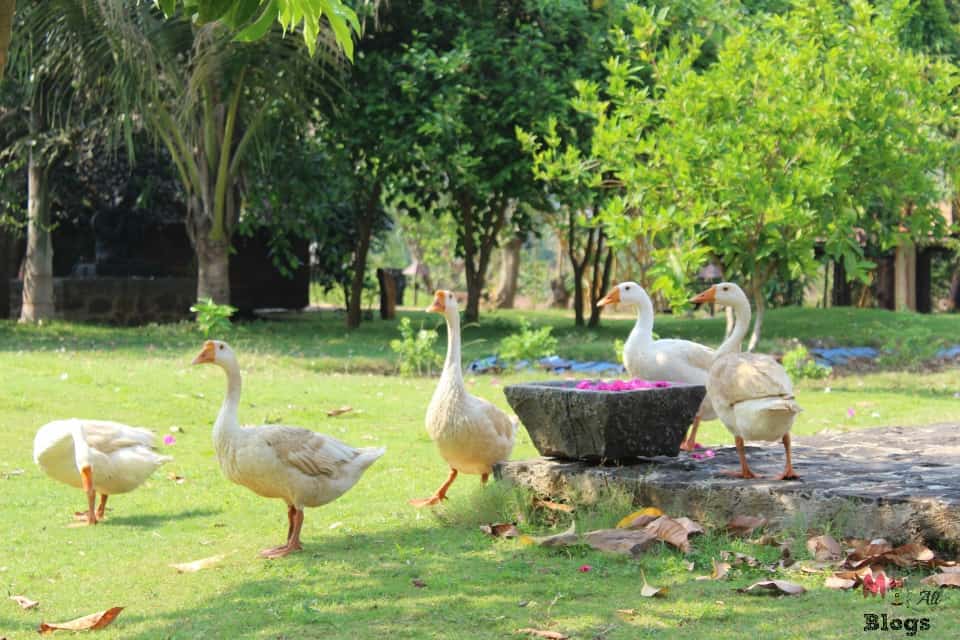 Service
The service is average but the staff is nice and try and mostly heed to your needs.
Food
The package is an all inclusive package with all meals and they had a buffet layout for all meals. There was a Sunday evening special 'ghazal night' and some Sunday special barbeque and dinner. You can also order in, but that is charged. They don't allow alchohol to be carried from outside.
Value for money
The rooms cost us under 180 US dollars a night and we had to pay extra for the second kid. This also included all meals. So I would say that the place is really value for money.
My verdict
The place is really pretty and eco-friendly. Head there for a noiseless a stress-free holiday. It's great for kids too as they have plenty of area to play around, fishes, frogs and ducks to play with and they also take you for a bullock cart ride if you wish so.
p.s.
Jalsrushti Island Resort is closed during monsoon
24-hour generator backup in event of power failure
They don't allow outside alchohol
They don't have WIFI