The history of Awadh is painted with the glory of the nawabs that ruled it. Their clothes, their habits , their jewellery, architecture but most importantly their being connoisseur of food is what was that spread their fame to different parts of the world.Dum pukht or slow oven cooking methods in which meat and vegetables are cooked over a very low flame, generally in sealed containers. This style of cooking found it's origin during the reign of Nawab Asaf-ud-Daulah in the mid 18th century.
Legends claims that when the famine struck, Nawab Asaf-ud-daulah, initiated a food-for-work programme, employing thousands in the construction of the Bada Imambara shrine. This programme went on for many years to come. Every day, cauldrons were filled with rice, meat, vegetables and spices and sealed to make a simple, one-dish meal that was available to workers day and night. Once when Nawab was doing the rounds he caught a whiff of the aromas emanating from the cauldron. Enchanted, the Nawab ordered the 'dummed' cuisine to be perfected for the royal table. Exotic dishes were evolved, in which flavours and fragrances intermingled, with exquisite results. Before long, the new cuisine was fashionable at many other royal courts like Hyderabad, Delhi, Kashmir, Rampur, and Bhopal. This was the start of DumPukht style of cooking.
The Quereshi family has kept this traditional cuisine alive in India for over 200 years and the recipes have been passed through generations within the family. MasterChef Shareef from the Quereshi family has brought this cuisine to the ITC Grand Maratha. I experienced the magic of his fingers very recently along with a group of bloggers.
ITC has a 5 course set meal concept known as the 'NawabThal', priced at INR 5000 per person, it is a grand culinary experience meant to be enjoyed at leisure. There are rituals and services involved that remind you of the bygone era of the nawabs and royal courts of Awadh. This 'Nawab Thal' is served with Chivas Regal, so a bliss for whiskey drinkers.
As the first course we were served Dum Pukht Kakori, which was a melt-in-your mouth minced chicken kebab flavored with cloves and cinnamon, chargrilled and served with saffron. I have never tasted anything better in my life. Not only does it crumble softly in your mouth, it tastes of all the spices mentioned above without being overpowering. Just divine!
Jhinga Dum Nasha or prawns marinated and cooked in tandoor and finished in dum( can't comment on this one as I am allergic to prawns).
With the second course came in the Shorba timater or Tomato soup. But to add to the culinary heritage it was served with namakparas (or salted crispies).
The mains or the third course had a variety of cuisines, amalgamated on my plate as is Awadh's history. History states that Nawab was exiled during his reign and travelled to various parts of India and so the the awadhi cuisine adapted cultures.
Murgh Khushk Purdah is a boneless chicken, marinated and cured with star anise, grilled and dum cooked with an assortment of vegetables and served in a patty wrapped around it, like a 'purdah' or curtain. The faint aroma of star anise and spices, were very well balanced for my palate.
Mahi Sarson or Bhekti fillet marinated in mustard is the cultural influence that I was mentioning earlier. Surprisingly, it was also very mildly flavoured and the mustard did not overpower the taste of the fish.
I usually avoid trying lamb when I eat out as I believe and it comes from my experiences that the time a lamb requires to be marinated or the patience it needs to be cooked with is not a leisure a commercial set up has. But the Dum Pukht Koh-e-Awadh that I tasted in the Nawab Thal at ITC just defied all such notions. It was moist, soft and absolutely delectable. The pieces of the lamb are very carefully chosen by the chef himself to achieve the desired taste to this dish.
Maash Kaliya is a green moong lentil gravy dish with spinach tempered with green chillies and cumin. I am not a huge 'dal' fan, and with so much variety around, I could not do justice to this one.
These dishes were served with an assortment of naan or bread
Next came the Dum Pukht Biryani, was an exotically flavoured combination of basmati rice and delicately chosen lamb pieces, simmered with mace, ittar and kewra and finished on dum in a sealed handi. Again subtle flavours, extremely soft lamb pieces and totally divine.
The food is rich in texture and heavy. While tasting you may not feel it, but towards the fourth course you have to struggle to keep space for the desserts.
For the 5th course or desserts, we were served an assortment of shahi tukda( deep fried bread, dipped in sugar syrup and served with rabri, almonds and saffron toppings), Gulab ki Kheer (rice cooked in milk , sugar and rose petals with saffron and rose flavouring) and Kulfi Badshah Pasand(creamy pistachio Indian version of ice cream with gold leaf).
The finishing touch of Nawabi hosting was given by serving 'paan' in a floral motif decorative 'paan daan'.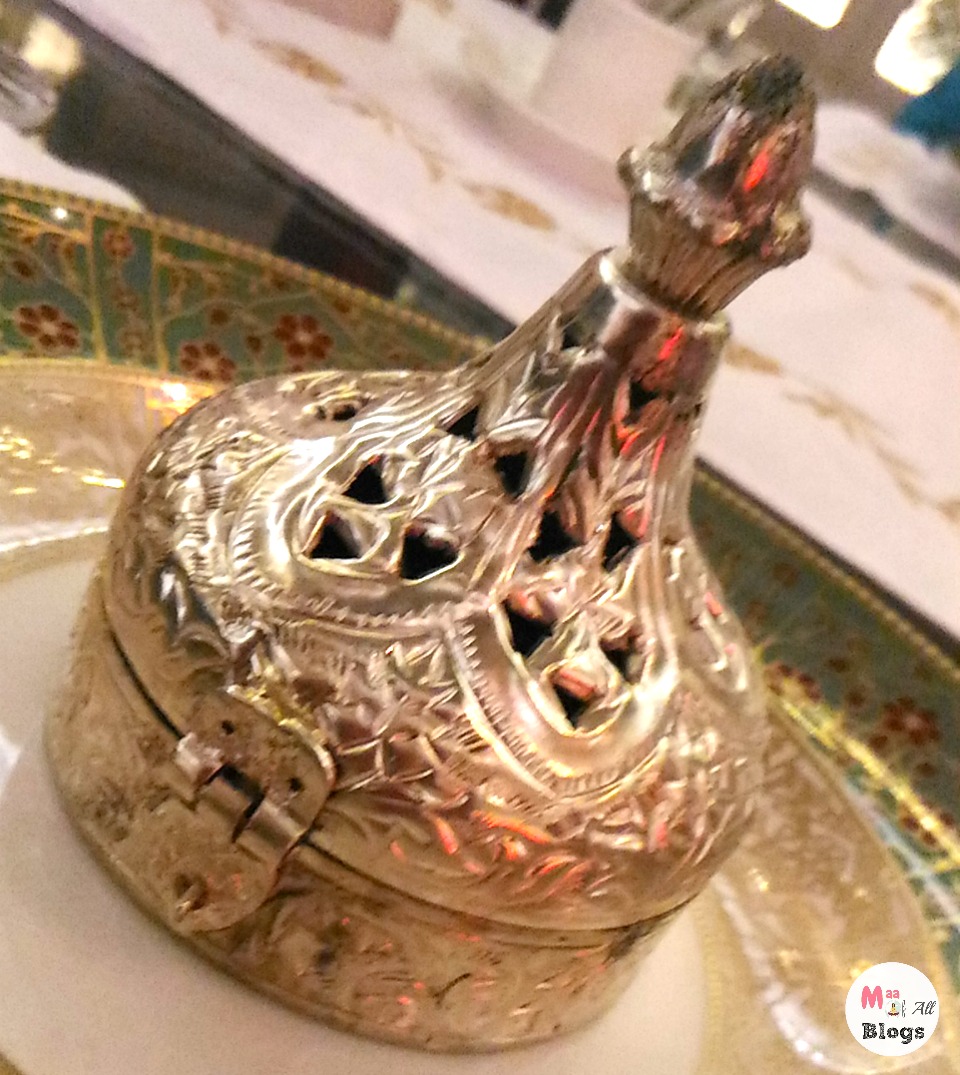 The names of the dishes that are the part of this Nawab Thal are as exotic as their taste. While their vegetarian selection is lovely too, if you're a non-vegetarian this place is a must do. It's excellent for formal office dinners, expat meets ( I am telling you they will go ga-ga over this exotic spread of Indian food). It's slightly on the expensive side so keep it for a special occasion :).
Masterchef Shareef and ITC has obliged us by sharing two very exquisite recipes from this experience for our readers. While I am unsure if we can create the same magic as the chef himself but we shall surely try :). Click on the pictures below to get the recipes of DumPukht Badin Jaan and Dumpukht Galouti Kebabs.