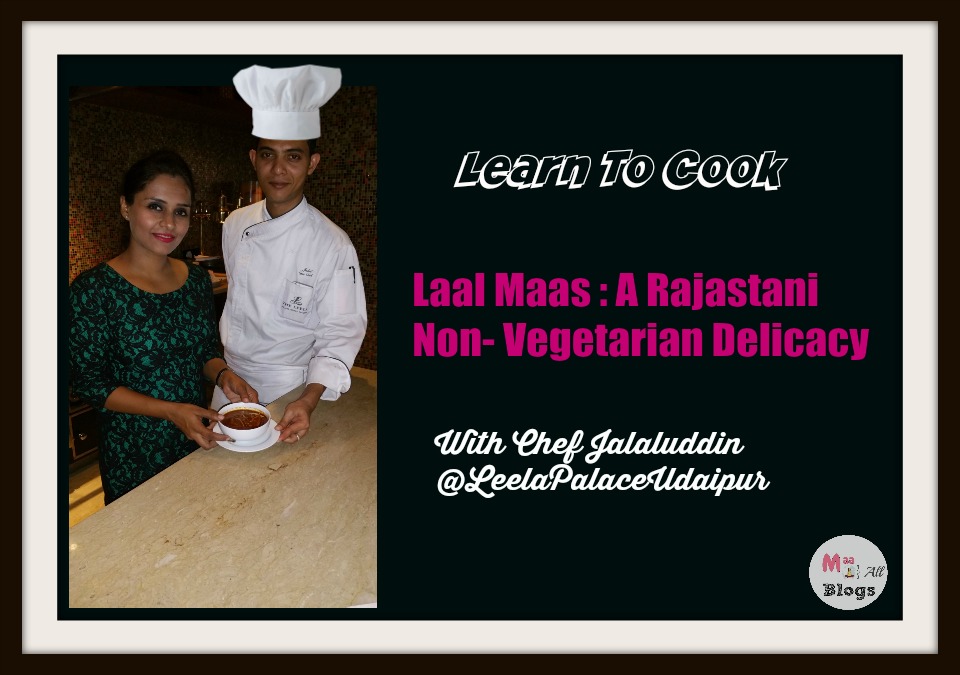 Rajasthan's climate and it's food both are known to be hot. It is a well-known fact that spicy food helps in perspiration which cools down te body temperature, maybe that's why Rajasthani cuisine is so spicy.
Laal Maas is a fiery lamb stew and this traditional recipe was made with wild game meat, such as boar or deer and chillies were used to veil the gamy odour of the meat. It was a favourite among the royalties. The fiery colour comes from a very important 'mathania chillies' which are specific to this region and grown around Jodhpur.
As you all know I recently did a short trip to Udaipur and stayed at the Leela Palace. Here Chef Jalaludeen, treated me to the process of making this very sought after recipe, here is the entire experience and recipe;
Ingredients
2000 gms Lamb Curry Cut
300 gms Yogurt
200 gms Mathiana Chilli Paste
1 whole red chilli
100 gms coriander powder
salt to taste
100 gms ginger and garlic paste
60 gms chopped garlic
150 gms ghee
1 cinnamon stick
some cloves
1 Bay Leaf
Few black cardamoms(5gms)
400 gms chopped onion
300 gms tomato puree
100 ml refined oil
Method
Mix together lamb, yogurt, ginger garlic paste, chilli paste (100gms) and salt for marination of the meat and keep aside.
In a pan heat ghee, add whole red chilli, cloves, bay leaf, cinnamon stick, cardamom and stir for a few seconds.
Now add chopped onions and fry them till golden brown.
Add the marinated lamb, mix well and saute for 8-10 minutes on medium heat.
Add the rest of the chilli paste, ginger garlic paste, coriander powder and yoghurt and cook for another 8-10 minutes.
Add hot water and bring the stew to boil. Then lower the flame and simmer till the lamb is 3/4th done.
Now remove big spice pieces from the gravy and add tomato puree and cook and bring the stew to a boil.
Traditionally this lamb was slow cooked on an earthen stove using coal, which gave it different aroma. To get a taste of that in this meat. take a small steel container add small pieces of coal to it, add clove and some ghee. Place it in the container, burn the coal and cover the pan with a lid and aluminium foil. This will give the lamb a smoky flavour.
A small …video of the cooking experience ..hope you will enjoy it;