Last Year I had announced the launch of my friend's label Khem on the Runway of Lakme Fashion Week. I am so proud to say that he has become a regular at this event now. For those of you who might be wondering, Prem and myself graduated from the same batch of FDCT(Fashion Design & Clothing Technology) from Pearl Academy. So our association goes long back. While he went on to work for the like of Rajesh Pratap Singh and Satya Paul, I chose to work on the buying and retail side of the industry.
After that brief history, let's see what was on from his end this LFW. Prem with his label #Khem, showcased his collection 'Shab e Taj' was inspired by the imagery and romance that exists with the Taj Mahal which is known as not only one of the wonders of the world but as a memory of a man's most romantic gift to his wife. Rabindranath Tagore has called it the 'teardrop on the cheek of time'.
This collection is a tribute a woman's exotic beauty . The collection celebrates rich Indian weaves and art of sari and zardozdi. The prominent colors in collection were Black, blue and silver bringing out the beauty of the motifs which were the focus of the collection. This came as a complete contrast to his last year's collection which was 'Dreams in Prussian Blue' was all about ladylike cocktail dresses and free flowing tunics.
My favourite from the collection was the showstopper which complimented the beautiful Neha Sharma and the plan with which she carried the dress was just perfect. This collection played with fabrics like Silk wool, georgette, cotton Rayon and Faux leather.
Antar Agni, by Ujjawal Dubey, showcased a clean layered look. The focus was more on men's apparels I felt, even the women clothing looked inspired from more masculine cuts and silhouettes. The colors were grey, black and white with sand and off-white contrasting and bring light to the collection. he colour was selected so as to depict depth, silence and surrender to the dark of the night. Very practical and earthy collection who can easily be endorsed in our every day style.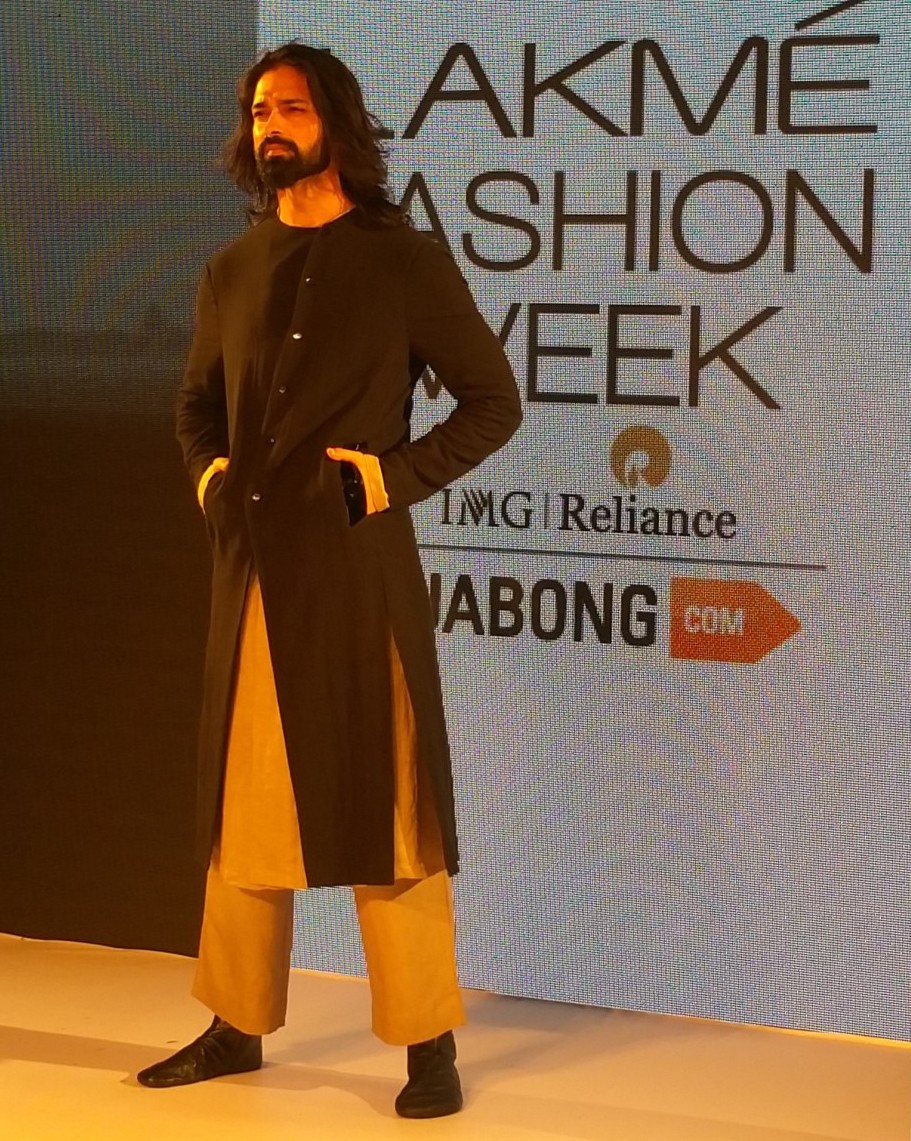 Amar Sengpto's collection had the models wearing oxygen masks to bring the focus on to the garments which were clean-cut , clean lines, dark colors . Again I felt the womenswear was inspired by masculine fabrics and silhouettes.
Check this video out for the live feel of the show;
As I always am amazed at how well people carry out their personal style at these events and at times I find these better than what I see in the ramp . So here is a touchdown of what I loved behind the scenes;
Finally it's time to reveal #WhatIWoreToLFW this time;
Signing off until next time. See Ya!!