We did a lot of family trips last year but haven't gotten down to penning them all down. Some of you might have read my son's first travelogue on Singapore. This is the second one that comes out of our 'Kiddy Travel Diary'.
While travel has made my son write a journal, I want to immortalise his writings by sharing it on my blog, or so I have explained to him. This has gotten him to jot down almost each and every memorable moment. Can you already feel how much learning is happening through travel? I am so glad that my kids love to travel and learn through it.
p.s. Carry a sun hat and lots of sunscreen lotion.
Now from my son's extract;
---
We headed to Langkawi straight from Singapore and having already done a hectic city trip, Langkawi was the perfect spot to hang our feet.
Langka-wheeeee !!!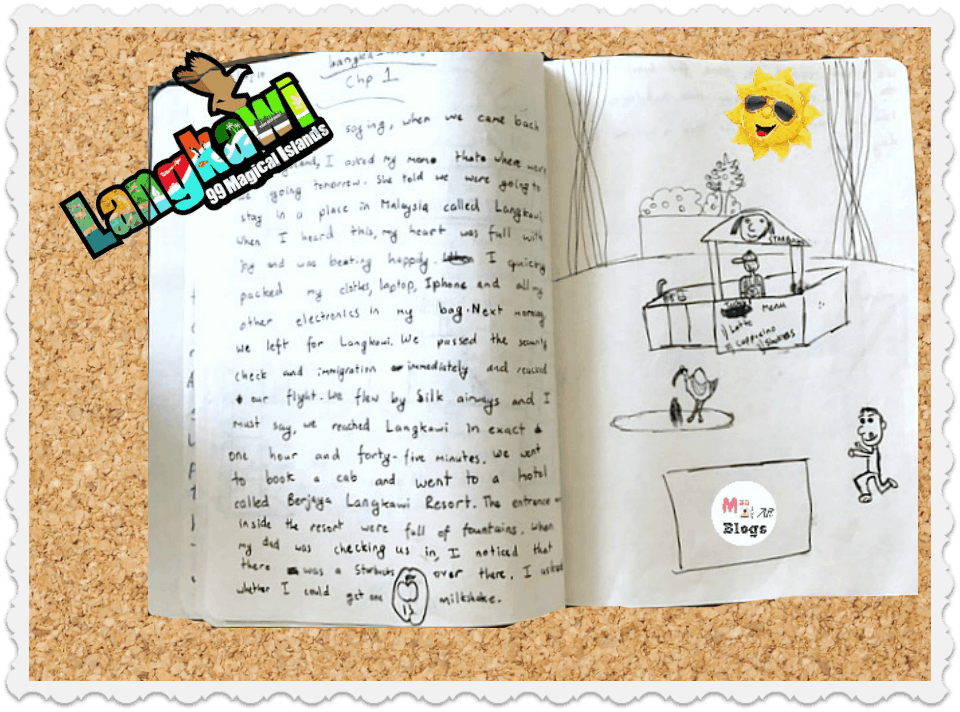 p.s. We had to fly to get to Langkawi and we flew via Silk air. We reached Langkawi in just 1 hour and 45 minutes.
Langkawi is a beach town. If you walk around you will get the feel of Goa. The streets and the shops look exactly like that. Unlike Goa though the beaches , sea and the landscape is pristine. You can get a feel here by looking at these pictures.
---
Day 1
We stayed at the Berjaya Resort which has it's own private beach and is a great location. The first thing I noticed about the resort was that it had fountains and a Starbucks counter in its lobby. We found out that it is also the closest(5 minutes) to all tourist attractions like the cable car and the skywalk. In fact, Berjaya has a shuttle dropping you there every few minutes. We stayed in the family room, which had two separate rooms with two baths and double beds.
All we did on our first day was relax. We headed to the private beach owned by Berjaya and walked in their lagoon for almost a kilometer. We also swam for hours in their swimming pool and finally ended our day at the beach restaurant with some wonderful views of the moon and the beach.
p.s Everything has to be paid for. Only your breakfast in their Day cafe, pool, and the gym is inclusive in the package, rest if you have to use the kids play area you have to pay separately, or even their snooker table, gaming zone etc. This was quite a bummer.
They have an in-house shop for all small knick-knacks and souvenirs. You can even buy some chips and ice cream from there. This was pretty useful for us as we headed there multiple times for things we had forgotten to pack and things we want to munch on.
---
Day 2
If you are in Langkawi there are lots of water sports that you can try. Mom wanted to scuba dive but was denied as she is not a proficient swimmer. Dad decided for once to be adventurous and booked a jet ski island hopping tour. It was supposed to be an eight-hour tour and mom was very skeptical about it but it turned out to be great fun. I wanted to try my hand at driving the jet ski but it could be dangerous. I was seated with mom and she took a little while to get the hang of it. There was an old couple in their 60s and they were driving the jet skis faster than anyone of us. There was an adrenaline rush, cutting through the waves and driving at jet speed.
We saw many interesting islands…… and finally broke for a quick lunch and a dip in the fresh water lake at the Pregnant Maiden Island or Dayang Bunting. There were over 100 steps that we had to climb down to reach there. By this time our shoes were soaking wet. By the time we ended the tour we were exhausted, tanned and our back and legs were cramped, but we had enjoyed this little adventure a lot.
p.s. If you take this tour you will get only one break and there are paid toilets there so be prepared. There are about 99 islands in Langkawi.
---
Day 3-
While the bridge and the cable car ride was shut for renovation, we got the news that they were opening for two days owing to a lot of tourists arriving at Langkawi. There couldn't be better news. We took a shuttle from the hotel and in just 5 minutes we were in the Oriental Village. Once there you realise why it is called a village.
There are rows of endless shopping. Some food joints and lots of tourists standing in long queues for the cable car and other attractions.
You can buy various combo tickets along with the cable car ride. We chose 6 in 1 attractions which let us inside the 3D art museum(realistic optical illusions and visualisations of 3D paintings), got us a virtual Dino ride, a cable car ride, an F1 Ferrari stimulation drive, and to get the world's best dome movie experience at the sky dome. I really enjoyed the Ferrari stimulation and found it better than the one in Dubai Ferrari world.
The sky-cab or the cable car took us on a 15-minute ride to the top of mount Mat Cincang, which had breath-taking views of Langkawi's rainforests, islets, and waterfalls. It takes a small break at a station for you to soak in views and get some pictures, they also sell you pictures with Langkawi backdrops. I didn't think it was useful at all. On reaching the end of the ride at about the height of 708 metre we thought we could see the skybridge but we realised that our tickets did not include that and that we have to stand in another queue to buy those tickets. While my dad decided to go back down, my mom insisted on not leaving the 125 metre long Langkawi Sky Bridge as it is supposed to be the main attraction there.
Well, it took 2 hours of patience for our turn to come and we were told that everyone is allowed pedestrian bridge that offers an exhilarating view of the verdant Gunung Mat Cincang, Telaja Tujuh waterfalls. The sky bridge which is the world's longest suspension bridge is indeed overwhelming but not worth so much of waiting time. However, I am glad we did it and ticked this off my list.
p.s They allow only 200 visitors at a time on the bridge and for not more than 10 minutes.
Other attractions which you might want to consider while planning your trip which we didn't do;
Dataran Lang, also known as Eagle Square, is a striking 12 metre-tall sculpture of an eagle poised to take flight is displayed atop an elevated platform. We didn't think it was worth heading there. It is after all just a sculpture but if you have more time on hand you can chek it out.
Langkawi Wildlife Park & Bird Paradise houses over 2,500 exotic birds from 150 species such as canaries, ducks, parakeets, owls, eagles, toucans, hornbills and flamingos.
Telaga Tujuh Waterfalls is a natural Langkawi attraction with locals claiming it to be the home of fairies. It is a series of seven connected natural pools fed by seven separate waterfalls in Gunung Mat Cincang. You can enjoy a dip in the cool water or brave the steep climb to the top of the waterfalls.
You can also scuba dive and snorkel atPulau Payar.
Hope you enjoyed my travelogue! I am Eeshan and I am 10 years old and all the illustrations above belong to me. This is my second post in my mom's blog, would love to know what you think about it. I also have a blog of my own, you can check it out – EeshansBlogOfHappiness.