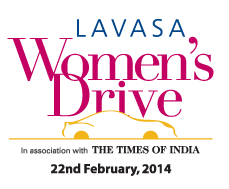 You put a few women together in a quiet place and suddenly the place would be bubbling with energy and enthusiasm. Lavasa women's drive this year saw thousands of women participants this year,so much so that that you didn't need the fuel to drive the cars,these women's energy was charging enough.This drive is for women who have a sense of adventure and an undying spirit in them.It is the women who are in charge of their own lives.
Supporting the cause of 
Cancer Prevention though Early Detection
, LWD is organized in collaboration with 
The Times of India, once a year.
On 
22nd February
, this year, 2000 women  from Mumbai & Pune drove to the hill city of Lavasa in an attempt to join the Guiness Book of world records for the womens' rally with highest participation.
I was one of the lucky few to have been selected ,by voting to join them along with my team Tejashree,Pradnya and Mayuri.Oh,yes selection is by voting as there are women applying from over a 100 countries.
The rally was flagged off with great fanfare by Manish Paul of,Mickey Virus fame. Each car was given a Tulip chart to follow.A tulip chart gives you details of what directions to follow to Lavasa.And if you are wondering that you may follow your fellow contestant,it may not be a good idea ,as tulip charts are different for each car.
My Team!
So it's like a treasure hunt,looking for Time control zones. The rally is not about finishing first,but quite contrary it's about maintaining an average speed,reaching time controls at specified intervals and being on track.
The rally ends in a carnival like atmosphere in Lavasa,with dance performance,celebrity appearances etc.
My teaLike they say 'It's not about reaching the destination but enjoying the journey' :0)!
The causes we were supporting;Female Empowerment and Gay Marriage!