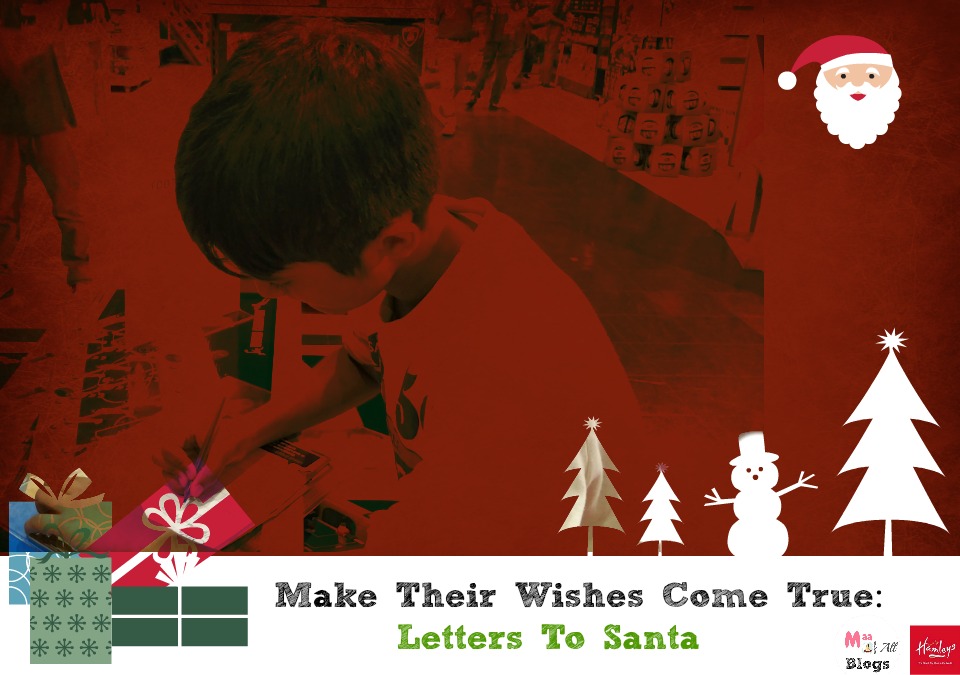 As a kid Christmas held a very special place in my heart. I loved waking up in the morning and finding goodies in my Christmas socks, in my bags and presents. I adored Santa Claus for being so wonderful and from what I saw in the movies and heard in stories, he seemed very huggable. Every year I would try and be a 'good girl' so that I would be rewarded by Santa. Of course, every year I would write a letter to Santa as well, letting him know, that I had been nice and so I deserved to get my wishes fulfilled. However, I never got the Barbie Dollhouse that I wanted or beautiful dress that I desired. My mom explained to me, that Santa chooses to fulfill wishes of only a handful of kids every year and some year I would get lucky. Little did I know, my secret Santa, my uncle stayed with us and every year on Christmas eve he would fill our socks/ bags with goodies when we were sleeping. I figured this out years later :)!
But this Christmas, your child can get lucky as Hamleys, the toy store, will give each kid an opportunity to get a personal visit from Santa himself with Hamleys 'Letters to Santa'! For parents, it's the joy of bringing back the lost art of letter writing as the kids write to Santa about all the good deeds they've done during the year and the toy they desire. Kids get a chance to experience a personal visit from Santa to their house with gifts of their choice, isn't that awesome? What's more, the children can reach him by either email, whatsapp and even his own website!
We have already filled our letters and mailed our wishes to Santa.
Also as a part of 'Christmas at Hamleys', there will be week-long festivities of fun, interactive activities held at the Hamleys stores, including, Santa visits, workshops, games, signature Hamleys Christmas parade, gorgeous interactive installations and much more.
Check out the atmosphere at Hamleys this weekend, aren't they having a good time?
To participate, all the child has to do is write a letter to Santa, tell him how you have been good this year and what toys you would like from him.
All you have to do is write a letter the traditional way and drop it at the post boxes put up at the Hamleys Stores and in the Mall or you can ;
The best letters will get a visit from Santa to your house, with your wish list of toys delivered to your doorstep and also get to attend a Hamleys exclusive Christmas party.
Hamleys has always been more than just a toy store. Hamleys strives to bring toys to life with exciting events and make it an experience for the families.
Activity
Description
Date
Time
Store
Google Hangouts With Santa Only At Hamleys
Christmas with Hamleys', kids will get a unique opportunity to interact with Santa Claus before he leaves for the North Pole this Christmas! Thanks to technology Santa is now reachable to all kids via the Google hangout facilitated by Hamleys at our stores.
December 19th
Between 5-7pm
*Mumbai : High Street Phoenix

*Delhi : Ambience Vasant Kunj

*Bangalore: (Phoenix market city)

Christmas workshops at Hamleys
Christmas Themed Art & Craft Activities. Make Christmas card, Christmas tree

Decorations, Snowman and much more!

December 19th, 20th & 23rd
Between 5-8pm
All Hamleys stores
Christmas workshops at Hamleys
Balloon Sculptors
December 24th & 25th
Between 5-8pm
All Hamleys stores
Christmas workshops at Hamleys
Tattoo Artist
December 19th, 20th,23th,24th & 25th
Between 5-8pm
All Hamleys stores
Hamleys Christmas Parade
The grand Christmas Parade with colourful and fun characters
December 24th & 25th
Between 5-8pm
All Hamleys stores
My letter to Santa never reached, but Hamleys has brought this unique opportunity for your child. Don't let their fairytale ever end!!
About Hamleys
Hamleys, The Finest Toy Shop in the World from the UK is in India since 2010. With the opening of its first store in Mumbai at High Street Phoenix, Hamleys is now present in 8 cities with 14 stores that capture the imagination of children with its wide range of toys, exclusive merchandise and magical experience. The Hamleys experience is an ultimate treat for the entire family. It offers a wide range of toys from much loved brands to more traditional toys, toys which have enthralled children over generations, as well as quirky and unusual treasures. This includes the Hamleys Own Brand range, renowned for exceptional quality and play value. The Hamleys experience is also not complete without its unique brand of theatre and entertainment which entertains both children and adults alike. Toy demonstrators and magicians, unique demos and iconic fixtures, exciting events and activities all come together to provide a magical experience, only at Hamleys.