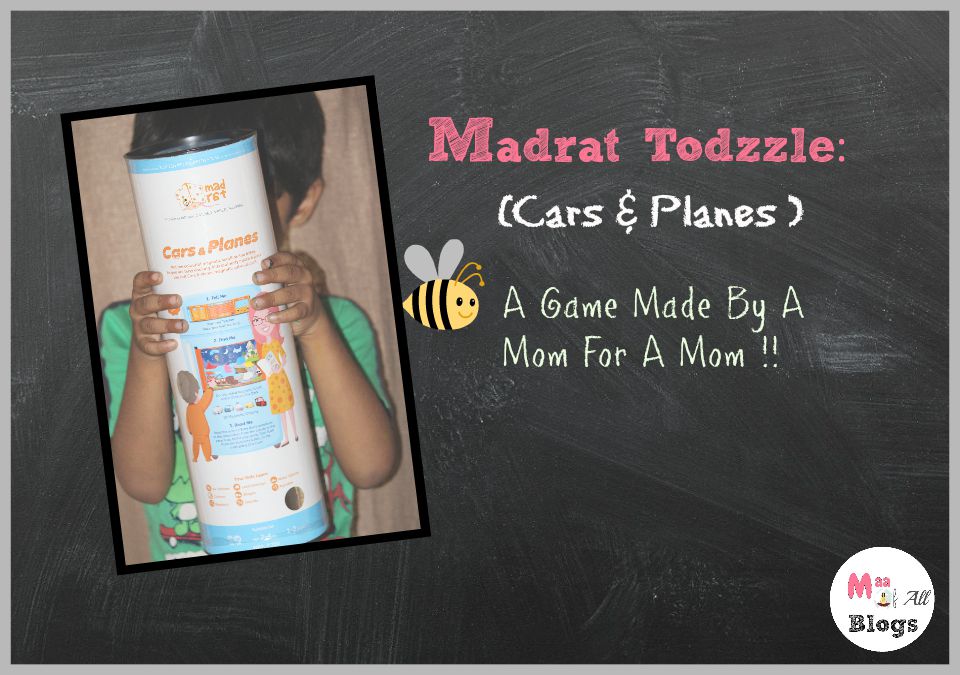 If you have read the review of the last Madrat RollAway puzzle which my kids used, you would already know that Madrat games are high on creativity and that we are teammates which have the same aim i.e. to get the kids off technology and get them to play, utilise the left and the right sides of their brains more and get them engaged. And that it's still completely child's play! I love them for this.
I love the way the game is introduced to us from the eyes of an alien Fuzzbuzz from Planet Hohoba who met BabyBoo(another character from the story) bouncing on a fluffy cloud on one of his adventures. Just the way that would catch the attention of my 4 year old;
Contents:
1 Double sided Magnetic Scroll (glow in the dark)
19 magnetic object cut outs
Mommy Tracker
StoryBook
Magic Beans
First Reaction:
My 4 year old loved the idea that something had come for him to review. Mostly it's either being reviewed by his mom or his elder brother. He may not understand the concept but he is familiar with the words Blog- Review etc. Lol ! This generation is way too smart. So excitedly he unpacked the box, stuck the scroll on the fridge(it's magnetic) and one by one he identified the shapes of the objects and stuck them in the picture as my elder one read the instructions from the story book. This was a cake walk for him. But then he is in the highest age bracket for this game which meat for 2-4 years.
I remember buying him the wooden boards with shape cut -outs when he was 2 and he would take a but of time to place them in the correct place. So this can be a great alternative for that for younger kids.
I was left wondering at this stage what's in this game for a 4 year old. Has Madrat wrongly grouped it for this age? There seem no challenge in it. It took me sometime to even understand that it was a game. But I forgot I am almost 40 and my little one is just 4;
What Can You Do With It?
There are 3 games:
Find Me: Find the shapes on the scroll and stick the magnetics objects on the. We aced this one.
Tell Me : Ask them to identify shapes in the scroll, like circles and triangles etc. You can also try colors , sounds and numbers. Use it as creatively as possible. The book also gives you small tips. This is the portion where I realised that while he could identify shapes, he was still struggling wth sounds. So we are using the scroll and objects to identify 'a' for aeroplane and for ambulance and for an auto. They can also learn You can figure out which area you want to work on you child with and accordingly use the scroll. In school too they have just started with certain alphabets and sounds and their connect is still building.
Read Me: Read the story from the story book to engage your little one. Yes, you have to do it, as most 4 years I know still can't read. Let's wait for them to be 5 and then we can inculcate them into young readers. Reading the story helps them connect to the game better.
Finer Points ;
Quality: The scroll, the magnetic pieces , the mommy tracker, story book all were of impeccable quality and sturdiness. Coming from a mom of a really naughty 4 year old. Trust me I was so glad the parts were unbreakable and mostly indestrucible. Of course if he puts his mind to it, we never know. He never fails to amaze us.
Pricing: Very reasonable. This is priced at 700 INR only.
Packaging : I love the packaging as usual it's simple in tubular tin box with a lid. Play all you want and then just roiled away and pack it back in a non-space consuming sturdy container
What Could Be better: Since this is also aimed at 4 year olds ,I wish that there were some more interesting games options with this.
Final Word: I think this time Madrat has impressed me with it's quality .The fact that we can keep the kids engaged with a fridge game while we are cooking in the kitchen just shows how much research has gone in designing this. I can even count how many times I have been cooking in the kitchen and these kids have been either messing the house or if they were in the kitchen trying to tough the hot utensils. This looks like a good solution for the young ones. I am pretty sure, this was designed by a mom :)!
Magic Bean
Since a lot of paper has been used to create these games, Madzzle games include special Magic Beans. It's a small way of giving back to the Earth what has been taken from it. These are Marigold seeds which you can plant and watch as they blossom in 10 days. We have already seeded ours in our planter :).