A beautiful beach with sangria in hand, highest skybridge in the world, the world's oldest rainforest, Petrona Towers, some of the best hotels and skyscrapers, earth's magical caves remind you of only one place that is Malaysia. Where Nasi goreng, Penang curry and the yummiest street food you will ever have will tantalise your palette forever. Last year we visited Langkawi and Johur Bahru and this post will be followed by the stories from there but I realised that there is more from Malaysia that I missed experiencing. Let's see what Malaysia means to different people.
---
---
A Slow Paced, Multicultural Existence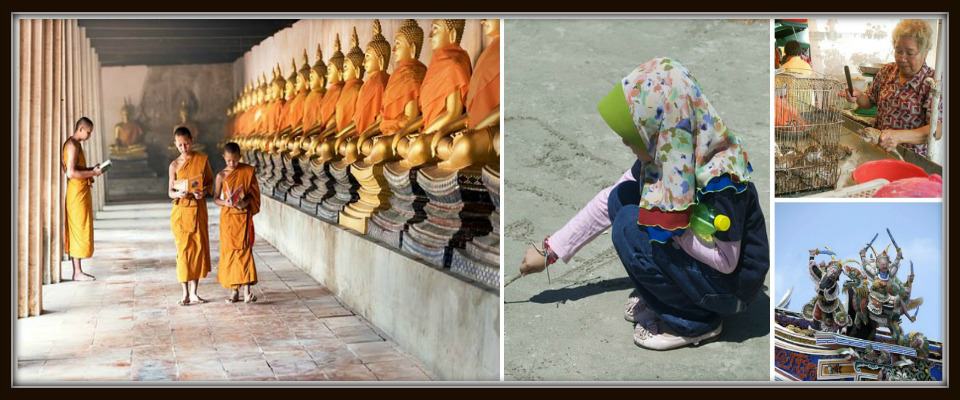 ---
---
Sharbani has stayed in Kuala Lumpur for two years and she feels that it is truly a reflection of the Asian soul.
The city is a mix of cultures from Chinese to Malay to Indians and more cultures co-exist here. People are humble and easy going. Unlike Mumbai, the city is slow paced and the population density is low. It is very easy to find your own community. We being Bengalis we were amazed to find a Kali mandir in the city. Apart from that, you get everything from Pani puri to banana leaf to Indian masalas. Petaling Street, the local flea market is full of bargains and here you can get first copies of designer bags for a throwaway price.
---
---
Theme Parks
---
---
Ritwika Gupta, Fashion blogger and vlogger.
My trip to Genting in 2013 is what I would call a 'wholesome family trip'. We basically spent a great deal of time at the Genting Theme Park where my family and I experienced exciting sky-high rides in the outdoor and indoor theme parks. The Pirate Ship rollercoaster and cyclone are some of the rides which I strongly remember to have given me goosebumps! But they were totally worth the thrill. I remember staying at the Genting Highlands Hotel which had a direct link to the Genting Skyway, which is essentially your cable car/ropeway. That ride is clearly etched in my for the sheer beauty which we saw, several feet above sea level. We also got a chance to pick strawberries at the Genting Strawberry Farm. But what I loved most was the Lavender Farm at Genting Highlands. If you are nature lover or love taking pretty photos, you will love this place!
---
---
Heritage and History
---
---
Deepika Gumaste, travel blogger and a digital nomad.
She reminisces her trip to the
Batu Caves-
A steep 272 steps climb leads to the Batu Caves which is a limestone hill that has a series of caves and Hindu Shrines. Situated 8 kms, north of Kuala Lumpur, the cave is one of the most recognized Hindu shrine abroad, the caves houses a 140 feet tall Murugan statue. In Hinduism, Lord Murugan or Kartikeya as he is known, otherwise, is cited to be the eldest son of Lord Shiva and Lordess Parvati. He is the big brother of Lord Ganesha. Incidentally, the statue is also the tallest statue of Lord Murugan in the world.
---
---
Discovery-World's Largest Flower
---
---
Chitra Ramaswamy, travel writer, a journalist, and freelancer
She goes back the memory lane; The hill station, nicknamed Giant Carpet of Malaysia, is perched atop Titiwangsa Range in Pahang, 5000 feet above sea level and the country's highest motorable point. Cameron Highlands gets its name from William Cameron, a British surveyor who discovered it in 1885 during a mapping mission. We began our first morning in Cameron, chasing Rafflesia Arnoldii, the world's largest flower! The only way to see this flower that can weigh as much as 9kg and measure a meter or thereabout in diameter is by joining a guided tour. I still rememberW the fragrance of the mountain air, and the lingering aroma of the juicy strawberries yet tickling our nostrils and taste buds, we bid adieu to this green paradise.

---
---
People Will Surprise You There
---
---
Ayandrali Dutta, travel blogger and a food connoisseur
Malaysia was my first trip without my family. While in Malaysia I felt it was an easy country to visit as food, culture and people are all comfortable for Indians. I particularly loved Langkawi for it's scenic beauty and beaches. One interesting thing I noticed was that people there relate to India in terms of Bollywood. We hired a guy and experimented a lot with water sports he had to offer. When I left the beach and came to the hotel I realised I had left my wallet there and it had all my currency and my passport. I panicked but I had no choice but to inform my hotel. They called up the guy who we had used for our water sports. The next morning I found my pouch at the reception. I was pleasantly surprised at the honesty and simplicity of the locals much unlike the impression.
---
---
Culinary Journey-For Those Taste Buds
---
---
For food connoisseurs like Anomita Rahul Guha, Malaysia was a gastronomical journey.
We went to this great mall food court Lot10 and in the Hurons food court, Hutong we had some superbHokkienn mee and duck noodles, roast duck and fish ball soup in Kuala Lumpur. In Penang, we enjoyed food at hawker centers at Gurney drive. The thing about these food courts was that the food was excellent and very authentic.
---
---
Whether it is food, culture, adventure sports, shopping; Malaysia entails an experience for everyone. We are very convinced we need a trip back there, are you?
p.s. This is a sponsored post but the experiences and stories of the travellers are real.