I have been associated with the Nestle Healthy Kids Programme for the past four years. I was introduced to this programme in 2016 when I visited Mankhurd, one of the many places where this project is in action.
The Programme has been active since 2009 and it has completed a decade of success. This accomplishment was celebrated in Ludhiana, since the project was initiated at Punjab Agricultural University. I was honoured to have attended this wonderful celebration.
This programme was developed with an intent to educate adolescents between the age of 10-17 on the topics nutrition, health and hygiene. Nestle partnered with Magic Bus India Foundation in 2014 for its initiative #HealthyKids Program and have worked towards making a difference since.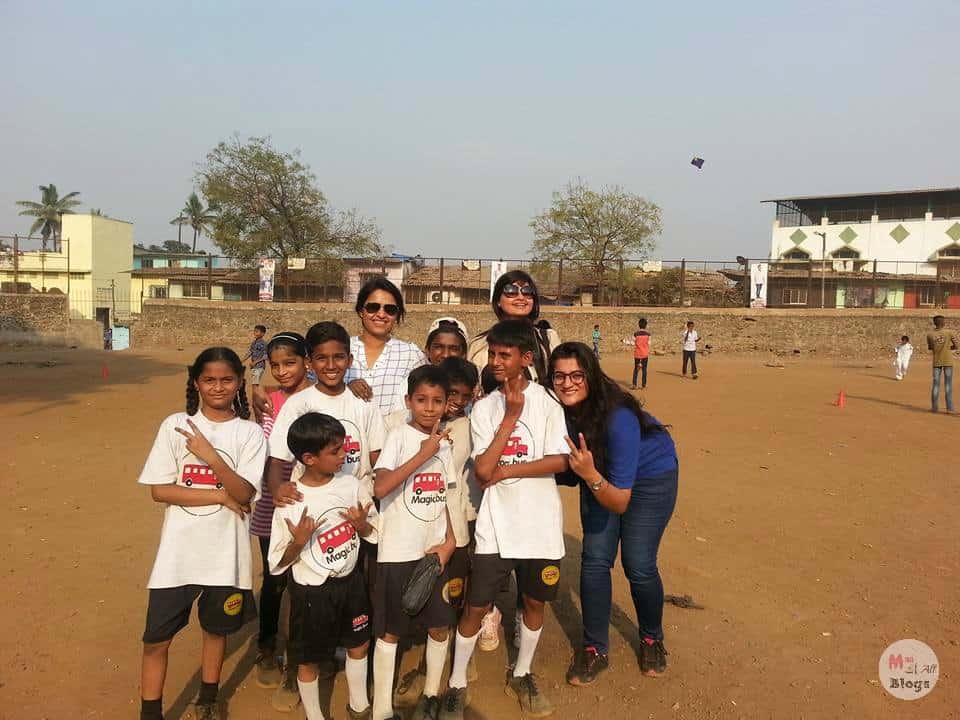 Me At The Mankhurd Healthy Kids Programme in 2016
Adolescents are taught good nutritional practices, cooking methods to enhance the nutritional content in foods and the importance of staying physically fit.
The programme focuses on:
Developing a Physically Active Lifestyle
Making children understand the concept and significance of Waste Management
And promoting Sports for Development (S4D) – S4D is intentional use of sports as a metaphor to derive developmental outcomes.
Since its inception, the project has impacted over 300,000 people in 23 States.
Nestle Healthy Kids 2020 Adapted To The Current Situation
Amidst the coronavirus crisis, the teams on ground had to change their system of operation. This was when everything went virtual. Here's how the teams continued their good work during the pandemic.
Modules on the prevention of COVID-19 were uploaded on 'Magic Bus Academy' a mobile app, to educate staff while eliminating the need for physical training. Videos, posters and comic books on the same topic were also uploaded.
Nestlé's sessions that are a part of the Healthy Kids initiative on topics of nutrition, health and hygiene were conducted by organising face to face sessions in green zones. However, virtual sessions were carried out in restricted areas. Further, modes like WhatsApp, tele calling were also used to send reminders and spread awareness on COVID.
Several staff members underwent training on Nehru Yuva Kendra Sangathan on how to curb the spread of virus. 
'Each 1 Teach 10' Campaign helped in informing people by recording and forwarding videos of proper hand washing technique. One person forwards the video to ten people and those ten send to the others.
Healthy Kids Initiative By Nestle 2020
They taught the installation process of the Arogya Setu App and also helped in the online application process of ration cards. Community mapping was followed for door to door hand washing and sanitisation campaigns.
Nestle Healthy Kids 2020 Team On Ground Helping Frontline Workers
The teams have worked towards educating communities by using social media, phone calls and pledge campaigns. The staff at Nestle have also made masks and distributed them to all front line workers. The volunteers encouraged the young to stay home and every piece of information was conveyed virtually.
Efforts have been made to provide information on immunity boosting foods through calls and WhatsApp. Assignments related to topics on health, nutrition and waste management were given to keep the students engaged. This year, the hallmark day was celebrated virtually and proved to be a huge success.
Over 80,000 kids have been benefited by the efforts of the teams, during the lockdown period. The Nestle Healthy Kids programme has now resumed on-ground in Green zones and continues to run virtually in Red and Orange zones. 
It's been a pleasure to have been associated with Nestle and I'm delighted to see the passion and gusto with which the volunteers and staff have worked towards making a difference. Kudos to the team!
You can do a simple things to make a difference 

And every little bit does count ~ Stella MC Cartney