New York In Three Days And Two Nights- City Lights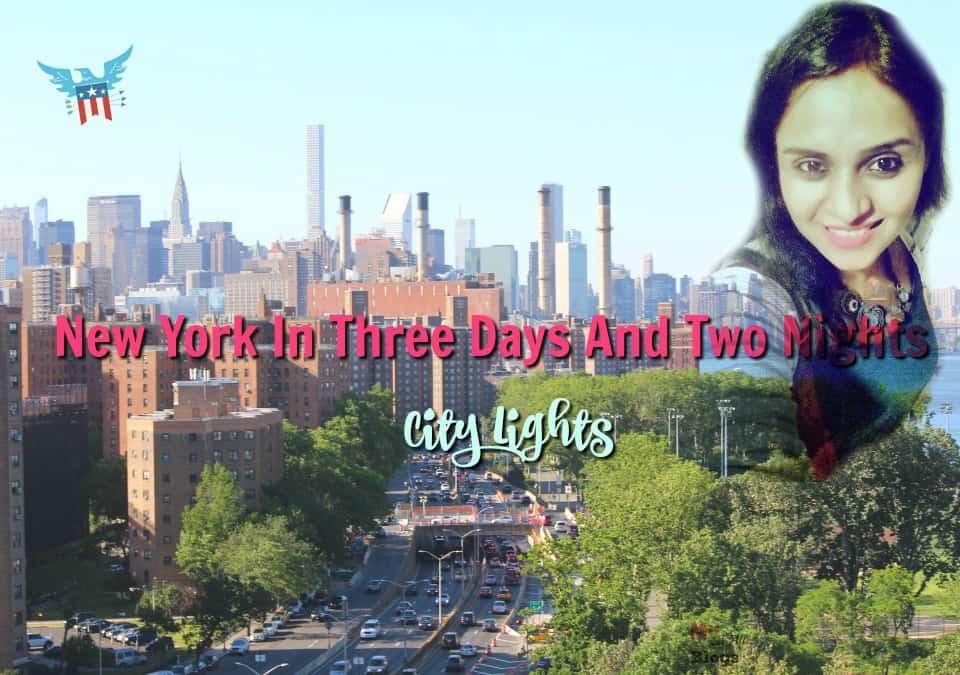 Manhattan is every city girl's dream fed on series and series of Carrie's anecdotes in my favourite ' Sex and the city Saga'. Needless to say, I was excited even before I left one big city(Mumbai) for another. True to the spirit I dressed in a net frill dress and stilettos just like my favourite icon all set to see the city through her eyes. I soon realised it was not my cup of tea and was dying to get rid of them and slip into my sneakers even during my 17-hour long flight and wondering how she ever did it.
New York is so much like Mumbai, that's a similarity you can't miss. The New York Skyline reminds you of the Mumbai skyline. The city's pace, the crowd, and even the air reminds you of Mumbai. It is way more cosmopolitan and buzzing with energy for sure.
Like Vashi, Navi Mumbai, Thane, Western Suburbs and Town, New York too has it's wings spread far in New Jersey, Queens, Staten Island, Bronx, and Manhattan. It has the Brooklyn bridge just like our Bandra-Worli Sealink connecting one part of the city to another. I don't know how many similarities I can draw, but really what New York is to U.S., Mumbai is to India.
So while in NYC I stayed with my friends in their lovely home which is very close to the Hudson river and that's why I got to go there almost every day and even managed a run there during my stay. I will let you on a secret, Hugh Jackman, works out at the same gym as my friend and I really prayed that one day I will run into him or countless other celebrities that reside in the area but I did not spot even one. Their loss :)!
That's the other thing that you notice, not only are people into fitness, they are super fit ie the ones that are into fitness. People run at any time of the day unlike Mumbai, where you will probably be crushed under a vehicle if you tried to pull such a shenanigan. I felt that each one of them was actually preparing for the Boston Marathon, that's the feel you get because they run so fast.
Food is a blessing if you're in New York. In my three days stay got to try South American cuisine, American Diner, Spanish food and in terms of dishes that transformed into Ceviche, octopus salad, lobster paella, wine and cheese selections, most delectable berries ever. The list is endless.
While in New York wanted to tick all my touristy list; Statue of Liberty, Empire State building, Times square etc.
There were two ways I could have done that I could have gone to Staten Island, gotten down and gone to the top of the Statue of liberty for great views, but when you're not planned you don't realise that tickets for these get sold months in advance and that was booked for as ahead as September. So I went for the next best option ie to take the water taxi which took me really close to the statue and also took me around some well know landmarks like the Wall street, Brooklyn bridge, and Empire State building, giving me a glimpse of New Jersey.
I had this image of statue of liberty to be this huge lady tower from my childhood and Superman going around it a thousand times, was rather disappointed that it was not that huge nor was Superman to be found anywhere.
I unboarded the water taxi at pier 72 from where I walked to the Empire State building, a 102 storey high skyscraper, and a must do on the NYC list. 360-degree views of the city from the top of the Empire State building were totally worth standing in a queue for a good 45 minutes. Like a true tourist, I had all my selfies in place.
Getting a cab in New York is hopeless and Carrie's frustration in trying to stop a cab in New York depicted in the series is absolutely true. My friends who stay there claim otherwise, but I stood for more than hour at around 3.30 pm trying to stop a cab to take me from Empire state building at 5th Avenue to West village and no cab stopped. Finally, I gave up, walked to the nearest train station, took a train and walked again to reach their place. Whew!
If you have watched Kate and Leopold, a movie for die-hard romantics you should know the scene where Hugh Jackman rides a horse to rescue Kate's bag from a mugger. Well, that scene could not have been shot in a city like New York had it not been for the massive grounds(843 acres) of the Central Park, where else can you get so much greenery or space in a concrete township?
The park is expansive and is a happy place with families on a picnic, filled with bubbles and kid's laughter, musicians singing and playing some melody, boats rowing and people running.
From a garden dedicated to Shakespeare's famous quotes to John Lennon's memorial surrounded by his fans. I tried to soak in as much as I could.
In the evening I headed to St. Patrick's Cathedral and lit a lamp. It's a gorgeous cathedral in the middle of a very busy NYC street and not to be missed.
If you head to the times square in the evening, you will experience phenomena like no other. Huge audio visual boards with latest updates from fashion, cinema, and current affairs. Really brightly lit streets, movie shoots happening and people just trying to fill in any amount of space that is available. If we do try and calculate the density, there will be no place more densely populated in NYC than Times square or so you will feel. For me, the place was just a point to click another timeless selfie. Did I ever mention that such places make me nauseous and I am not for super crowded, over-the-top kind of locations, give a beautiful serene lake and I am in love.
This all that I could manage in my two and a half day stay in the city, broadway shows, Art museums and a baseball match among other things can await my next trip. I left New York the next morning dreamy eyed and with the knowledge that I stay in a city just like that :)! Something to leave you in splits…a graffiti I found in a New York subway train;
Stay tuned for my travelogue on San Fransisco and Top Experiences in Las Vegas coming up next on the blog.