We talk about women empowerment, we talk about making women represent the board of directors, showcasing their skills in every field. But, life is a double edged sword for most women. While she is an achiever to the world, it has always entailed a plethora of sacrifices. If she is a hardcore professional, she is called ambitious. If she is a mom and still wants to work, she is scorned upon as it's assumed she will not be able to devote time to her kids. It's never been easy for women!
I believe that when we pick up these causes, we separate the other section of society from us, 'the men'.
And seriously, women empowerment is just a term worth nothing unless, men also start believing in it. It's not going to suddenly happen, as the other gender has been raised in a different way, and has a very different set of thinking. Who hasn't heard the term that ' Men are from Mars and Women are from Venus'. Clearly we co-exist with different ideologies, a different set of thinking and so on.
If we have to ensure 'women empowerment' or empathy for women, it won't happen by parading, but by taking the men along and has to start right from the roots. Right from the time they are born. As parents, we have to stop differentiating between the boy and the girl. While we give them the same kind of exposure, we have to also ensure that they also understand the way the other gender thinks, feels and more importantly, undergoes hormonal changes. Which is why I insist that teaching kids about puberty is very essential and while we do it for girls, we should include the boys along. It will remove the curiosity from their mind and remove the taboo from the girls mind too. I strongly believe this will lead to a race of conscious individuals and they will be considerate too.
Whisper in it's movement to empower India's women and for them to #OwnThose5Days of the month has launched the New Whisper Ultra – a revolutionary pad that absorb more & lasts longer, feel more comfortable. They don't want to bring a comma in their leaps to success.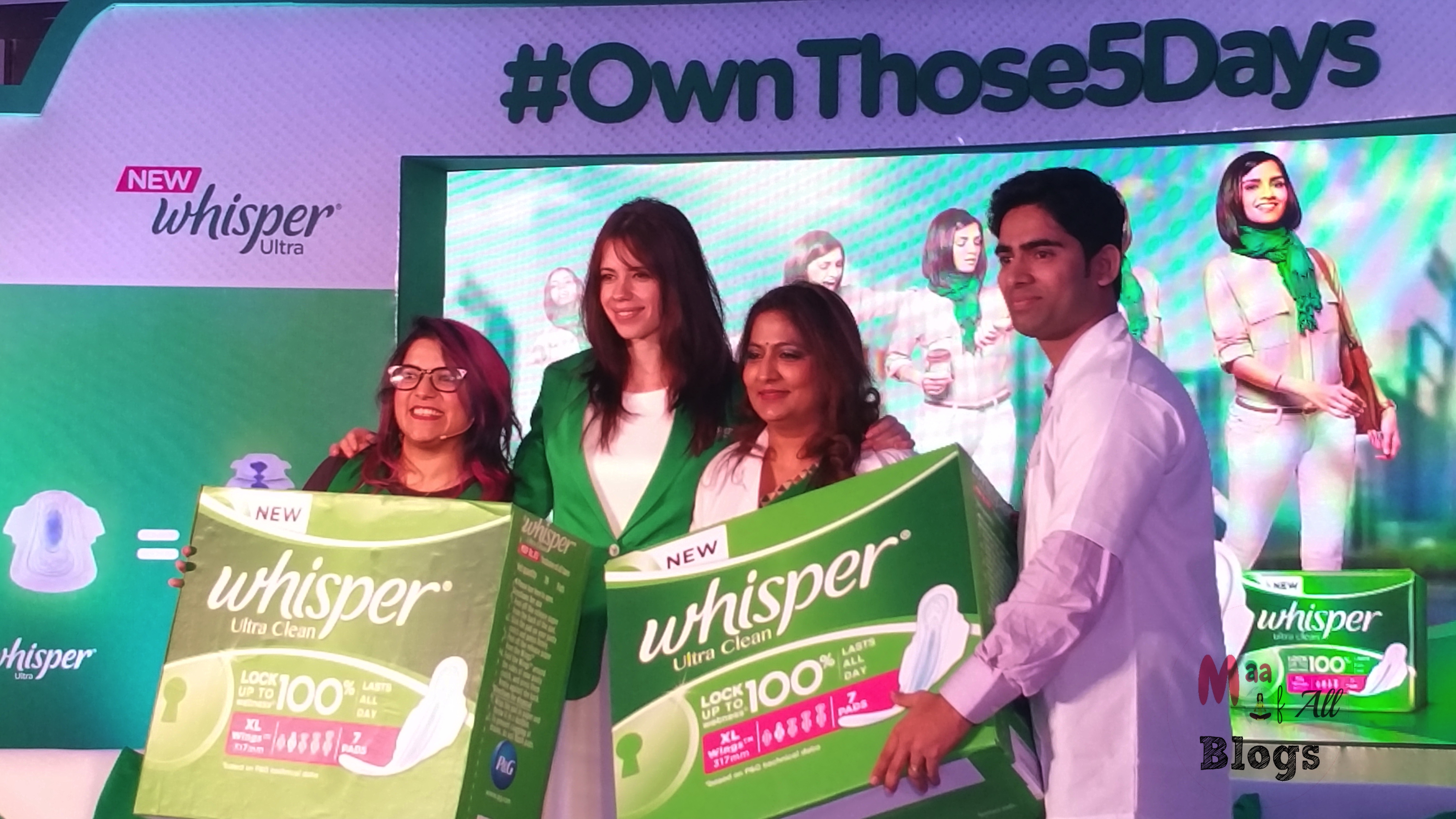 In an exclusive preview organised for bloggers, Whisper India, the no. 1 sanitary napkin brand in the country, launched a never seen before innovation via powerful demonstration highlighting the benefits of the New Whisper Ultra.
Kalki Koechlin, Gynaecologist – Dr. Nandita Palshetkar, Whisper R&D Expert – Chetan Kotyalkar & Stand Up comedian and writer – Aditi Mittal brought a new perspective to this movement and shared some of their experiences. Aditi kept us in splits, whereas Dr. Nandita, had some myths to break. Kalki, is the new role model of the new age women, who is bold and speaks her mind aloud. She spearheading the campaign, enables my trust more in the movement and I am sure she will revolutionise and I am hoping to take the men along as I have stated earlier.
The Whisper panel of experts engaged in a product demonstration clearly showcasing that the new Whisper Ultra offers times more protection than any ordinary pad. R&D Expert Chetan Kotyalkar highlighted the unique features of the New Whisper Ultra that come with 1000 suction holes to offer better protection for long hours.
You can see in the picture how the magic crystals have absorbed all the liquid and even when I turned the glass nothing dripped. Infact, I got a little carried away and poured in another glassful and yet amazing results, no drip. I definitely have to try the sample now which was given to us at the end of the meet. Will also review that and let you know.
Some unique features about New Whisper Ultra that set it apart:
It offers 5 times more protection than ordinary pads:
Softer top cover for more comfort
More absorption and works for longer hours
Better dryness for clean feeling
Faster absorption for sudden heavy flow
Odour lock
I took back a lot of learning shared by Dr. Nandita Palshetkar, great times as created by Aditi, who made us laugh even on a sensitive subject like menstruation and hope from Kalki who will hopefully create awareness amongst men and women alike and that this taboo will be removed from our minds forever.