Parenting is always a two-way-street but we hardly ever see dads discussing it passionately, being part of forums or even at times remembering the sections of the class their kid's study in. Or is it that, the dads don't want to be in the limelight?
#I feel at times dads are not given due credit for their parenting roles and that's why some of them shy away. Dads today, are changing and they are more involved in parenting than they ever were. Recently, Flipkart changed this perception with their campaign #PenguinDad – through a short film which then resulted in a #PenguinDad movement across LinkedIn with dads changing their profile pictures
Why #PenguinDad, you may wonder? This movement is Inspired by the male emperor penguin who takes on an equal responsibility to raise its kids.
If you are a regular on LinkedIn, you will notice that from this 14th of March a lot of professionals, CEOs have been changing their profile picture from a professional suit and tie one to one of a happy moment spent with their kids joining the #Penguindad movement. They are proudly showing off their Dad-side and why not? It's a huge part of who they really are. A person is not separated from his personal life and family. In fact, a committed father will only prove how good and loyal he will be to the cause of the company he works for.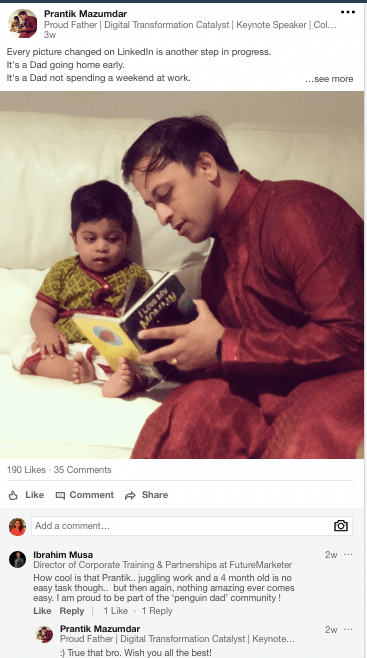 It has been proven through studies and some of you might have seen that kids whose dads are more involved have an advantage both socially and academically — over children with distant or no relationships with their dads.
It's wonderful to see this shift in dad roles happening and #Penguindad (s) embracing their parenting roles with enthusiasm. To cite some examples from my life. A close friend moved away from the country as she picked up a job and his husband stepped up to raise the kid single-handedly and has been doing so over almost a year till they figure out when they can all move together. My husband pitches in each time I have to travel. It also means he gets to bond with his kids more during that time.
When there is a shift why not embrace the same and encourage others to do the same?
There is a need for us to celebrate the #PenguinDad as he is defined by more than just his job. I urge you all reading this post to join in this movement by changing your display picture to one with their kids in order to inspire and stand by every #PenguinDad out there. If you are a wife please tag and urge your husbands to join in too. If you are a coworker or a boss, inspire your colleagues or subordinates to join in.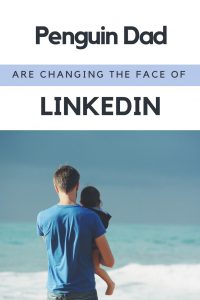 All you have to do is change your display picture to one with your kids and update your status message to this.
"I am changing the SMALL picture to help change the BIG picture.
I am a #PenguinDad
To know more about this movement and to see it gaining momentum just search for #PenguinDad on LinkedIn Search to find more!