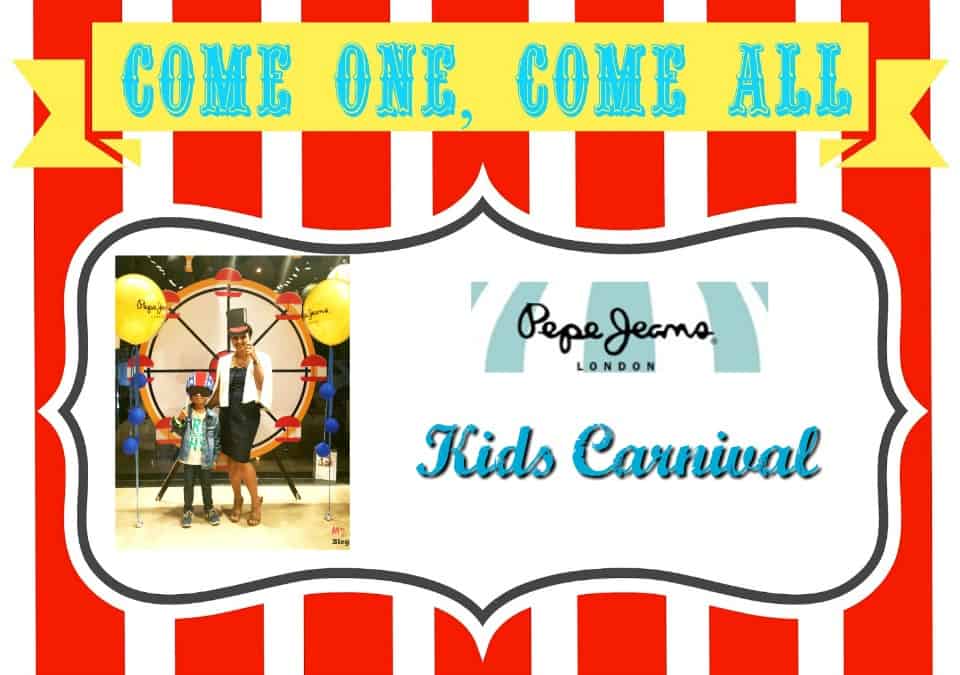 As you would know that my kids and me just love Pepe Jeans and have collaborated with them a few times for some fun looks and posts, so when we were invited to their kiddy carnival, guess who were most excited to go?
It sounded like a fun carnival and off we went to their Linking road store. We got a little late due to traffic and missed some fun activities but there was still so much to catch up on.
The whole set up was so beautiful and bright that I for once forgot that I am at the store and not at a party. Bright coloured balloons and kids with mommies adorned the whole space.
Some things that caught my kid's fancy; a photo booth, which made it look like we were in a carnival( my absolute favourite too), a caricature guy, which we missed as we didn't have enough time, a Pepe Jeans prize punch wall which had assorted gifts behind each square. The kids had to punch it and they would find a gift behind it. Gifts and food always get me excited. Everything me and my kids love from pizzas to waffle sticks to tarts was floating around.
They had also set up a Zenga counter with blue and yellow thermocol blocks and while I had been telling my boys to behave all the way, they just got down to breaking and building the Zenga game.
Boys!! There were other bloggers and their girls were so well-behaved. I sometimes wonder moms with girls are so blessed. They sit in one place, show interest in creative arts and here are my boys who have to forever be monitored to avoid mischief. I have to keep reminding myself to hold my patience.
While Ahaan posed with me for snaps and participated in all activities, Eeshan was only interested in Zenga and the prize wall.
I rarely get invited to such fun events with my kids, it was really about just having fun. Since we were at the store we had to pick some Pepe Jeans merchandise too!!
Can you spot the kids in their last shoot's Pepe clothing? This was something that my kids decided on their own. Since this was a Pepe carnival they wanted only to be dressed in Pepe clothing. Such loyalists!! Thank you Pepe for a fun evening.