Eeshan's birthday, was fast approaching and for a child who has almost everything, it was getting difficult for me to figure, what next? I knew he would get a lot of toys as gifts on his birthday, but most of them, would lose his interest in a day or two. So I had to get him something he would choose himself. Kids are indecisive. So how do I get him to choose? That night while surfing the internet, I got a key to all my problems.
Every night before he falls asleep, he reads a story or I narrate one to him. This is the story I crafted  that night;
Geppetto, the wooden craftsman in Wonderland, would always heed to all of  Pinocchio's wishes (Eeshan, already knew of Pinocchio). After all, he was his only family. But Pinocchio, was never satisfied. He always want something more, something better. As Pinocchio's birthday was coming close, Geppetto was getting worried, as he did not know what Pinocchio will demand. He already knew that he had made everything, every toy he knew in his craft to appease him.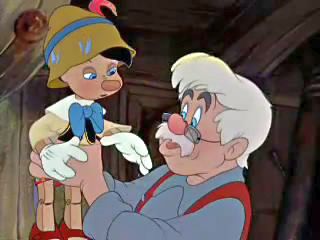 One day, he stepped out of the crafting shop and went for a stroll around town. In his thoughts he wandered little away from town and without realising into a new realm. There he saw this little boy with a really cute toy, like he had never seen before. It could move  and had blinking lights. Geppetto eyes dilated with excitement. He went to the little boy and asked him where he had gotten the toy from? The boy pointed in the direction of this square box which was playing some music and kept repeating, 'Every wish fulfilled'.
It was the key to every kid's wish being fulfilled. They talked about some wish man and wish genie who would send his fleet to search every corner of the world for any toy a kid wished. And once they retrieved it, the wish man would drive on a flaming vehicle to deliver it to the child. This was the ad I had seen on television that night, and the little girl's story had given me the idea. I showed Eeshan the video and he was enamoured. How the little girl in the video got her doll, was enough to get his attention.
"Wish Genie?Mom, can I have my own wish genie?". I smiled and told him that the wish genies was out to make sure #EveryWishIsFulfilled. We continued our story.
Geppetto  purchased the wish genie box and  returned back to wonderland. This looked easy and fun. Geppetto had also learned from the shopkeeper how to order from the wish genie box. The shopkeeper had realised that Geppetoo didn't know how to use the laptop and had installed a voice recognition system so that he wouldn't have to type and had an unlimited package for data use (I had think of logic even when creating stories). Gepetto had paid him with enough gold coins to last the package for years and of it ever got over, he could venture back to the shop and load some more. Geppetto showed the box to Pinochchio and they opened it together. Pinocchio was inquisitive, he too had never heard os seen anything like it. Geppetto, muttered the instructions give to him by the shopkeeper.' Flipkart,' he said, and the square box turned into a colourful background. "Toys", and Pinocchio's eyes open wide in amazement. The square box showed him toys like he had only imagined. Geppetto and Pinocchio went crazy looking at the variety of toys that were there. With every toy they could see themselves having fun together.
They could go swimming together and use the beach toys shown in the box to make sand castles. The sea water used to itch pinocchio's eyes and now he could buy himself swimming goggles to protect it. What more ? There were also other people talking about how useful the toys shown in the box were and their experiences.
Geppetto had made Pinocchio a violin a few years ago, but wanted him to explore some more musical instruments. He could see a mini version of a piano called a keyboard which was easy to carry around and a lot of people were making music from it.
Then there were some kits which had everything you needed to make a vase , a photo frame and many such things. Why waste time in collecting them everywhere when you can get it all in a box. Geppetto, thought Pinocchio should learn to make his own things now and it will also keep him engaged.
Then they saw these magical things which used science to work. Some harnessed sun's solar power. He did not know what solar power was, but he understood that sun was powerful. He though if he learned this and taught Pinocchio also they could establish a new business. Everyone in wonderland would be in awe of them.
And then there were outdoor toys which were not made of wood. Same toys which Geppetto made but much lighter. Like a bat and a ball, like a giant beach ball, like a frisbee. Pinocchio wanted all.
So Geppetto and Pinocchio ordered his favourite toys. Pinocchio's wishes got fulfilled that day and he was a nice and happy boy again. They lived happily ever after and did a roaring new business, by ordering toys from the wish genie and selling them in Wonderland.
By the end of the story Eeshan had decided on a science box available on the Flipkart website. Which child can resist a story of magic ;)?
Eeshan slept with wonderful smile that night and I slept at peace knowing that, I had managed to generate an interest in Eeshan for each toy that he would buy. And I knew where I could head to get what he wants.