Durga Puja is a festival which is celebrated for ten days to embrace the presence of Goddess Durga. It portrays the victory of good over evil. I personally feel that Durga Puja is an occasion which enlightens one's mood. Goddess Durga is an idol to me personally because she portrays the strong side of a woman and showcases the power of achieving every possible thing a woman wants. While I am not a Bengali I personally like visiting various Durga pandals and people's homes because I am fond of aesthetic decorations and the varieties of sweet delicacies and other food items that are offered during the festival.
Home decoration plays a major part in any festive celebration as they go hand-in-hand. With increasing prices, planning a big-fat puja celebration may cost you a bomb. If you are organizing a low-budget Durga Puja, here are a few tips to decorate your house which can be easily used and can save you from burning a hole in your pocket.
---
Use of thermocol
There are numerous props offered in the marketplace to decorate the puja pandal (place of worship). The most inexpensive would be to use thermocol to create the stage or the pandal. They come in different shapes and sizes and is easy to use. It also saves your time and money.
---
Use old newspapers
You can think of alternatives like using colourful papers, instead of giving the puja room a fresh paint, you can paste the papers to give a new look. Also, use old newspapers to create paper lanterns to decorate the room.
---
Rangoli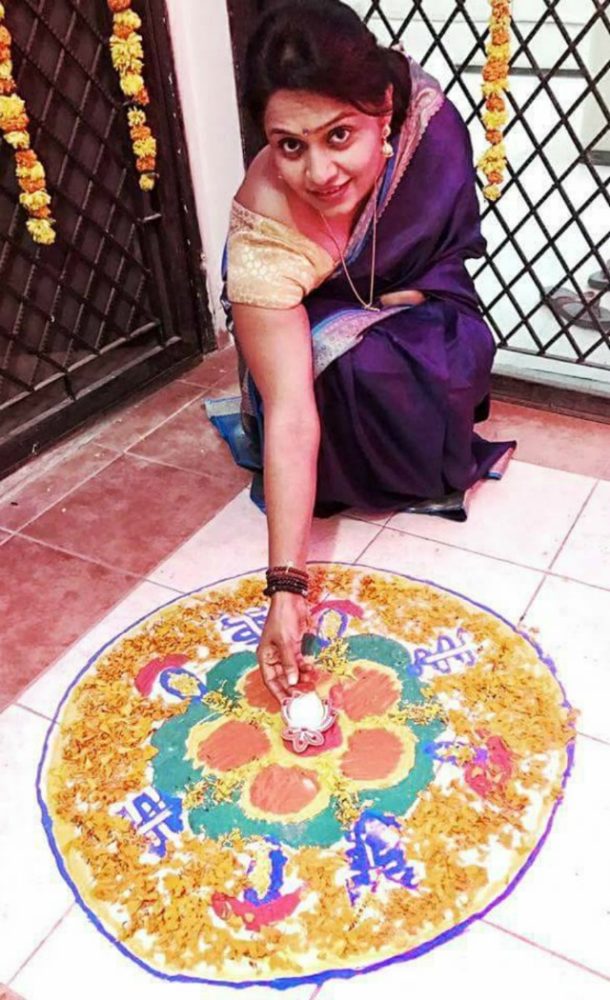 Traditionally, rangoli is used during festivals, across cultures. Rangolis are nothing but beautiful designs made on the floor using rise floor, vermillion, turmeric powder and different shades of powder which are readily available in the market at a low cost. You can also create a place to keep diyas in the rangoli.
http://maaofallblogs.com/2015/11/when-yama-went-soft-and-created-bhai-dooz.html/
---
Flower petals, diyas and candles
The combination of diyas/candles and flower petals adds that aesthetic factor in any decoration – whether you are decorating your drawing room or your puja room during the festive season. You can take a water-filled earthen or glass pot-shaped vessel spread flower petals and use floating candles or diyas in it. The fragrance of fresh flowers and the floating diyas will add charm to your puja decoration.
---
Flower garlands & mango leaves
Decorating the puja room with mango leaves can also be done, provided they are available in your locality. Otherwise, you can think of using flower garlands in the puja room. Instead of buying flower garlands from the market, you can buy flowers in bulk and make the garlands at home. It will save you a few bucks.
---
Go minimalistic
However, the most important factor in decorating the room is to keep it clean and tidy. Try not to mess it up with too many things. Too many decorative items at the puja place would also look garish. Try to keep it simple, decorated with one or two things that will make the place neat. If you are planning to use thermocol, then you can avoid using colour papers. Simultaneously, you can opt for either mango leaves or flower garlands.
---
Hope these pocket-friendly ideas were helpful. Try these Durga Puja decoration ideas and get loads of blessings from the Goddess. Happy Navratri.
---