Just a three-hour drive away from the bustling city of Ahmedabad lies the town of Polo, pronounced with a roll in the tongue. The name Polo has it's origin in the Marwari word 'Pol' which means entrance. The place got it's name as it is almost on the border of Rajasthan and Gujarat and connects the two states. If you have been following my social media you would be aware by now that my Gujarat Darshan was very eventful, after Ahmedabad we headed to the undiscovered land of Polo.
A bus full of bloggers and a forest, there had to be stories. We made a quick stop at the Vireshwar temple just before our resort to see the 'magical tree' tree of endless water supply.
The fable goes that the water from this tree did not end even in the famine. It was next to the temple and we met its caretaker or the 'mahant' who poured in more stories of NASA from Nasik(lol ;)!) trying to come and study the tree and a snake that guards the temple and the tree. Now I just had to investigate it. The tree planted somewhere in the middle of an uphill slope had clear, drinkable water and there was more coming out of its root. We followed the stream which went all the way down to a reservoir.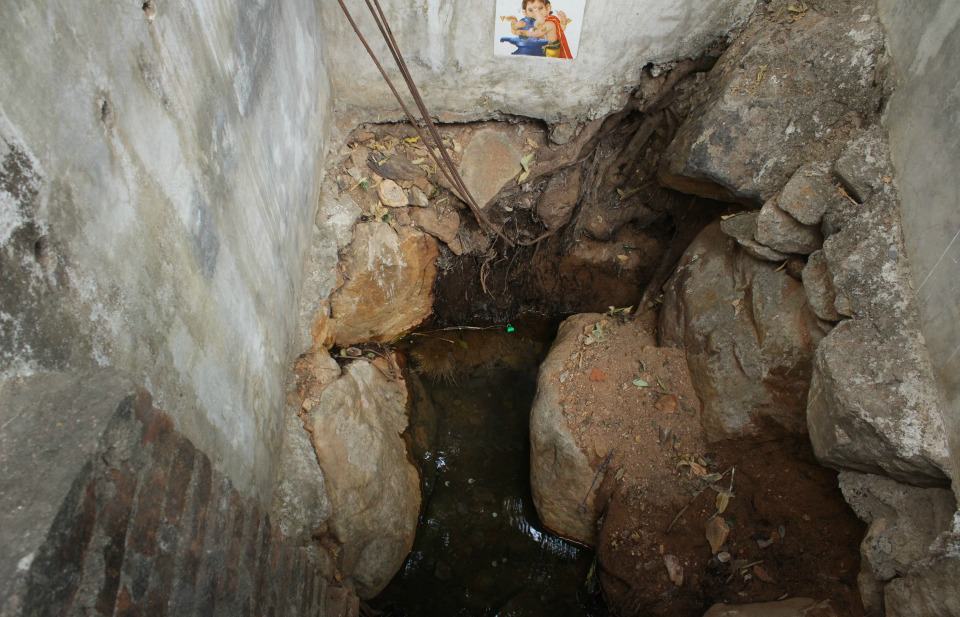 Amazed by this unexplained phenomena we headed to our camping site. Nestled in the Aravali ranges and in the midst of a farm and very very close to a forest was this lovely resort setup of tents and a resort which had the grand opening of the resort with us. I was expecting a more midst of forest setting but this reminded me of the set up in the middle of a desert, like the ones you visit in Dubai when on a desert safari. The tents were luxurious, eco-friendly with beautifully furnished with natural materials – and an attached en-situ bathroom. It took glamping to another level. All tents had an extended deck with chairs to enjoy an evening tea or an early morning one, watching the sunrise or sunset. While the day was too hot and needed the AC, the night temperatures could only be handled with a heater.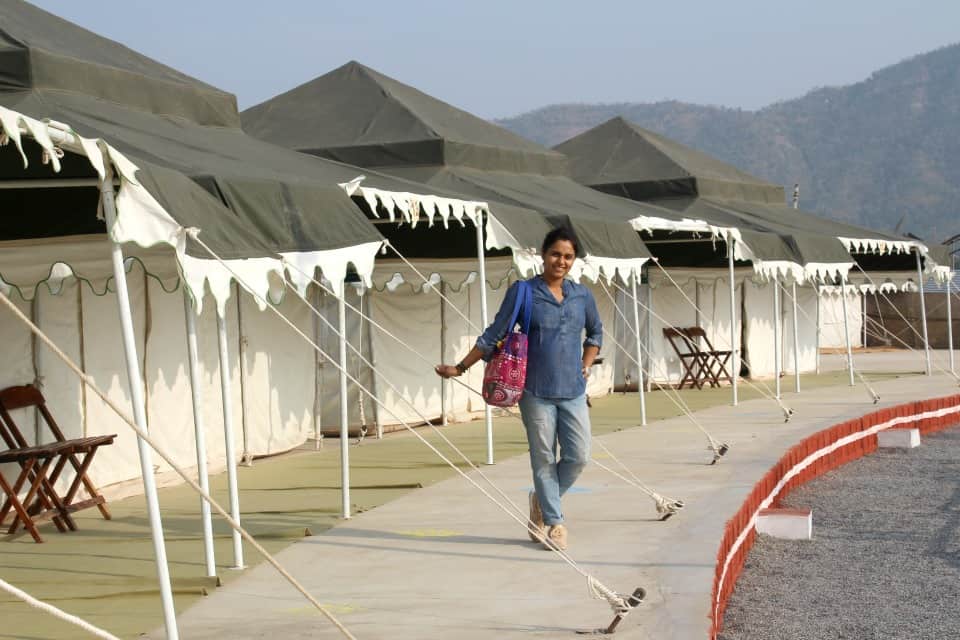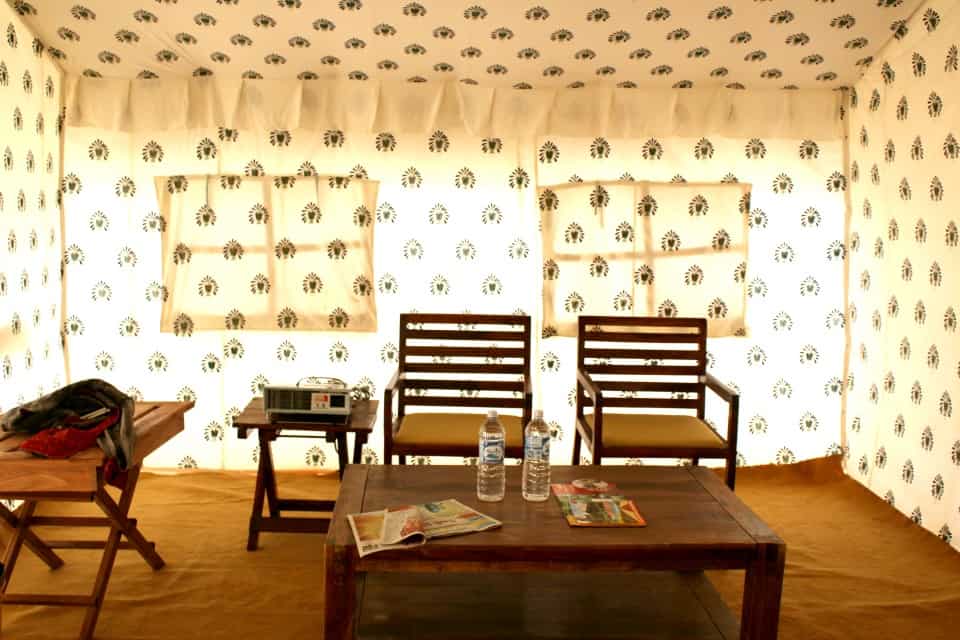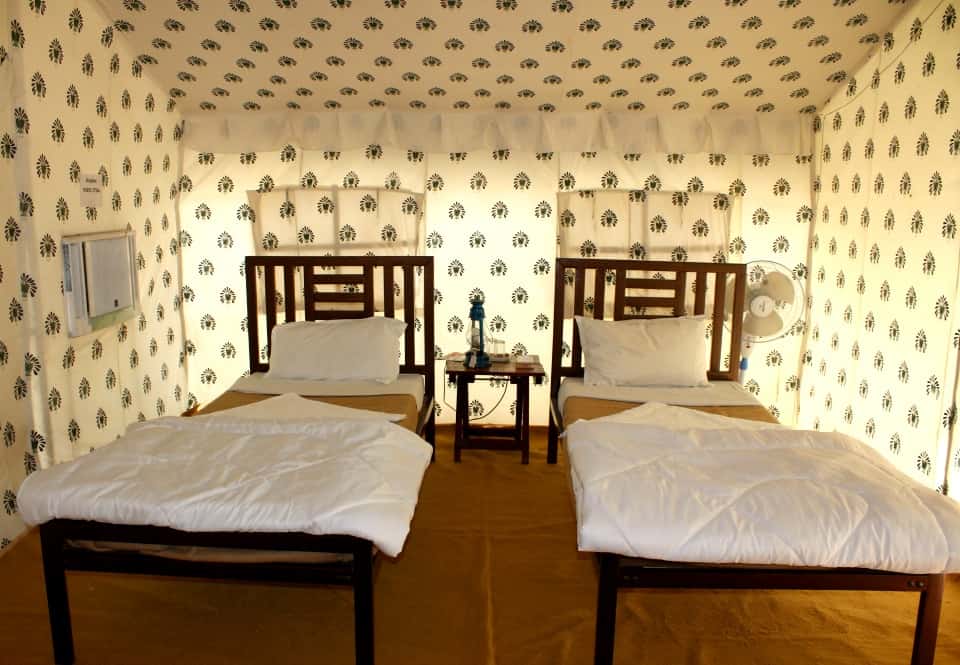 We spent few minutes getting familiar to the area. Then we looked into each other's blank faces, with the same burning question in mind:
"Okay, so we are here. What next?"
HARNAV DAM
After lunch we first headed to the Harnav Dam, to reach which we had a small upward climb which would leave any of us huffing and puffing. The view from the dam was spectacular, a huge river, rocks & diversified flora and fauna. Here we had a few sightings of a rare bird.
POLO FOREST
Finally, we headed to the Polo Forest. Here you find some spectacular ruins of a fort where Maharana Pratap is said to have taken refuge in his preparation for his battle against the Mughals.The ancient city was a pilgrimage for the Jains and Shivadharmi people of the area. These temples were destroyed by the Mughals and now are the heritage sites. To enter you cross a beautiful stream which was just so picture perfect that the photographer in us was brought out. I stood there speechless trying to capture the beauty of the nature surrounding me, not sure if I could do justice. Have you ever wondered how our eyes(the lens that God gave us), always have a better view of things than our cameras? I stood asking such inexplicable questions.
There was a lovely stepwell which was a very distinctive form of water storage systems that was used in Gujarat. The temples in the forest timed way back to 1500 years. There was a Jain Temple and one Shiva temple. If you have heard of timeless beauty clearly the phrase was made for these architectural sites.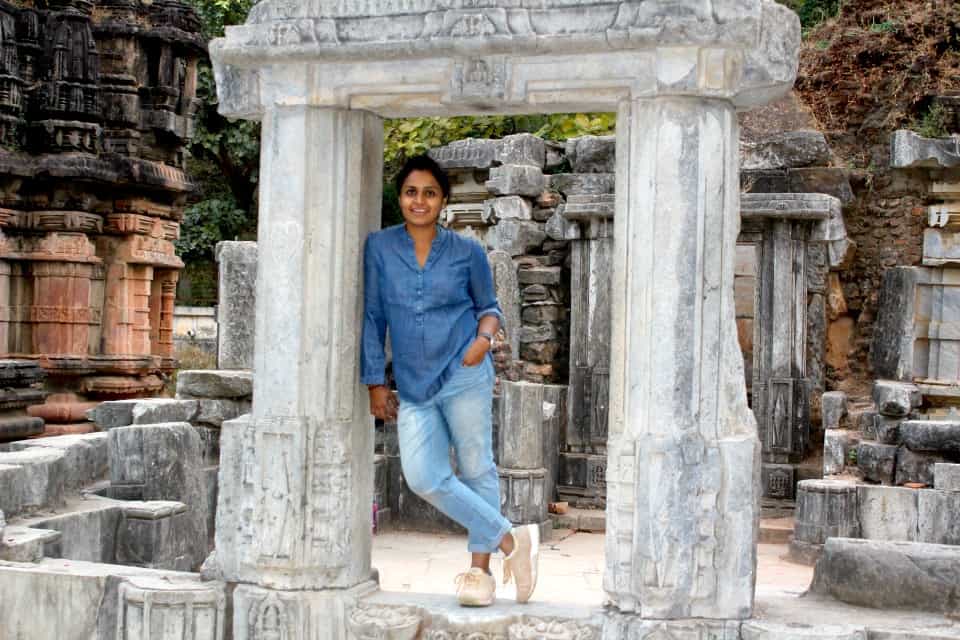 We were not the only ones there who appreciated the beauty, there were others who made it only a place of pre-wedding shoots. While I have nothing against the poor couples who want to immortalise their love but please don't do it at the cost of destroying the sanctity of the temples. Changing clothes for shoots there, flying drones and dancing on ancient 15th-century platforms, use smoke effects that could possibly discolour the pillars.
Polo forest covers around 400 sqkms of deciduous forest which also has a few lush green patches. Wildlife like the leopards, bear, hyenas, flying squirrels can be found here and there are over 250 species of birds, 30 types of mammals and 32 types of reptiles to be found. There are many trails that can be found in the Polo forest ranging from 3kms to 14 kms. Mango, Kalal, and Bhim are the famous hills to trek here. There are also some tribal settlements in some patches of the forest. We saw a few birds near the famous dam and an owl on our jungle trek but did not have tête-à-tête with any other wildlife as by the time we reached and unpacked and started our trek it was getting dark.
The night was laden beautiful folk dances and blogger and PR bonding.
Adventure Activities:
You can also indulge in a lot of adventure sports like rappelling, zip lining, bungee jumping etc while at Polo. While most of this was available at the camp where we were staying, we missed it due to lack of time.
Things that we missed but are on my list for next time;
Sharneshwar Temple
Rock Garden
Idariyo Gadh
Rani Lake
Some basic FAQs;
Best time to visit
After the monsoon between September to December, the weather cools down and rain brings about the lush green of the forest.
Location & How To Reach
Distance Matrix
| | | |
| --- | --- | --- |
| From | To | Distance in km / Approx. time in hr |
| Ahmedabad | Polo Forest | 150 km / 3 hr |
| Idar | Polo Forest | 35 km / 45 min |
| Himmatnagar | Polo Forest | 60 km / 1 hr 30 mins |
| Vadodara | Polo Forest | 250 km / 4 hr 30 mins |
| Rajkot | Polo Forest | 370 km / 6 hr 30 mins |
| Surat | Polo Forest | 400 km / 7 hr |
| Mumbai | Polo Forest | 670 km / 11 hr |
Public Transportation
Reach to Idar via bus. State transport has many buses.
From Idar to Vijaynagar, jeeps are frequent. Polo forest falls on the way to Vijaynagar.
Be sure to leave Polo forest before late evening, as you might not get any jeeps.