When the idea of doing the Everest Base camp seeded into my mind, I was very excited but as days went by and I got busy with work. I realised I had not prepared enough. While my yoga classes, my running, and my gym was on. I had not trained myself for walking long hours or not climbed enough stairs.
There was no turning back, I was going ahead with the hope that all the fitness over the years will help. My trip to Ladakh had shown me two things;
I might react to Diamox
      2. My lungs get easily compromised.
And while all my tests were clear these were the two things that were bothering my mind. Also, last year when I was trekking in Iceland my adductor muscles had started acting up a lot. So I worked with my trainer on them specifically.
We trekked from September 29th to October 12th From Lukla-EBC-Lukla
http://maaofallblogs.com/2017/11/14-days-of-everest-base-camp-pages-from-my-travel-journal-i.html/#forward
---
How did I perform on the trek?
I trekked with a group which was so varied whether it came to gender, or capabilities or even age group. What I realised during the trek was that EBC is attempted and achieved more by the mind and less by the body. So no matter what age group you belong to or what your capabilities are if you do want to attempt it, just go ahead and do it. A lot of times in life it's all about turning up. What I have tried to do here is to ask people(across categories) around for their inputs on how they prepared for the trek and what worked or not worked for them.
---
Arun, 42 years, is a professional banker, an avid reader, and a travel buff.
I have done 7-8 treks over the past 9 years, all of them ranging from 7-9 days and with a max altitude of 4000-4200 meters above sea level. I had a minor slip disc problem in 2013 and hence post that my regular workout schedule was swimming for 1 hour for 4 days in a week. In my past treks, I have seen my stamina increasing and not finding any difficulty breathing especially above the altitude of 3500 meters. Hence, I planned to continue with the same. However, EBC definitely would have been tough so from July17 I increased the swimming for about an hour and a half for 4 days in a week and also added 1 hour of light weight training for 3 days a week. Weight training was important to strengthen the muscles to avoid any muscle injury during the training period or during the trek. Swimming really helps it improves your lung capacity and strength, which is crucial aspect at high altitude.
The more you read these stories, the more you will relate to the trek or to the people.
---
Anita Singh, 41-year-old is an avid cyclist, runs a women's only cycling group in Gurgaon and has done many Himalayan treks.
In fact, she was the only one in the group who was doing EBC trek the second time. She wanted her son Angad, a 13-year-old to experience the trek. He, however, is no ordinary 13-year-old. He plays football at the state level.
This is what worked for her;
Fitness – I prefer walks, yoga, running and cycling.
For Angad- It was Soccer, Running and Swimming.
Preparation for Trek –
Anita- I stuck to yoga and pranayama, walking and stairs. I climbed up to 13 floors, 2-3 times per day for 3-4 months and on other days I go around doing my usual workouts.
Angad – He climbed stairs for a month whenever time permitted but his fitness routine includes daily soccer for 1.5-2 hrs which is way more than most kids of his age. 
Diet-
Anita- In general, a well-balanced diet, high in Fiber, Protein & Complex Carbs is what I prefer, but only Indian food. No bread( I don't enjoy the taste ). 
For Angad – His diet was rich in High Protein, High Carbs, Fiber. His usual diet includes 5 -6 eggs during playtime besides usual Indian food, fruits etc.
Last experience was helpful as I knew the challenge of AMS(Altitude Mountain Sickness), what should be the water intake, cost involved, food choices, what to carry in terms of food items, where to shop, restaurants in KTM, shopping areas in Namche / Kathmandu, what to expect in terms of weather, rooms, washrooms. So Angad was mentally very very prepared and that kept him strong. He was well prepared to wake up on time, washrooms, no shower, long walks, no gadgets etc.
I trek not for any milestones. I never set for myself. I trek for the feel and sense the pulse of life and nature around me. It gives me mental peace to see the simple things all around. Life is best experienced in simplicity.
---
Ashok Mahadevan, 69-year-old, ex-editor of Reader's Digest and someone who made this trek look like a walk in the park.
Never did I see him lose a breath or take long breaks. In Namche Bazaar, he was unwell, yet he continued the trek and managed to complete it.
On reflection, there's not really much I can tell you about how to prepare for the Everest Base Camp trek. I started exercising about 4 months beforehand, mostly walking and climbing stairs. I climbed the stairs twice a week, beginning with just a couple of floors and gradually increased it to going up and down the twelve stories in my building 12 times. That took me about an hour and a half. I walked about 5 kilometres three times a week and about 15 kilometres carrying a backpack that weighing about three kilos once a week. That left one rest day in which I either did nothing or took a relaxing swim. And twice a week on days, I walked 5 kilometres, I also did strengthening exercises for my legs and arms, mostly legs. I did stretching exercises every day, even on the rest day. I also talked to a few people who'd done the trek on what it was like, and for any advice, they could give me, and read a couple of articles on the journey. It didn't even occur to me to go to Youtube!
Since I'd been on several high altitude treks already, I didn't need to buy anything except a large duffel bag since the one I had taken on my previous trek had been rather small and I'd had to struggle to get everything in. But the one I bought turned out to be far too big!
I think all the training I did, enabled me to have the strength to continue on the EBC trek even though I didn't feel well for several days after Namche Bazaar. 
---
Archana Verma, 38-year-old, a banker by profession and an avid marathoner and fitness enthusiast.
She went on the EBC trek just a week after me and had booked it just two weeks before her travel. She is one of the fittest people I know and while she booked on a whim this is what her advice is;
While I booked without much planning and still fared very well, this is what I would suggest regular fitness training involving upper body strengthening especially back and shoulders, leg workouts at least once a week, walking regularly for forty minutes, stair climbing every alternate days about 1000 stairs, hill training once a week for 1 hour, HIIT(high-intensity training) to build lung capacity, Yoga if possible for developing flexibility, endurance runs once a week for about 10 kms at moderate pace. All of this should be practised for 6 to 8 weeks for someone who has never hiked earlier. 
---
Best time to head to EBC
---
The best time to trek to Everest base camp is pre-monsoon (March, April and May) or post-monsoon (late September, October, November and December).
---
What to Pack For EBC
---
Rather than buying an expensive warm jacket, when on a trek try layering as it keeps you insulated. Also, you need to  take off layers and put them back on.
Inner layer– Thermals. During the EBC trek and especially when you do the Kala Patthar trek you need something really warm. I found Icebreaker thermals a great choice, however, they are expensive and not available in India. The one advantage they have over any other thermals is that they are thinner and can be reused over days. The bottoms do not need much layering. The first few days you can manage in basic trekking pants and then when you get closer to EBC you can wear trekking pants with fleece lining or wear one regular thermal bottom.
Layer 2–  Can be a t-shirt. I wore my sweatproof gym Tees. You can wear cotton too but then it's better to wear clothes that dry quickly and don't need ironing.
layer 3– A fleece jacket or a down jacket. I prefer a down jacket as it is light and warm and super compact to pack.
layer 4 – Should be waterproof as it can rain anytime in Nepal and then there is wind to deal with.
Sleeping bag–  While we got wooden beds and quilts at every tea house you can rent sleeping bags from your guiding company. I prefer sleeping in the sleeping bag which I placed on top of my bed as they zip up and kept us insulated. I am one of those people who loves to be cozy and warm.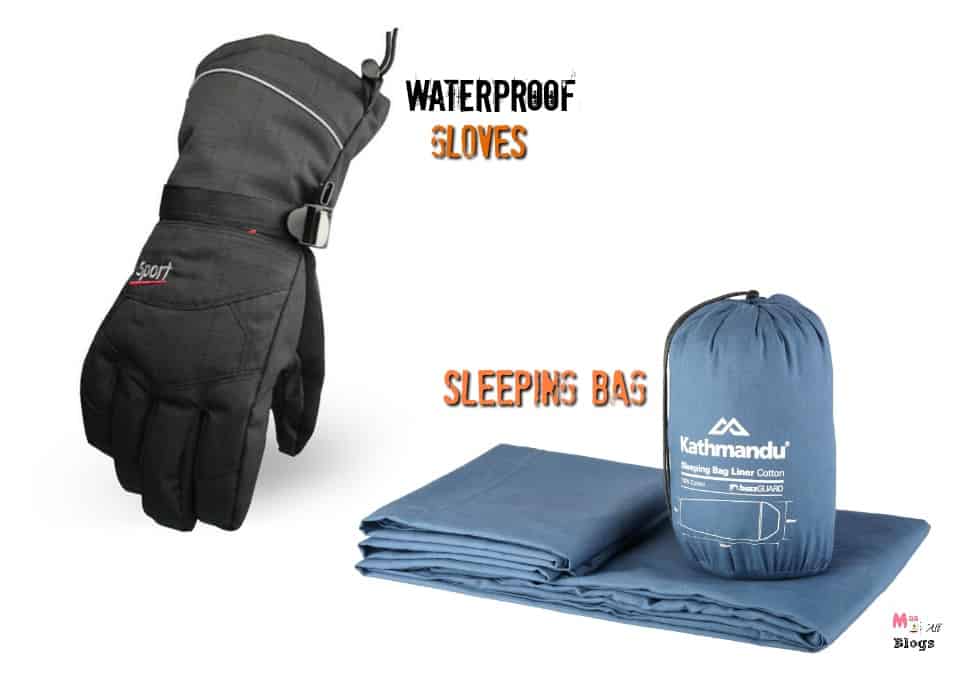 Hiking poles– They can be sourced easily from stores like Decathlon and don't cost much. I carried two but mostly used one. Make sure you buy the ones that are foldable.
Backpacks –  Depending on how you are planning your hike you will need backpacks. I had two. A duffle bag which was carried by my day human porters. The limit allowed in aircraft to Lukla is 10kgs, so remember to pack light. You can pay for extra baggage at the airport but there is a chance of you being offloaded if the flight is full. Also, keep in mind your porter who would be trekking with you with the duffle pack. The other is your day bag. I carried a water bag from Camelbak and had small space to carry money and some essentials. You can look up to 20 litres of daypack depending on how heavy a load you like on your shoulders.
Hiking shoes– This should be your best investment and you should buy something which has a good grip and is water-resistant.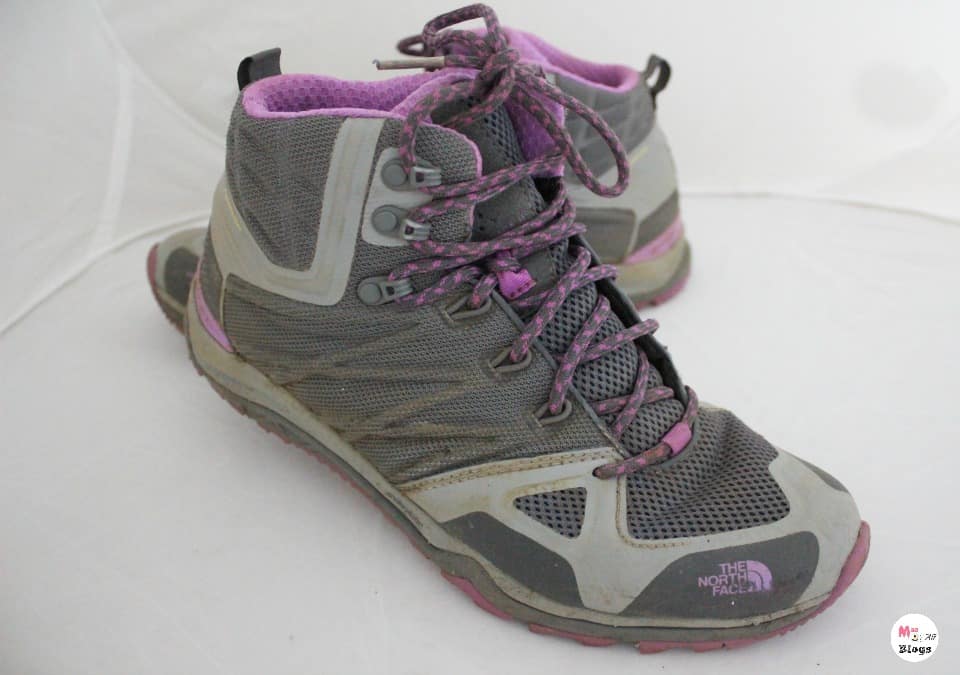 Torches and Headlights– while you don't trek once the night falls, you might need torches in some of the tea houses to go to the toilet at night.
Powerbanks and chargers: There are charging points in each tea house but you may need to pay anywhere between 250- 600 Nepali Rupees for a full charge.
Here is a comprehensive list that you can print and use for your reference;
---
What You Should Know
---
Altitude Sickness
While physical fitness is very important if you are considering the trek, you might get affected by altitude and fall sick.  Being fit doesn't mean you won't get affected. This is why you shouldn't target climbing more than 500 mtrs a day and not walk fast.
There are three kinds of altitude sicknesses that can affect you; mild altitude sickness is called acute mountain sickness (AMS) and is quite similar to a hangover – it causes a headache, nausea, and fatigue.
HAPE means there is an excess fluid that gets collected in your the lungs and causes breathlessness. It is never normal to feel breathless when you are resting. Other symptoms are fever (a high temperature) and coughing up frothy spit.
HACE is the most dangerous and it means that there is fluid collected in the brain. It causes confusion, clumsiness, and stumbling.
How to prevent?
Walk slow, don't climb more 500 mtrs and start taking diamox (125 mg)from Namche bazaar. Diamox helps in preventing AMS.
Cash To Carry  
There are no ATMs after Namche Bazaar and you will need cash to buy water, food, wifi etc throughout the trek. They do not accept credit cards. Carry Indian rupees or Nepali rupees in small denominations. Also, remember after the trek and before you board the plane at Lukla you will have to pay tips to the porters and guides. You should plan for 10% of the tour cost as tips.
Certificate from Nepal Government
The Nepal government gives you a certificate which states that you have completed the trek after it is certified by your guide.
Insurance and Emergency Evacuation
It makes to buy medical insurance while on the trek as many fall sick and have to be evacuated in a helicopter which can cost you anything between 2000-5000 US dollars. The insurance costs less than 200 dollars.  I bought mine from World Nomad.
Stock up on calories
 You burn about 4000 calories per day, so  eat carb rich foods while on the trek. The menu in tea houses doesn't chnage much so carry some snacks from home to break the monotony.
Flights
The flights from Lukla are very dicey. They get cancelled every now and then due to bad weather. Our flight too was delayed for about two hours. A friend of mine who went on a trek after I had to do a helicopter evacuation as she did not want to miss her connection from Kathmandu. Keep an extra day in your itinerary just for this.
---
As I maintain, any person who decides to do this trek is not ordinary but when I say that I mean their strength of mind and not only physical fitness. If EBC has been on your list do not contemplate any further, trust me, just go ahead and do it and I hope these stories have helped you in some way 🙂 !!
---