Retail Jeweller India Award 2016
They say give a woman the right shoes and she becomes Cinderella, but I say you give the girl right jewellery and she will become a Diva. Indian women and jewellery have a long history. In fact, each piece of jewellery that a bride wears is symbolic in our culture. Did you know a nose ring or nath is, traditionally, representative of a bride's virginity? Payal or anklet is a traditional piece worn around the ankles, meant to announce arrival of the new bride in her husband's house with its tinkling sound. Glass bangles represent a charm of safety and luck for a married woman's husband. Legend goes that evil spirits could enter the body through its openings. Ornaments were said to prevent that. So, apart from their acupuncture benefits, earrings, for a new bride, were believed to work like a protector against evil.
Whether scientific or not, there is no doubt that jewellery can up your style and beauty quotient by leaps and bounds and I being a woman, have a soft corner when it comes to pretty jewellery.
Can you imagine my excitement when I was recently invited to judge a Jewellery Award and that too the biggest Jewellery award in India ? In it's 12th year, Retail Jeweller Award 2016 had jewellery houses from all over the country participating in it. While I was a part of a 4 member blogger jury, there was a celebrity jury which had esteemed names like Arpita Khan Sharma, Ananya Banerjee (Artist), Divya Kumar Khosla, Pearl Contractor (Interior Designer), Nawaz Mody Singhania (Fitness & Lifestyle Expert & Artist), Rouble Nagi (Artist & Muralist), Esha Deol and Shaziya Khan (VP & Strategic Planning Director, JWT) to name a few. This year, RJIA introduced a new category- The Jewellery Buff Choice Award. Judged by bold and ambitious millennial achievers and youth icons like Nishka Lulla (Designer) Sanah Kapur (Shahid Kapoor's sister) and Sanjana Patel (Owner & Founder, La Folie Patisserie), awards in this category will reflect the spirit and choice of the youth of the country. It felt extraordinarily special to judge these pieces along with them.
Did you know that this award is also known as the Oscars of the jewellery industry?
I was excited to be the part of the 'Grand Jury meet' which is a distinctive event that showcases unique and innovative designs from some of the most reputable jewellery houses across the country.
The jewellery showcased in the Grand Jury meet at Sahar Star had already gone through two rigorous rounds of selection, over 250 world-class precious jewellery designs were selected for 13 categories including four vivah and nine non-vivah jewellery categories from all across India.
There were many designs that really reflected my personal taste and I enjoyed trying on a few pieces. If you can't buy them all, you can at least try them :). I could identify with Alice in this wonderland with a beautiful array of jewellery all around me. Sharing some of my favourites in some categories, ladies feast your eyes;
p.s. I didn't know while judging which jewellery belonged to which jeweller, these details have just flown in.
This drop dead gorgeous piece from Mehta emporium: (coloured gemstone Vivaha of the year)
This bridal mango necklace studded with Burmese rubies and uncut diamonds in crafted in 22kt gold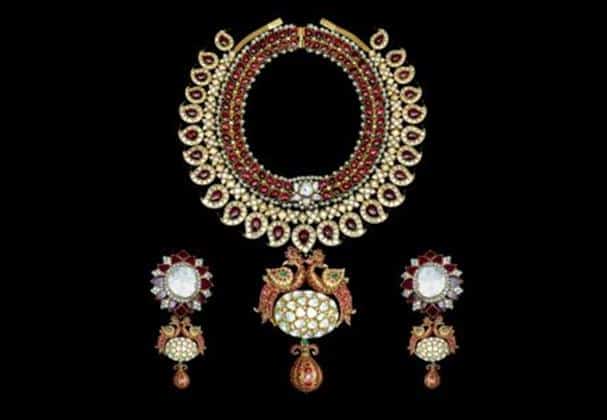 Heritage Jeweller of the year (Mehta emporium)
This many-layered necklace with uncut diamond choker and long neckpiece , transporting you in the era of the Nizams. The huge neckpiece in the centre just accentuates the whole piece. Also, loved the idea of green emerald and pearls that highlight the piece.
ANMOL JEWELLERS: COLORED GEMSTONE VI VAHA JEWELLERY OF THE YEAR
Anmol jewellers have always been one of my favourite jewellers for their offbeat Indian designs and this piece known as THE MUGHAL GARDEN is a stunning bridal ensemble inspired by the beauty of the lush of Mughal Gardens of Kashmir. The piece does look like a garden with a green emerald base and flowers blooming from it. It could not have been named aptly.
NARAYAN JEWELLERS: COLORED GEMSTONE VIVAHA JEWELLERY OF THE YEAR
A stunning statement piece, this peacock inspired multi layered neckpiece with earrings features a kaleidoscopic mix of diamonds, stones and mani. Indulging in pure "desire" the craftsmanship brings to life a traditional design with a contemporary mix using enamel work, multi-colored precious and semiprecious stones. Allowing multi-use, the layers are detachable to allow the bride to use it in future for various occasions. A masterpiece this convenient, stylized and unique form of jewellery is exclusive and perfect for your Vivah that marks the beginning of a new life. The beautiful peacock choker in centre makes the piece looks delicate and feminine. Crafted with precision and par excellence, the extravagant and dazzling set has a stylish edge.
NON VIVAHA
ANOKKHIS: JEWELLERY DESIGNER
I have never been to Moscow but the most iconic landmark for me is the Kremlin or St. Basils cathedral. This bunch of buildings built in 15th century is shaped as a bonfire rising into the sky have inspired many like me and when I saw this beautifully replicated on a ring, I could not but take my eyes away or my hands where I adorned it :). You have to check it out to realise how pretty this ring from Anokkhis is.
INNOVATIVE JEWELLERY OF THE YEAR (RENAISSANCE JEWELLERS)
Though it may look simple in a picture
Fluid Metal – an oxymoron best described by this stunning pair of earrings. The beauty of this piece lies in its flexible mechanics and free flow of design. With each diamond studded metal element exhibiting absolute cascading fluidity & finally coming together in the form of beautifully snuggled diamond droplets set in gold.
4)ORRA FINE JEWELLERY: DIAMOND JEWELLERY
These beautiful chandelier earrings remind you of the Rajasthani Jharokas(balconies) from the forts and palaces of the royals. There is a peacock a symbol of royalty sitting on a Jharokha admiring the beauty of its own lavish Feathers.
Crafted in rose gold representing the Pink city of Jaipur, even the Jali work done in the Jharokha, has six dainty peacocks. It looks slightly big but on wearing it blends around the ear perfectly.
Overall had fun judging the event and trying out some really unique pieces of jewellery.
The final award ceremony was held on August 6th at the Hyatt, couldn't hold my excitement to see who won the final awards. This being a special night, I decided to go all gown and frills and for once really dressed up for the red carpet;
Also did some celebrity spotting;
To see who finally won, stay tuned to my social media !!