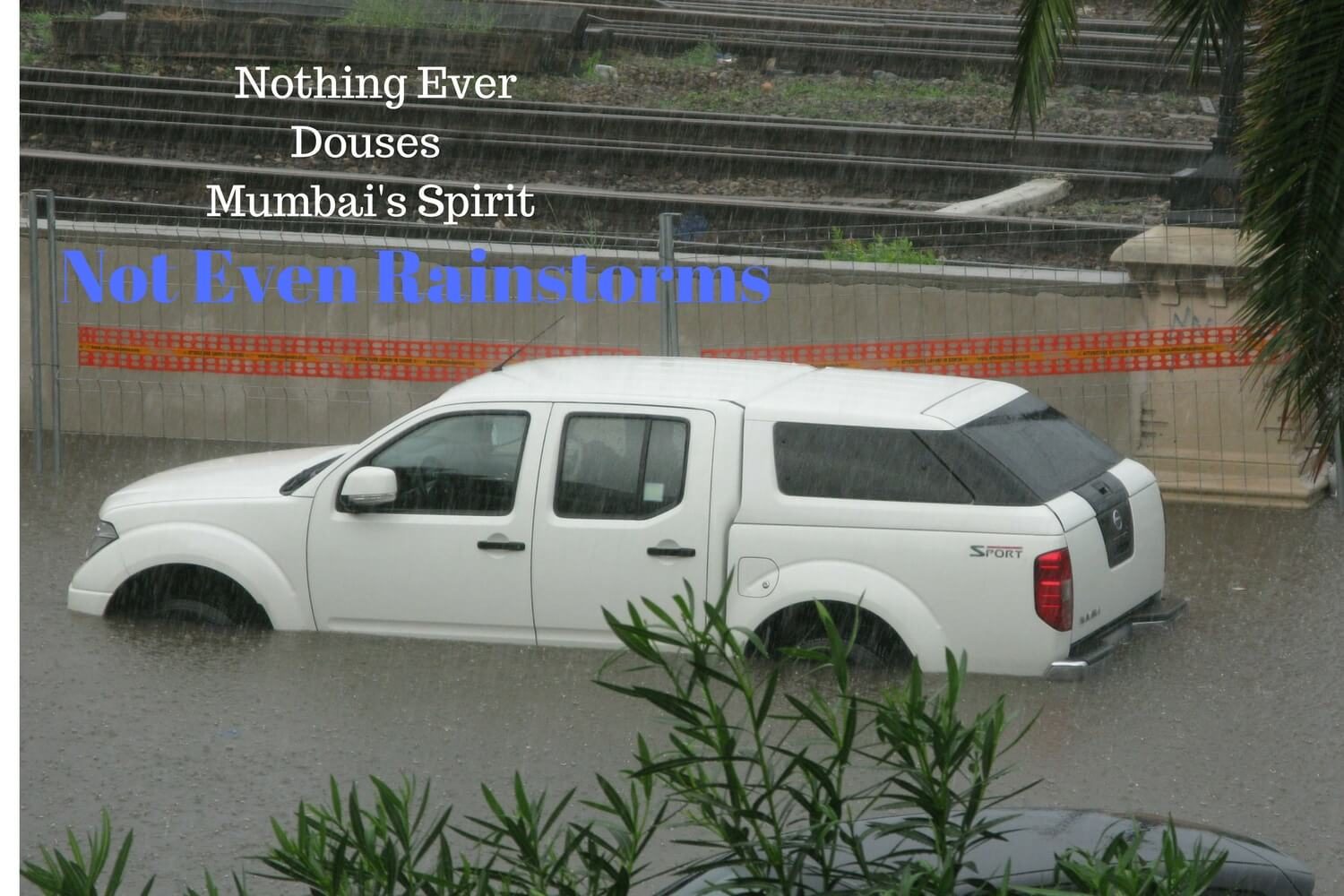 The rains came pouring down with a promise to flood the roads, but they failed to douse the spirit of Mumbai. This city never ceases to amaze me. I moved here fourteen years back and it took me two years to start even accepting it. I had spent nine years in Delhi you see and it took me some adjustment to get used to the small houses and crowded streets. The city never even makes you feel it's presence and usually, everyone's too busy to care about anything. Unless you have kids you don't even know your neighbours but when there's a problem the city comes all out to help! Strangers will risk their lives for you and give you chai and biscuit without even asking.
Then the next day when things normalise, everyone goes back to work as if nothing had happened and if you are new to the city you will be in awe as to how everyone seems so normal while all you want to do is discuss and mull over it for some time. Share some stories and ask many questions. Most Mumbaikars will just brush it off and move taking it all in their stride.
I just thought we will share some stories of these wonderful people around the city to let you know what I mean and why I love the city.
---
Lakshmi Suryanarayan shares his story of a cab driver who was a blessing in disguise.
This Man of Steel could. Mr Lal a Cool Cab driver!!
My husband was attending a meeting in BKC with a colleague from the morning 9 am. As the evening progressed we kept sending him updates on the weather conditions so that he would come home early. Around 4.30 pm he started trying to hire a cab, but none of them was ready to leave BKC. So he went to Hotel Trident where most of the people who were in offices in BKC went to.
The coffee shop was overflowing but the hotel staff managed it all with a smile.
He kept going out to check out for cabs. At that point, there was a line of cabs parked but no drivers in any. Only one had a driver, Mr Lal, operating a cool cab in that area who refused at 5.30pm and again at 7.30pm. Then finally at 9.30pm, my husband managed to persuade him as there were no heavy rains for more than an hour. He agreed saying that there was no guarantee that he would be able to complete the journey and that my husband should not blame him for that.
My husband decided to take the plunge. They had a very bumpy ride, during which one of the pot holes was very deep that the car literally flew off. Next, they reached Vakola area, before it reaches the Western Express Highway.
They could see many cars were stopping after stalling issues. Still this Mr Lal – our man of steel egged on. The car went into the muddy water and my husband's shoes were soon submerged in water.The car sputtered to a stop three times but this Man of Steel managed to coax it back to life again and again with absolute confidence.This 200 metres of water finally ended after some tense moments. After this, they had to contend with only slow moving traffic.
A journey that would have been completed normally in 45 minutes took almost 4 hours. They reached home at 1.45 Am. And all because one man decided to be the God!!
---
Radhika Bahadur Bhushan
There are times when I feel intense love for the city I call home. Today is one such day. We are in the middle of a thunderstorm. Accompanied by high tide, it is flooded everywhere. In parts (like right outside our complex), there are serious water rapids due to downhill terrain. It's been just about 3 hours since peiple realised that the situation is serious and Messages are flooding WhatsApp with places open for shelter and restaurants offering food to the stranded. 4 stranded school buses with kids are being taken care of by a series of messages outlining their plight. I know that people in the area will respond with immediate action to look after the kids. I took the kids outside to show them what a storm looks like. In the 30 minutes we were outside on the roadside, we saw 3 bikers being swept away uncontrollably by the rapids. The people standing by jumped in rescued the bikers. A few ran after the bikes and rescued them as well. The 4th stranded biker was rescued by a human chain before he had a chance to get swept away. The beauty- all the rescuers were grinning through all this and the rescuers joined in the laughing once they were on 'dry' land. What an adventure! And now from my complex, I can hear the band starting up to prepare for the 5th day of visarjan – when our beautiful Ganpati makes his journey. Life goes on and it is beautiful.
---
When Sunderchand Thakur, editor of Navbharat times, had stepped out of his Andheri home to go to work he didn't anticipate what lay ahead. It was raining but it was nothing unusual. Trains had been suspended but he decided to take an auto to Bandra and then take a cab to his Parel office. The 'Kali peeli' taxis, unlike his expectations, did not stop and after 30 minutes of struggle, he got a call from his colleague who had been given a lift from a stranger going their way. He was also picked in the same car but by now the wind and the rain speed had worsened. They reached Dadar and got stuck, so they decided to wade through the water. It was getting waist high and there were volunteers on the road helping people cross roads as the speed of water on the sides is always high with the ability to take away people in the flow. They had also planted some bamboo logs in places where there were mainholes warning people to avoid those areas. Finally, when he reached office the lifts were not working, there was no one else at work but as they say, the news had to get out. This is how Mumbaikars work. He did a night out at work and left home at 6.30 in the morning.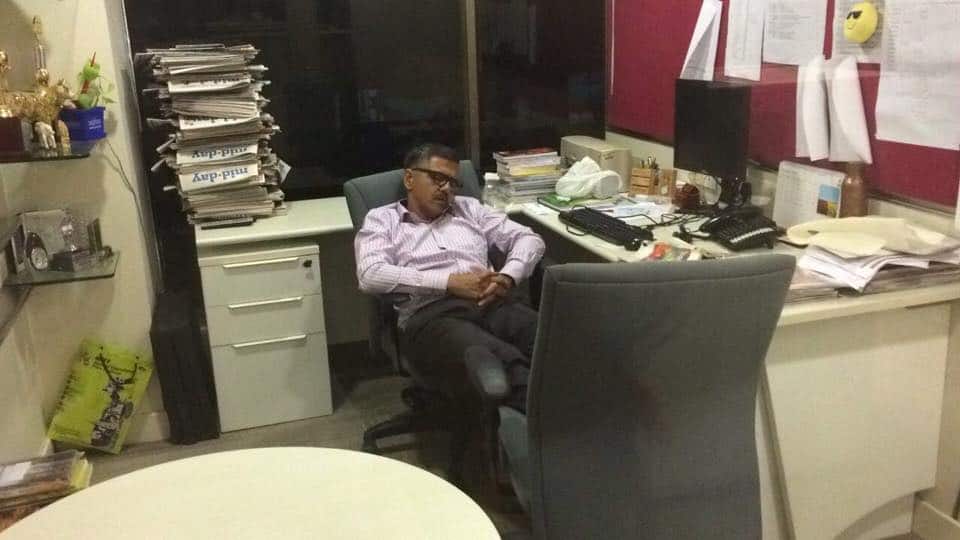 ---
Peopled opened their homes, their services for those who were stranded on streets. Where else will you see people opening their homes to strangers? Not even in Mumbai on a regular day.Citizens and even slum dwellers came out on the streets to help people with water, chai, biscuits and snacks.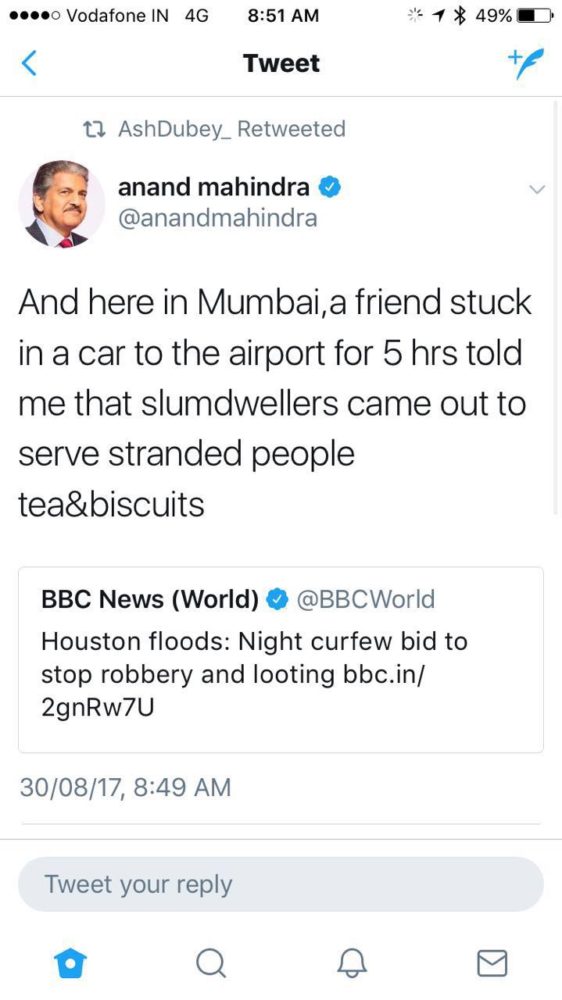 ---
Craig Fernandes runs a serviced Apartment in Goregaon west with the name of Stay Insta. He posted on Facebook and other social media if anyone needed a place to stay for the night to connect with him.
When two girls from Vashi, working for a multi-national company, stepped out of their home on the morning of 29th August to go to the western suburbs in Mumbai, they had no idea that they wouldn't be able to return home at night. It was a similar case with two boys from Pune and another from Mira Road who came to Mumbai for work. And it was none other than the reach of social media which brought these strangers together in their hour of crisis.

29th August proved to be another red-letter day for Mumbaikars, evoking memories of 26/7 when sudden floods brought the city to a halt.

It was a re-run of the calamity 12 years ago when Mumbaikars rose above their daily routines to extend a helping hand to those in distress. It wasn't only temples, churches and gurdwaras which threw open their doors to those seeking shelter, ordinary Mumbaikars circulated whatsapp messages to alert friends, and colleagues about relatives' homes where they could seek shelter or get help. Others ventured out to distribute vada Pav and water to those stranded. Some also helped by giving lifts in their vehicles as trains had stopped running. Service to humanity was clearly the need of the hour and the people of Mumbai proved that they did care.

While I was lucky enough to be at home when it poured across the city, I did whatever little I could to help those stranded. Having heard that people were stranded at many places, I posted a message on Facebook stating that anyone stranded in Goregaon West is welcome to stay at my Stay Insta serviced apartment in the area. And sure enough, we got five guests who came knocking at our serviced apartment.

Our caretakers, who are pro at providing hospitality, made sure that the guests had a warm dinner and some sound sleep. In the morning, the five grateful guests left after breakfast and some pleasant memories.

One of the guests, Ajay Sawardekar said, "Amazing! in a time of distress, people of this place get together. Love the spirit! Mumbai never dies."

And yes, while it warms our hearts when guests appreciate our hospitality, the biggest gift is when we are able to make a difference by helping those in need.
---
These are just some of the stories and I am sure there are many such or even more incidences throughout the city
Where else will you see a city that comes together like this? Where will you such selflessness with which people open their homes, their hearts and come out in the scariest of situations to help each other? It may sound like a cliche' Mumbai is truly not a city, it's an emotion and we all experienced it again.
---