Sawai Madhopur Lodge: Vivanta By Taj Review
Dining:
They have only one restaurant ie the dining hall, where all meals were buffet meals mostly with Indian and continental options but highlighted with the Rajasthani flavour. Dinner options like dal-baati-churma, ker sangri, gatte ki sabzi just uplifted my spirits. You can book the Machan which a raised treehouse dining area for a private dinner for two and looks really romantic. Apart from this there is an area for barbeque which opens in the evening and you can enjoy tikkas and roasted vegetables along with drinks.
Amenities:
Spa
fitness centre
Swimming Pool
Pool table
Carrom
Table tennis
Badminton court
Gym
Service:
Where this hotel lacks in luxury it makes up in service. Right from the time we landed at 4 am in the morning, were picked by the hotel car, given a room to rest while our room was not vacated, given some really good masala tea at 4.30 am in the morning to complying to our requests like changing our room and giving us rooms with hammocks, giving us blankets, face masks and water bottles when we left for our safari, left us impressed. Again Taj and its service gets a 5-star rating from my end.
Activities:
There is a naturalist who gives a talk every Tuesday, Thursday and Saturday about the Ranthambore National Reserve and the conservation of tigers and the forest.
There is a camel named Badal and every day he is stationed at the Taj to take you around the grounds or even further if you want so.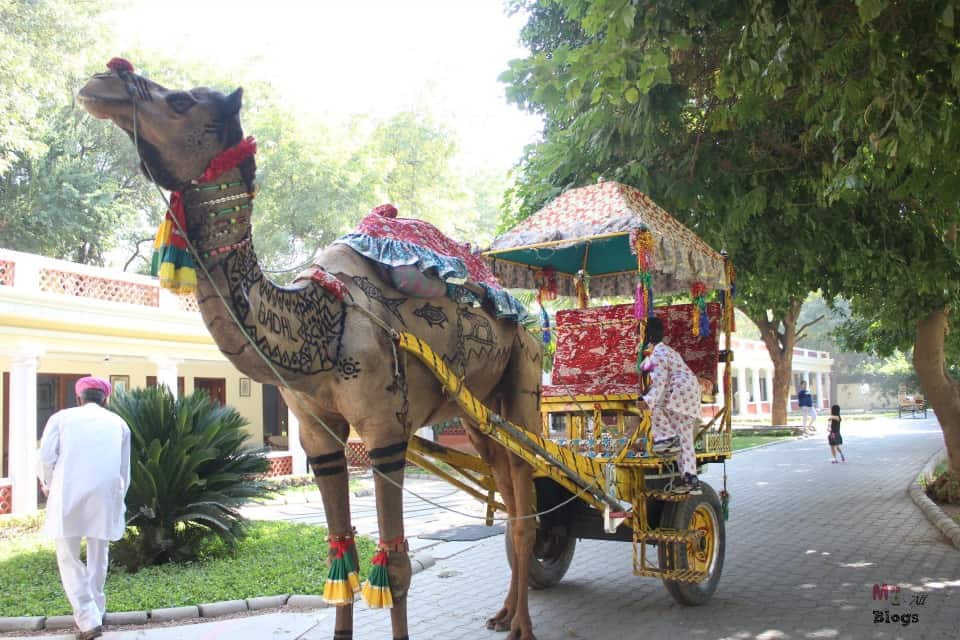 In the evenings there is typically a qawwali performance and a magic show for kids. Apart from this, there are cycles that you can borrow from the property and cycle around.
Value For Money:
Since we booked last minute around New Year's for this trip we got the rooms at a very high price but on an average the basic rooms costs anywhere between 14-15 thousand a night.
My Verdict:
There is not much to do in Ranthambore than the safari and hoping to spot the tiger, which btw we figured lives in his own territory of 60-70 kms. That means that there is only one tiger in that area and the chances of spotting it are slim and you end up eating more red dust than you ever have in your life. We spotted one on our last day and it was only for a few seconds before it merged into the scenery. What we also learned was that a good time to spot the tiger is in the months of March to May when the grass is less. Tiger or not, the Sawai Madhopur lodge is a place where you can really let your hair loose and relax. They make you feel special and you are transported to the era of large government guest houses and their pampering. If you have experienced that earlier, you would know what I mean.
p.s. This is not a sponsored review. I paid for my own stay and the opinions in this post are my own.