It might be a little late for this and you might have already read many stories and blogs on #SCMM2017 but this time it's less about my story and more about the other side of #SCMM that I got to see and not everything was hunky dory.
This year #SCMM humbled me. Last 3 years I have been running and managing well with little practice. This year I went with absolutely no practice or exercise for over a month and three kilos of extra weight. I wasn't planning to go at all but then couldn't resist in the end. #SCMM for most runners is like the Mecca of running and we are pulled towards it every year. I told myself I will only click pictures and not get swayed by looking at my watch. I clicked many of them and they all have a story behind them.
My mission was to see the other side of #SCMM and this was not the side I was expecting. It's a huge bunch of shameless runners who defaced the beautiful Worli beachfront standing right next to a urinal. I agree there were long lines in the urinals, I started my running 17 minutes after it was flagged off because of this, but then we all know that timing is calculated based on when you start. While over the last few years we have become more health and fitness conscious and running has brought around a new community and bonding which I absolutely love, there is a flip side to it. It appalls me to say how runners ignore basic civic sense and love for their surroundings? I saw them throwing plastic bottles and orange peels and chocolate wrappers on the road. Spilling water after drinking or pouring on your head. Had the number been a handful, it would have not made a difference but when it is in thousands there were wet slippery roads with people falling, dirty filthy sights of plastic, men urinating it just can't be ignored. If we can have a setup for keeping bottles and providing them to runners, why can't we have a setup of disposing them in proper dustbins? I think a term 'responsible running' has to surface soon. I wish I had more pictures, but if any of you have, do share with me and I am happy to add it to the post.
The numbers have also added to a new problem, while in 2013 there were 31,000 people running, this year saw 42739. Almost 32 percent rise in just 4 years. More people also means more litter. The result is that you can't run even if you want to. Since I started late, I met more and more people who were walking and all the while you are trying to find your way in between them and if you are behind most of the pack you see more slippery roads, more litter and feel worse.
Of course, not everything is to be condemned. I love the run and like every year there were many wow moments in the run as well;
Every year I cross the Kenyans at Peddar Road. This year was no different. These guys are amazing they start at 7.20, whereas the Full marathoners start at 6 am and they run in sync and finish before the FMs. It is just a pleasure to watch them. This year I stopped to click them, by the time I opened my phone camera they had whizzed past, then came Ethiopians and they too vanished before I could capture them. Finally, our very own Indian Elit athletes and this time I couldn't miss them.
The good samaritans. Right from Worli Sea link to Haji Ali to Peddar Road to Marine Drive they are always standing with enerzol, biscuits, chocolates and oranges. Oh, these never felt better. Every year I don't stop for these as I am looking at my watch. This time I paid homage like a pilgrim to all of them. The dhol player, the cheerleaders and that uncle who is always singing retro songs at the Marine drive turn, all add that energy into our bodies when we have almost become zombies. I don't think I have ever stopped to look at them I have just moved along with renewed energy when I cross them. This time I acknowledged each of them. The tutu man who was running for an NGO, was not to be missed. This NGO from Japan was a new addition to the list.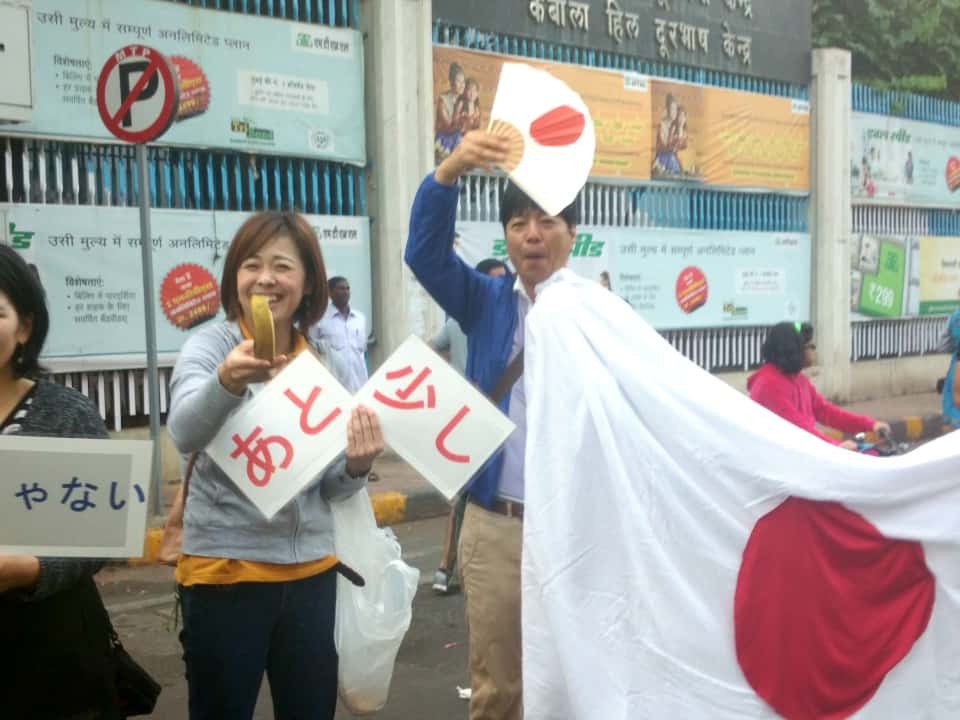 Every time I decided to quit a new story would face me and tell me to continue. A blind man who was running holding the hand of a volunteer, a special needs young man, a handicapped guy with a single leg, a 75-year-old uncle huffing and puffing up the Peddar road slope telling me not to stop, kept me going. If they could do it, I better not quit is all I kept telling myself.
I managed to pull my body with my mind and finish it. The last 500 meters seem the longest, but I ran in the last 100 meters like every year and finished with a sprint(like most of us for a good feel and more importantly for a good picture). My timing(which actually I shouldn't bother about as I had only gone to click pictures) was terrible but I was happy to be a finisher and earn the medal.
In the end, I would just like to say while running has built many communities and created a whole new bonding amongst people and across groups, It is high time we think about 'Responsible Running' and keep the sanctity of this sport.