Singapore With Kids : The Kiddy Travel Diary

I promised myself that this year I take my kids along in my journey and I am so glad I am being able to slowly bring them on the same page. I want them to experience the world as I believe nothing teaches better than travel and exploration. My elder son has created this entire travelogue on his own, so this one is through his eyes but my words.
I have listed Singapore as one of the top cities to visit as a family and this summer we explored Singapore with Kids! But before I go further in my blog, I would like to mention that DO NOT plan to go to Singapore in summers ever!! It's hot and humid and the sun just made us sick. I googled the time of the year that you should visit Singapore, something I should have done earlier when I planned this holiday. Anyway, mid to end October is just a perfect time to head there.
p.s. Singapore weather is humid and it rains here unpredictably, so packing some foldable umbrellas and waterproof footwear will be a good idea.
Travelling within the city:
Singapore needs around 4-5 nights to cover the entire city. The good thing is that it's very well connected with the metro and public transport.Taxis are cheap most places within 15-25 min and fare between 15-20 dollars, of course, it depends on where you are staying. Our stay was at a service apartment in Orchard street which was central.
p.s.There is a Sentosa shuttle which is for free starts from Vivocity mall and takes you straight to Sentosa Islands. Alternatively, you can also take a cable car from Vivocity into Sentosa.
Without much ado, here is our travel itinerary of Singapore which will help you to plan yours;
Day 1: Singapore Zoo
When you browse for information you will realise that there are multiple options available like Jungle safari , Night safari and River safari for kids to experience at the zoo. What you may not realise is that they are showing you mostly the same set of animals in different settings, so don't waste your money trying to do all. Mom had experienced the night safari earlier and this time, she decided that we should try the Jungle safari. While night safari is a unique experience but you don't get to see many animals in the dark, it is kind of scary and still awesome. There are a variety of shows over there. Watch out! They might choose someone in a show and make you pet a baby python, and when you're at it, two people bring a huge baby python, and you may wet your pants if they tell you to pet it. There is a place where your kids can play over during the jungle safari. I would say that the River safari is the best way to see all the animals. So choose which one are you going to try.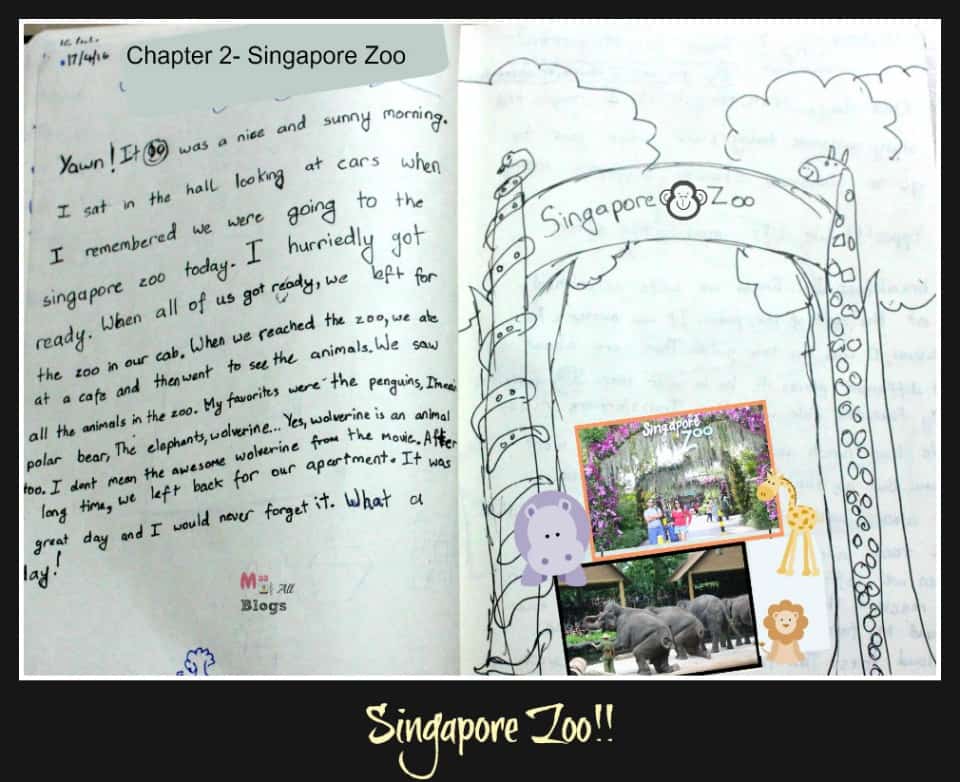 Evening: You can head to Clarke Quay, which is an entire with best views of Singapore and bars. While this is not a kiddy destination, kids are allowed and so parents can enjoy a few drinks. There is also a river cruise which you can take there.
p.s. When you travel via Singapore airlines, you get a discount on all entrance tickets to these attractions.
Day 2: Universal Studios.
Located on the Sentosa Islands, this can take up your entire day, so best to maximize it with kids. The good thing about Universal studios the rides are not all 'kiddy', so you will enjoy them as much as your kids. The transformer 7D ride, the dinosaur water slide ride, and Steven Spielberg's special studio effects are worth it. They also have certain shows which happen at fixed times at fixed venues like Waterworld again worth watching. One thing to remember is not to head to this place on a weekend or you will end up in long lines. We went on a really hot Monday at 10 am and still had lines.
Day 3: Garden by the bay and Bugis Street
By the third day, we had had enough sun and decided that we will only get out when it is cooler in the day.
Shopping : In the morning mom headed to Bugis street and Orchard street for shopping. Bugis street has some great deals when in comes to clothes, watches, souveniers etc. It is a covered street so you can shop for hours without feeling the heat. Orchard, on the other hand, has high-end brands like Louis Vuitton, Gucci, Prada etc.
We had a late lunch at 2pm, Orchard street offers some great options. We then headed to Garden by the bay in the evening. It was magnificent, gigantic and lovely. It's perfect to visit Garden by the bay early evening around fiveish when then the temperature cools down and the lights come up. Apart from beautiful rows and rows of roses, tulips and many unique species of flowers from all over the world in the flower dome, the cloud forest is incredible. You can experience a huge waterfall, sky bridge, stalagmites, caves and feel close to nature.
Night: We headed to Syed Alwi Road for Indian food( you can find Punjabi to South Indian to everything Indian here) and then after putting us to sleep mom headed to the Marina Bay Sands casino and she had a good time there.
Day 4: Legoland Malaysia and Premium Outlet Mall
Why go to Malaysia while in Singapore? Because it's one hour and a half ride to Malaysia and it takes about 15-20 minutes to pass both the immigrations. You will need a Malaysian visa for this, but you can get one on arrival. The Legoland Malaysia is located in Johar Bahru. There is nothing to do in Johar Bahru except Legoland and the Premium Outlet Mall so go there while you are in Singapore. It takes the whole day to cover Legoland. I recommend the technic workshop as the best thing to keep little minds interested, it was my favourite thing to do. The dragon roller coaster is the best ride over there. The Premium Outlet Mall is a good half an hour drive away, so plan your day accordingly. The premium outlet mall has brands like Prada, Gucci, Michael Kors, Coach etc at 50% discount and more. These are genuine products and you can get a good deal. My parents just went crazy there.
p.s. There are many tour operators who give this as a package and take you all the way to Johor Bahru and back. I would definitely recommend going with them.
Day 5: Sentosa Islands
Sentosa Islands has many things to keep you engaged. We didn't head there this time but it is definitely on my list and I can recommend to keep a day free for this. Here is a list of things that you can plan for Sentosa islands. You can head to underwater world, Luge, Open sky ride, port of the lost wonder, Sentosa nature discovery.
In the evening, you should watch the beautiful, magnanimous light and sound show, 'Wings of time' .Wings of Time (the laser show at 7 pm in Sentosa Siloso Beach in an open amphitheatre). It combines computer technology, pyro techniques, dancing fountains, colourful visual imagery. Mom has watched it in an earlier trip to Singapore and she totally recommends it.
And finally you can head to the casino is Sentosa, but if you have kids like us, you will have to drop them home first.
Mom has also done a video covering our travelogue on our trip, do check it out!
Hope you enjoyed my travelogue! I am Eeshan and I am 10 years old and all the illustrations above belong to me. This is my first post in my mom's blog, would love to know what you think about it. I also have a blog of my own, you can check it out – EeshansBlogOfHappiness.