Honestly,I did not do much read up on any top adventures to do when in Kiruna or Abisko,I was too busy sorting out my kids and my maids .But I knew I could trust my over enthusiastic and highly organised friends to make sure that I got the best out of it.Jordana and her company run these husky tours in Kiruna and she coordinates and responds to all your queries on email.On the stipulated day,the tour operator picks you from your hotel and drives you a good 20-30 miles away from the city into the wilderness.The temperatures drop a few more degrees here(as if it was not cold enough!).They give you really warm overalls and shoes,cap,flashlights to wear on your head(the path is not lit you see,exciting!) ,gloves and anything warm that you can think of.When you see the sledge for the first time you wonder ,how will you ever control these over enthusiastic huskies.There are about 5-6 tied to one sled.This is tricky and someone from the tour will introduce you to the dogs and also explain you how to control and manoeuvre the sledge.Both the person sitting(use your body weight) in front and the one standing at the back(press the levers)have to contribute to it or else these huskies will be so fast that you will fall off the sled.The home trail in twilight and the beauty and majesty of snow covered trees, frozen lakes and panting dogs really made you feel that you were at one with nature and, more importantly, no technology in sight!We had been given specific instructions not to cross paths with each other to avoid collision,so when we saw one set of huskies taking per us,we realised something was not right.Our guide told us to halt and while he stopped the huskies,we realised two of our friends who were on that sled,had lost balance and fallen off.Luckily,since they fell on the snow,they didn't get hurt.Controlling the sled can be a little tricky. 
Unlike the huskies,these are totally in your control and you can slow them or drive them fast as you like.But manoeuvring them was not that easy as it sounds,it took us a little time to figure them out.The snowmobiling was made all the more enjoyable with a stop mid-way through the morning for a hot drink in a wooden hut, particularly welcome if temperatures drop to below freezing. We also made stops for photos to be taken.I was super worried when we drove on a frozen lake,but really it was the same as driving on the trail,thank God!

Feeding the huskies is a great bonding gesture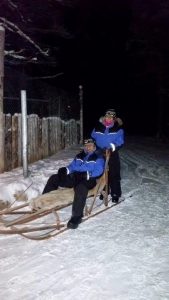 All Set to go on the adventure
Playing with the super friendly huskies
The little kiddo sleeping sound in this special Sled
Enjoying Fika with friends
 At the end of our trail, our guide took us to a small cabin and we 
have a cosy campfire with  fika (coffee with friends over a conversation,as explained by our guide),sitting on high platform covered with warm animal skin rugs.You also get to feed the huskies and develop a bond with them,they are such friendly 
creatures.This was an unforgettable experience for me and I would recommend this as one of the must do activities in Kiruna.Here the guide has a special sled made for kids which is lined with very comfortable and warm fur and covered well as the temperature in the open can get 
tricky.So you can easily put you child in these and the guide will take care of him/her.If you have an older child and they want to participate in the adventure,best to check with the guide.
To book and check their website click on the link; http://www.huskytourslapland.com
The cost of this is appx 800 SEK pp/6000 INR but totally worth it.
SNOW SHOE HIKING:
In Abisko we tried out snow shoe hiking.We had  booked this activity with Splitcane .
Klas, the owner and guide is a first class adventure instructor and his passion for the winter outdoors and Abisko is obvious when you meet him. I caught him humming a Swedish tune which sounded very similar to what I had heard as a kid,figured that 'Akele,akele kaha jaa rahe ho',is inspired by a Swedish traditional song.Then in our excitement we got singing together and were surprised that our cultures came so close.
Klas-Our guide helping us wear the snow shoes
Us with all our gear.
The picturesque Abisko-National Park
Us hiking in the snow capped National Park
He took us snow shoe hiking in the most scenic Abisko National Park.Now snowshoe hiking is more like a nature trek on a snow capped area with snow shoes and rods to keep our balance.The adventure only comes when you try and trek on a steep slope or climb.It was not so cold ,so we just went hiking in our regular gear.Klas took us around the park and shared details on the plant life that exist in these snow capped areas.Again,we stopped for Fika in the midst of the national park.Here you get some amazing views of the landscape and if you're lucky then you might spot a moose or two.Here the kids four years and above can also give it a show as it's extremely safe.Since we were travelling  with a two and a half year old we had to put her in a baby carrier and carry her around.This was definitely not easy. 
The cost of a guide is 600 SEK/4500 INR(appx) per hour for the whole group.

SNOWMOBILING:

This comes second  on my list.I had seen James bond snowmobiling on his 
snow bike
 and thought the 
whole idea to be cool.
Peter Bjӧrne, whose company it is, acted as our guide and accompanied us during the four hour excursion as we drove along trails with nothing but snow-covered plains stretching into the distance.Again we are provided with the heavy 
snow gear
 by the company.Peter too,drove us slightly away from where we were staying  at the Abisko Turist Station to a secluded area where he keeps his bikes parked.These are like heavy beings.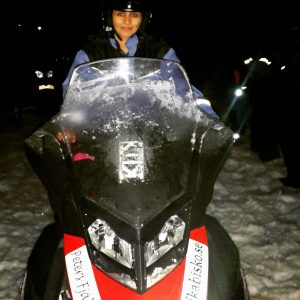 All set on my not-so-lean ,mean machine
It is necessary to pre-book the snow mobile excursion to ensure availability as they get booked up well in advance. If you have never been on a snow mobile before it is an exhilarating activity and great fun.It's not an activity I would recommend for kids.But if you don't have an option and have to take them along, Peter has a carr
ier attached to his mobile and an adult has to sit along with the child .Halfway, you can switch places and try your hand at biking.

 

The cost of this is appx 1250 pp i.e. 9300 INR.