If you haven't yet been to Taj Faluknama Palace, you haven't seen the grandeur of the Nizams, which exists even now to some extent. Placed on top of a quaint hill in Hyderabad, the Taj Falaknuma Palace.
The Palace was originally built by the prime minister of Hyderabad in the late 19th century, who went bankrupt building it and finally bought over by his brother-in-law ,Nizam VI.The Nizam VI in 1897 used the palace as a royal guest house as it had a commanding view of the entire city.When you visit the hotel,it's like reliving the era. This was my second visit to the hotel, to read more about my hotel experience click here.
Having already explored the palace, this time, the focus was to indulge self in luxurious spa experience that I had heard a lot about. The Jiva Spa's most unique experience ' Nawab-e-Khaas', was some inspired by traditional Indian methods. we believe that a spa unfolds a holistic path of life that opens out channels to nurture one's life force. The ethos of our carefully recreated treatments is drawn on the rich and ancient wellness heritage of India, the fabled lifestyle and culture of Indian royalty and the healing therapies that embrace Indian spirituality. Our spa experiences are offered by trained experts, using exclusive natural products in a fresh and harmonious design setting. With Jiva Spa, you undertake the journey within, through an array of enlivening holistic treatments, meaningful rituals and ceremonies for a truly calming experience.
Nawab-e-KHAAS is indulgence in regal splendour for a lavish 150 Mins. For centuries the Nizams of Hyderabad, nurtured a culture steeped in elegance and aesthetics. Nawab-e-Khaas, a luxurious signature treatment, is inspired by the princely heritage. The treatment starts with you being introduced to a room full of rose petals(symbol of love) and when I mean full, it is full, have a look.
Location: The spa is located in the Taj Falaknuma Palace on top of a quaint hill and from the hotel you can soak in the view of the entire old Hyderabad city. It's an hour away from the Hyderabad airport. Once you reach the Palace, you are driven in a horse chariot, nawab style to your room or to the spa, wherever you are headed.
Ambience and decor: Designed in the shape of a scorpion, this palace offers extravagant decor, impeccably manicured gardens, and the spectacular 20,000 square-foot Jiva Spa.
Rooms and facilities: I had informed them that I was interested in reviewing the place, so before we started off, I was shown around all the rooms and most of them look similar to the one I was booked in, so I didn't feel that I would miss anything. The couple's room was a similar room with two beds. the decor is all earthy and basic.
Bath, Steam and Sauna: The steam, bath and toilet were inside the treatment room, which is such a relief. I hate to head there before and after my treatment as it breaks the whole aura. If you intend to use the sauna, you will have to head to the common area. All toiletries, hair dryer, locker, combs, cream are all well stationed in the changing area.
The Treatment: The therapist then starts the treatment with a soothing foot wash, while you are seated on a statement chair. The scrub used is made of Almonds, Chironzee(an anti-oxidant) and poppy sticks( for texture). Therapist gives you the choice of three oils for treatment.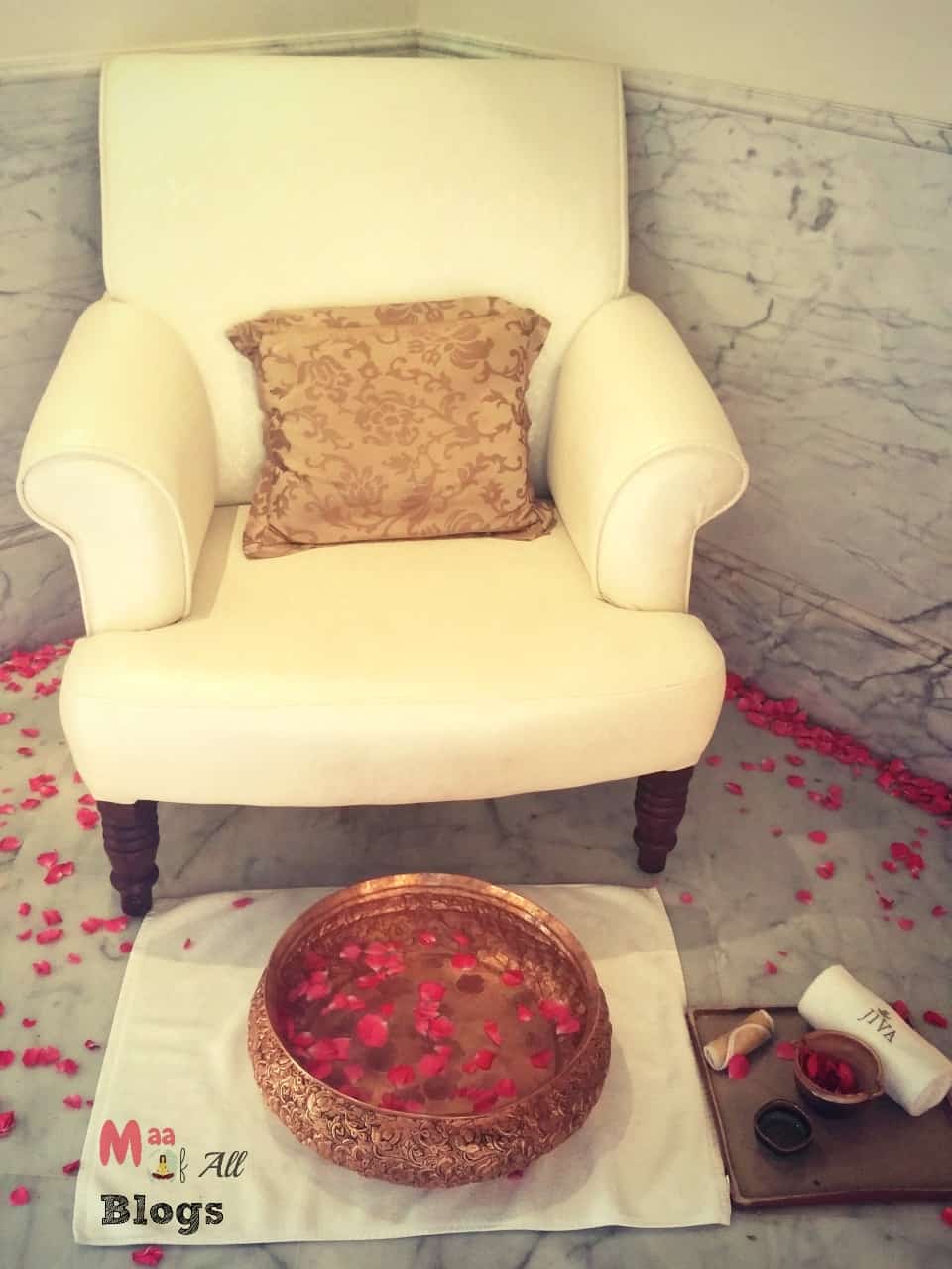 The next step is to apply a body wrap made of a blend of almonds, rose petals, vetiver, saffron and rich herbs, offered in slow languid strokes, cleanses and relaxes your body. A light facial scrub with the choicest herbs soothes the mind. While your body soaks in the goodness of these natural products, the therapist will give you a light head massage, the entire process is well synchronised. You then take a shower and even before you start feeling the temperature dropping, the therapist ensues a gentle restorative massage of 60 minutes with an exclusive hand-blended oil then calms your body and mind. She lets you take your time to relax and shower.
The royalty doesn't end here, you are ushered into a relaxing area with day beds and some soothing music. I chose to sit on a temperature controlled day bed, which felt heavenly after the shower. Here you are served healthy juice along with a fruit platter to kickstart your next few hours on a healthy note.
There are also steam and sauna rooms, but 150 minutes of therapy and another 20-25 minutes spent at the relaxation room were enough for me to get into the right spirits. They recommend to leave the oil on for an hour for it to be completely absorbed.
Oh yes, how can I forget, the final touch was them setting up the bathtub in my room with rose petals and leaving me in a heaven just found :).
Nuances: I think my most favourite place would be the after-treatment relaxation room and the fruity meal they served with it. Also, the fact that this is treatment is only exclusive to this palace added charm to the experience. If you stay here, with the qawwalis and rich feel of the place, this is just a natural extension to your stay. Did I mention that a very famous jeweller has a store inside the hotel premises and is absolutely worth checking. Yours truly ended up emptying out a major chunk from her pocket.
Value for money: Well royalty doesn't come cheap and I ended up paying a good appx 10,500 INR plus taxes or appx 150 USD ( on which they also gave me some 20% discount).
My Verdict: It's royal, the products used are all natural and premium, and who doesn't love being pampered. So if you're looking out for something exotic and money is not a criteria, you can definitely try this out.
p.s. This is not a paid review. I booked and paid for my own experience.