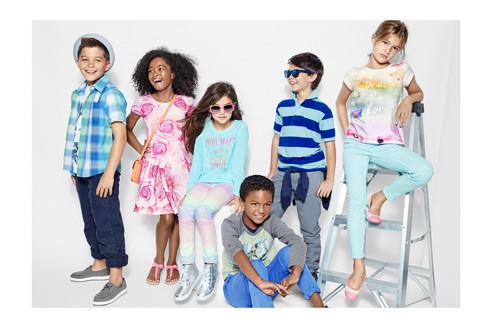 Phoenix Mills is becoming my top favorite destination with all new hip and happening stores opening there. The latest one to join the bandwagon and the one I am so excited about is The Children's Place. Check the box below for my first tryst with the brand.
http://maaofallblogs.com/2015/08/the-childrens-place.html/#
Being a mom to two boys and no girls to dress up. It becomes a mundane job to buy clothes for them. But when I saw the boy's range at The Children's Place, it was like this fashionista in me was released again. There were printed message tees, shirts, straight and tight fit jeans, hats, belts, shoes and the works. I could just pick the entire top-to-toe look from here.
The girls section is even more vibrant, it's just that I get distracted by boys and tend to talk about them more. So mom of girls, there are pretty frocks, skater dresses, tights, skirts, message tees, beach wear, partywear and casual wear all sorted out. Then you have the most desirable handbags to compliment the look, bellies, strappy sandals, flip flops, hair accessories. It's needless to say when it comes to girls, brands always have a huge variety.
There were dedicated sections for toddler boys and girls. My favorites were the absolutely bright and colorful message tees. The cutest were the nightwear and the swimwear sections and even though I don't have a girl of my own, I could just not resist heading to the girls section and admiring the selection there.
All stores of The
Children's Place also try and create a fun atmosphere for kids, so that they can connect to the store and it's environment. This store too has a small dedicated corner for kids, with air hockey placed in a corner. It was a small dedicated area, where I could just imagine my boys trying their hand at it. I hope they make this area a bit larger so that moms can actually get handsfree and indulge in some shopping.
It was fun hanging around with other mommy bloggers and sharing styling tips. Being a mommy blogger you are never off. It was a Saturday and instead of lounging around, we were shopping for our kids and giving bytes to the brand. But having said that it was great fun :).
Guess after all this who upset? My boys!! They were promised a trip to the store very soon :)!!
About The Children's Place, Inc.
The Children's Place is the largest pure-play children's specialty apparel retailer in North America. The Company designs, contracts to manufacture, sells and licenses to sell fashionable, high-quality merchandise at value prices. As of May 2, 2015, the Company operated 1,092 stores in the United States, Canada and Puerto Rico, an online store and franchise partners.
About Arvind Lifestyle Brands Limited
Arvind Lifestyle Brands Limited is a subsidiary of Arvind Ltd which is India's largest integrated textile player and is one of the oldest and most respected groups in the Textile Business in India. Arvind has licensing relationships with many international brands including Calvin Klein, Gant, Nautica, Arrow, Izod, US Polo Association, Elle, Ed Hardy, Hanes, Cherokee, Mossimo, Geoffrey Beene, Gap and most recently with The Children's Place. Arvind also has a portfolio of 12 of its own brands. Arvind has a JV with a subsidiary of PVH Corp. for the Tommy Hilfiger business in India. It also runs India's largest value retail chain, Unlimited.
To know more you can head to their social media pages:
Facebook: https://www.facebook.com/ChildrensPlaceIndia
Twitter: https://twitter.com/ChildrensPlc_IN
Instagram : https://instagram.com/childrensplc_in/